New clothes at my doorstep every month? Yes, please!
Sam and I had been toying around with the idea of trying clothing subscription boxes for quite some time. And while Stitch Fix was after Sam's attention, Wantable was fighting nonstop for mine! So much so, that I just couldn't ignore this subscription box brand any longer.
I'm not going to lie, I was pretty hesitant at first. How in the world would a random person hidden behind a computer screen truly understand my style? And really, is there anything better than going to your favorite store, sifting through the racks and finding a hidden gem for a great deal? NOPE!
But hey, I'm always down for a CO experimentation, so I put my hesitations aside and decided to give the box a try.
My Wants out of Wantable
What did I want out of this box? Something new. Something different. Something I would NEVER pick out myself. I hoped this new subscription would push me outside of my style box and expand my closet's repertoire.
So was my inner fashionista stylishly surprised with these Wantable Style Edit boxes?
---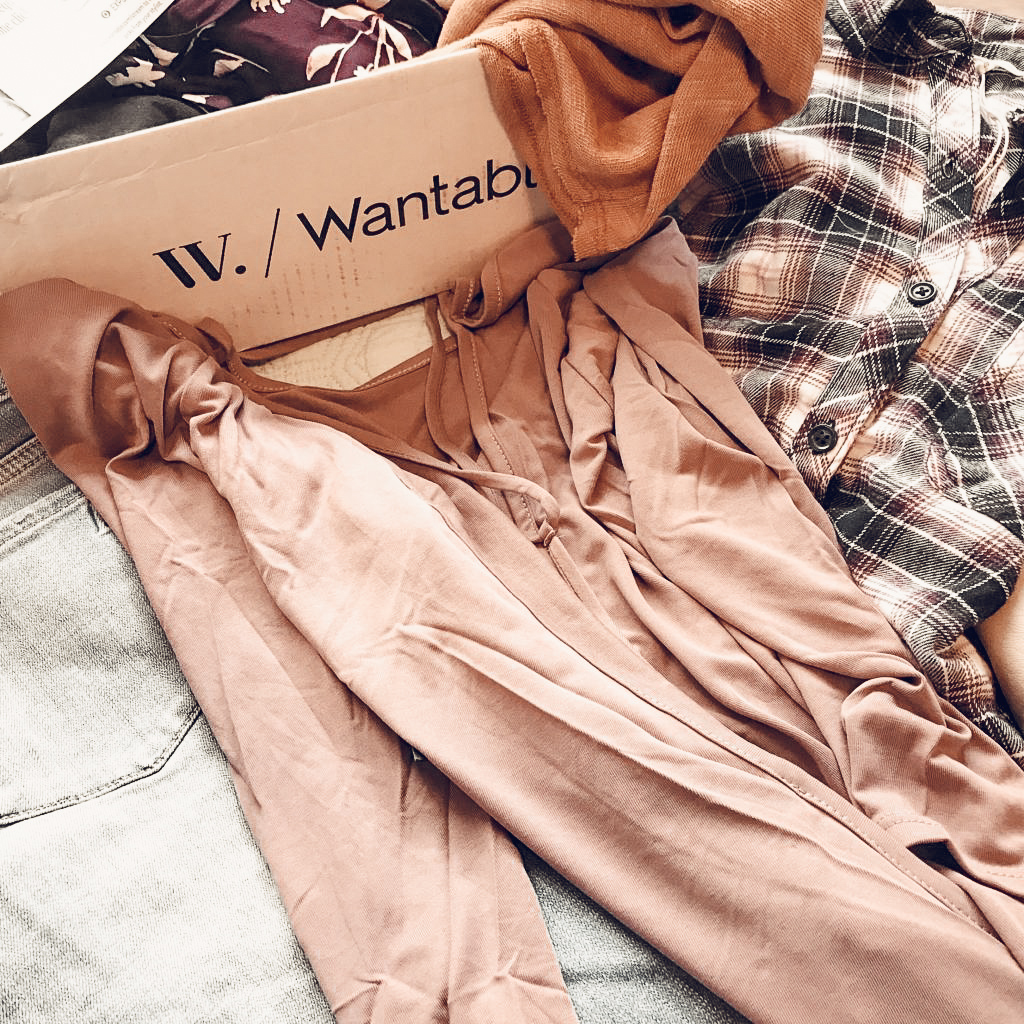 The Rundown
Product: Wantable Style Edit
Price: $20 styling fee per box. The fee is deducted from the price of any item you decide to keep.
Where to buy: Wantablewebsite
Perks: Free Returns | Free Shipping | Mobile App
---
Time for a Style Quiz!
Much like Stitch Fix, the first step to getting your Style Edit is to take a pretty lengthy quiz to establish your style, body type and pricing preferences. The more detailed you are, the better picks you'll get…or so they say!
Unlike Stitch Fix, however, Wantable did not ask me to link my social media profiles. I definitely think linking at least your Pinterest account would be a great idea. That is where most of my style aspiration comes from after all!
After finishing my quiz, I downloaded the app to my phone and scrolled through the Wantable Stream.This is where Wantable users upload photos of themselves in their new clothes…kind of like a sneak peek. But to be honest, I wasn't exactly in love with anything I saw. Everything looked "Plain Jane" to me…not really the unique style push I was looking for.
I still had my hopes up though! Everyone's style is different, so I was sure my box would include some more fun pieces.
How It Works
After my trip to Spain, I came home to find my very first Wantable box. Hooray! Nothing like coming home to fun packages, amirite?
So how does this whole shindig work? It's easy…if you have the time!
Wantable gives you 5 days to try everything on and complete the Checkout process through the app or website. This is where you decide what to keep and what to send back and also where you rate each product.
The items you don't like must be sent back within 48 hours of the checkout. And remember that little $20 styling fee? It gets deducted from the total price of the stuff you keep! Now that, I liked.
Being that I was gone for three of the five "try-on" days, I really only had a day to try stuff on and a day checkout. Not really big deal, but I did feel a bit rushed.
My Wantable Style Edit: Part One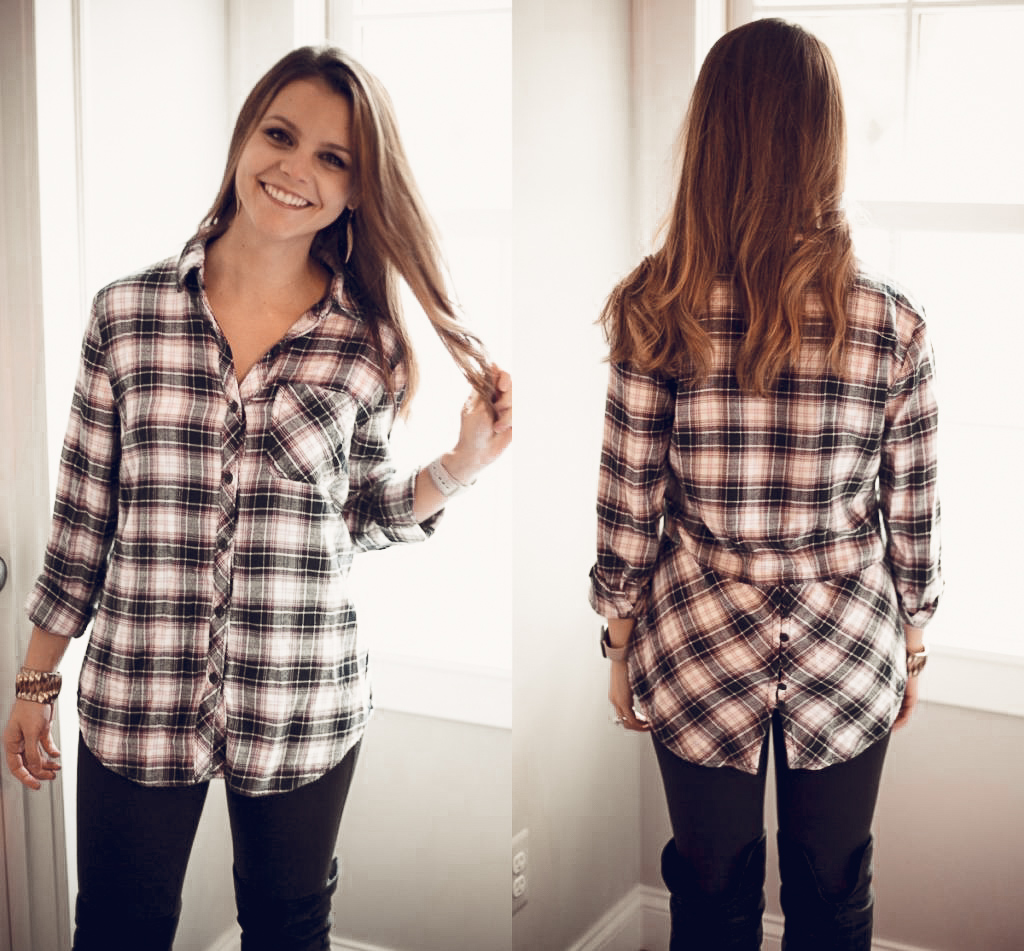 The first box came with three tops, a jacket, a pair of jeans, a pair of leggings and a dress. Overall, my first impression was…wow! This is a lot of stuff! I was pretty excited to try it all on.
I immediately fell in love with two of the seven pieces: the Beach Lunch Lounge pink plaid top ($68) and the Articles of Society flare jeans ($68). The plaid top was a definite must-have for Fall. It was super cozy, soft and a nice shade of pink! And the flare jeans were the "OMG piece" I was looking for. I would have never picked these up off a rack because I never thought flare jeans were my thing. But man, do these fit great!
The rest of the items were either too "meh" for me or just didn't fit. The Lucky Brand dress ($99), suede leggings ($65) and BB Dakota jacket ($75) were all too big. And the other two tops ($58 and $48) were way too simple and SO not worth the money. I could find this stuff at TJ Maxx or Nordstrom Rack for way cheaper!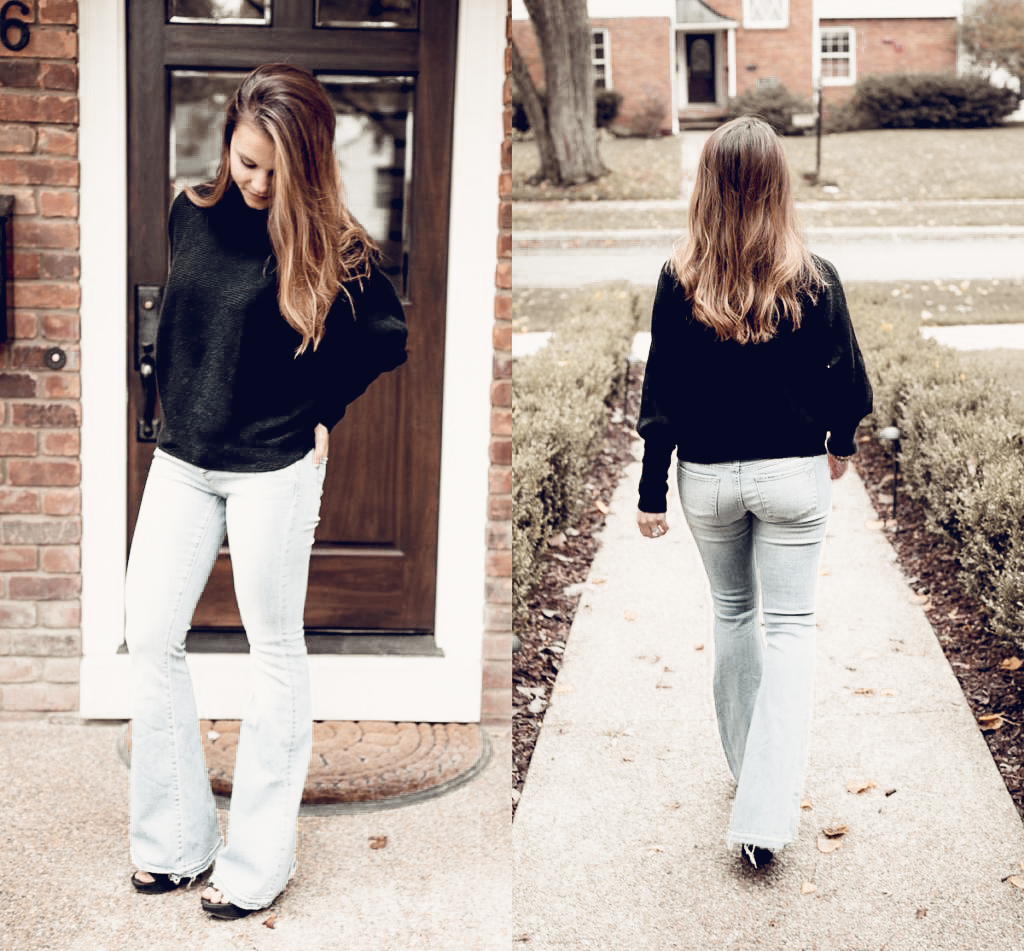 My total cost for the two pieces I kept was $116. Not bad for a great pair of jeans and a staple Fall top!
My Wantable Style Edit: Part Two
Being that I was pretty happy with my first two finds, I decided to give Wantable another shot the following month. Gotta do it for the blog, right?? This time, I put in a special request to my stylist for more sweater and leggings since that's basically all I wear when the weather gets cold.
Overall, this one was very…meh. But I must admit, I once again kept two of the seven things!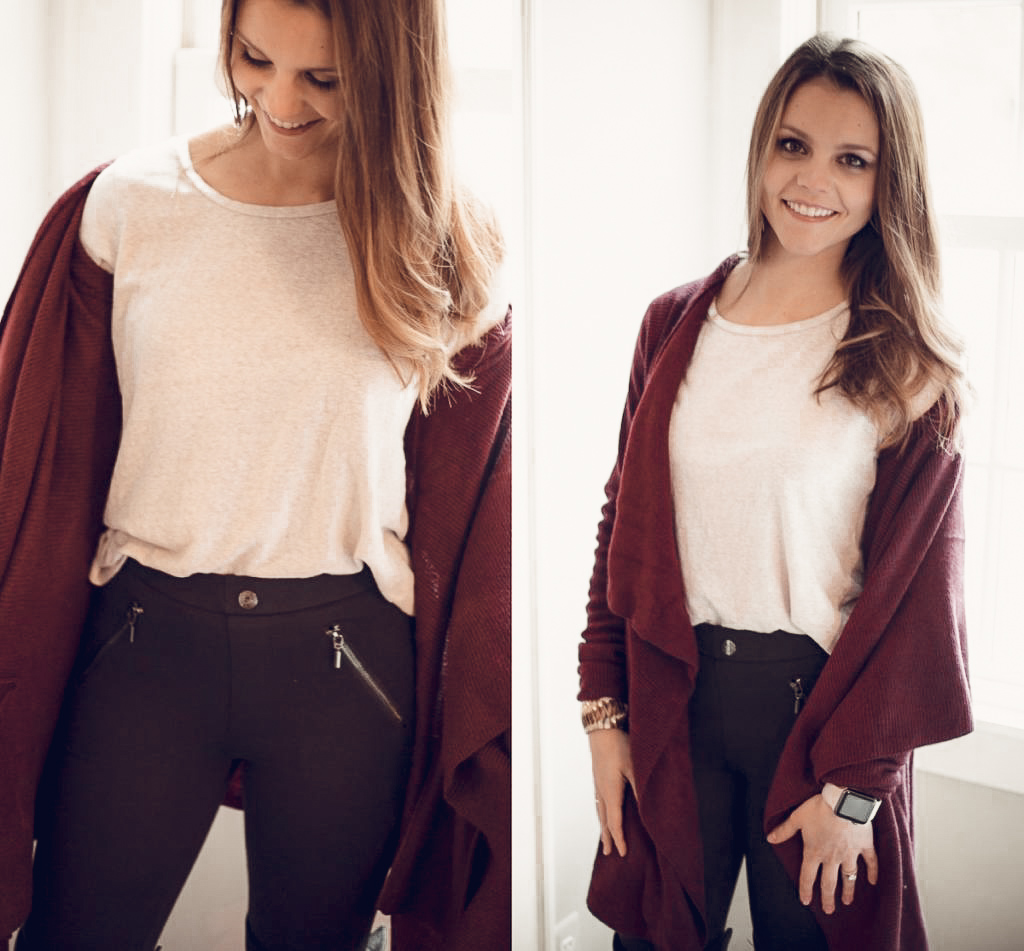 The box came with a BB Dakota suede jacket that I loved but was too expensive ($105), three very boring tops – a Cupcakes and Cashmere sweater-top ($95), a Wantable ¾ sleeve top ($58) and an Olive and Oak long sleeve v-neck ($34) – a Wantable cardigan sweater ($49), a patterned infinity scarf ($27) and a pair of black ponte Kenzie leggings ($58).
I definitely could've done without the tops…where the heck were my sweaters people?!
After trying everything on, I decided to keep the cardigan and the leggings. These both fit really well and were great basics for the upcoming season. I wear the leggings multiple times a week now!
Total cost for this second box was $87.
Returning this box was a real pain in the you-know-what. It was delivered to me while I was traveling…once again. So I only had one day to try everything on AND checkout! Way too stressful when you're coming home from a trip.
The Wantable Pros and Cons
The pros…
New clothes show up at your doorstep every month!
Brands are pretty good quality.
Shipping and returns are free!
The cons…
60% of the clothes in each box were not worth keeping. They either didn't fit, were too boring or were way too expensive for what they were.
After every box, I thought to myself, "I could've found that at Nordstrom Rack for the same price…or cheaper!"
Going to the post office to return you un-Wantables is NEVER fun.
I really, really wanted to like this clothing subscription, but honestly, I don't think it's worth the time or money. Sorry, Wantable!