One of my college roommates was always up on the latest trends and beauty hacks. And apparently, she was more ahead of the game than I thought! She came home one day with a little jar of activated charcoal from Whole Foods and told me we were going to whiten our teeth with it. I was extremely confused and highly skeptical but decided to try it anyways! It was messy, hilarious, and a true roomie bonding moment, but I wasn't sure it did anything to my teeth.
A few years go by and what shows up in my fall FabFitFun box? Molr C+C Whitening Factory (a.k.a. activated charcoal with some other ingredients that can whiten teeth!). I immediately thought of my roomie and our homework procrastinating shenanigans. The next thing I thought was…did it work the first time? Is it worth another shot? Did I even need to whiten my teeth?
The Rundown
Product: Molr C+C Whitening Factory
Retail Price: $43.95 (2 month supply with twice per day use)
Where to buy: Molr website
Perks: All Natural | Medical Grade
How Sam Used It
The answers to my questions above…
Did it work the first time? Honestly, who knows.
Is it worth another shot? If the blog is involved, then yes.
Do I even need to whiten my teeth? I love coffee and my wedding is in a year so…maybe?
Quite honestly, my teeth have been feeling and looking pretty pearly these days! Ever since Quipbecame part of my everyday routine, dental care has been a breeze! But I figured my teeth could never be too white, right?
(The previous statement is true unless you're Ross Geller.)
Here's Where Things Get Scary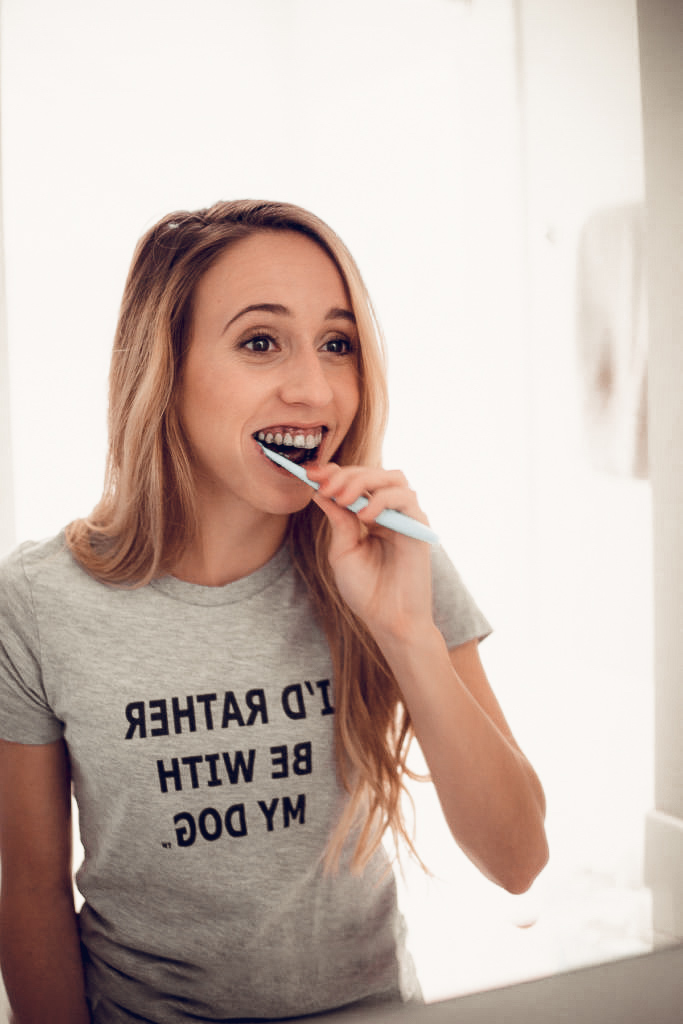 It was product experimentation time! I grabbed the toothbrush that came with the powder, which is a convenient and thoughtful touch I might add! After getting the brush damp, I dipped it ever so slightly (less is more here…for sure!) into the charcoal powder and started brushing.
Mid-brush, I opened my mouth to look at my teeth and I was mortified! I looked like a zombie. The black of the charcoal has a really creepy way of outlining all of your teeth, while simultaneously getting all up in your gums! The Molr C+C Whitening Factory product page on the website does have a little disclaimer that says,
"Warning: You will look like a Walker from "The Walking Dead"
for 1-2 minutes, during this time you should avoid dudes with long hair and crossbows. Once you rinse your mouth feel free to resume a normal human lifestyle." I've never watched The Walking Dead a day in my life, but looking like a Walker is not something I aspire to do. Oh well…we couldn't get through Halloween without giving you a little bit of a scare!
Messy is It's Middle Name
So this stuff probably doesn't have a middle name, but if it did…it would be "messy." It gets EVERYWHERE. No, I'm not a barbarian that doesn't know how to keep it clean when I'm brushing. Somehow…someway…this stuff manages to get on the mirror, on the walls, on my clothes and I don't even want to talk about how gross the sink gets.
The directions recommend you use this twice per day. If I used this twice per day, I would have to hire cleaning help just to keep up with the messes. Honestly, I tried so hard to incorporate this as the company recommended, but it's just such a pain the booty to use that I just couldn't do it!
How Claudia Used It
Unlike Sam, this was my very first time experimenting with charcoal toothpaste. It seemed like everyone was doing it, so why the heck not? (Disclaimer: This is not how I normally go about making life decisions, but when it comes to the blog, you better believe I'll be following the trends!)
Sam and I both added the Molr C+C Whitening Factory to our FFF boxes hoping this would be a really fun and successful experimentation for us. Because, really, who doesn't want whiter teeth??
Not to toot my own horn here, but I do think my teeth are pretty white…between Quip and Tom's of Maine, my dental hygiene routine was on point! However, if this toothpaste could elevate my whitening game…I was down to give it a shot.
OCD Clean Freaks…Beware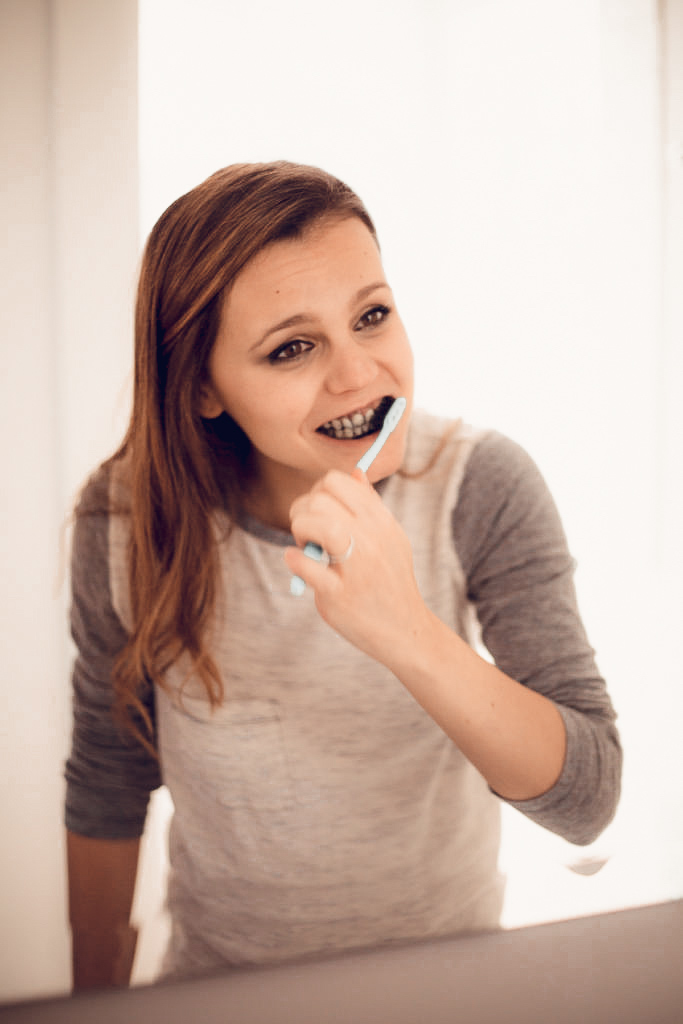 Ugh, guys. Sam's not kidding when she says this stuff is messy.
I was lucky that she tried the product before I did! She warned me of the mess, so I was extra careful my first time. I dipped my brush into the charcoal and went to town on my teeth. Immediately, the charcoal started running down my hands and arm. I swear I'm not a messy brusher! But this stuff is pretty runny. It doesn't foam at all, so you're basically rubbing water and charcoal all over your mouth.
Wondering about the taste? Being that I was using it as a replacement for regular toothpaste, I was disappointed to find out it wasn't really minty at all. This is definitely not something you use to freshen up your breath!
But the truly worst part was when I noticed my teeth. I pretty much died laughing looking at myself (which made even more of a runny mess)…I looked like a freak!! Black teeth, black lips, black tongue. It was GROSS.
Long story short, if you consider your cleanliness game to be at an OCD level (or on the verge of OCD), beware. The whole charcoal toothpaste thing might cause you serious distress. We're talking charcoal splatters ALL over the place. Mirrors, vanities, walls…no surface is spared.
A Few Tips
After using Molr C+C every day for a couple of weeks, I learned a few tips and tricks that might make your experimentation with this trend a little better.
Brush your teeth first with regular toothpaste. In my opinion, the charcoal toothpaste is only good for whitening purposes. Not cleaning.
Keep your mouth shut as much as possible to avoid crazy messes. There will still be a mess, no matter what. But keeping your mouth shut could help to reduce the charcoal splatter.
Rinse your toothbrush clean after you're done brushing and use it to go back through your teeth, gums and lips to get rid of any remaining charcoal stains. Like I said before, everything will be black…even after you rinse. So go back through with a clean brush to get rid of the excess and follow up with a good mouthwash.
The Results
Unfortunately, we didn't really notice a difference in the whiteness of our teeth. And even if we did, we wouldn't want to deal with the hassle and the mess that come with charcoal toothpaste.
We're my teeth getting closer to that Ross Geller level? Answer: Nope.

One thing we learned…this product would make for an excellent addition to a skeleton or zombie costume!