You might think we talk about aluminum-free deodorants all the time…and that's because WE DO! We're obsessed with trying to find the latest and greatest natural deodorants to ensure our little pits don't absorb any unnecessary toxins. Because…gross.
So when Cleo & Coco reached out to us to see if we would try their latest line of charcoal deodorants, we were like "Heck yeah!" Even though I was totally in love with my Primally Pure and Sam was super happy with Kai, we couldn't resist the chance to try a new brand.
Detoxing with Cleo & Coco Charcoal Deodorant
Cleo & Coco was started by Suzannah Raff, a total #bossbabe, who wanted to create a natural deodorant brand that actually kept her odor free the ENTIRE day. And let me tell ya, that's a tough challenge to take on. Most natural deodorants fail you at around 2-3pm.
But she knew she could find the magical formula to not only keep you odor-free but to also detox your precious pits. And so, Cleo & Coco was born!
Cleo & Coco uses activated charcoal to absorb odors, toxins, bacteria, oil, and water. It also supports your body's daily natural detox process. In other words, this stuff works!
Check out our experiments with Cleo & Coco below!
---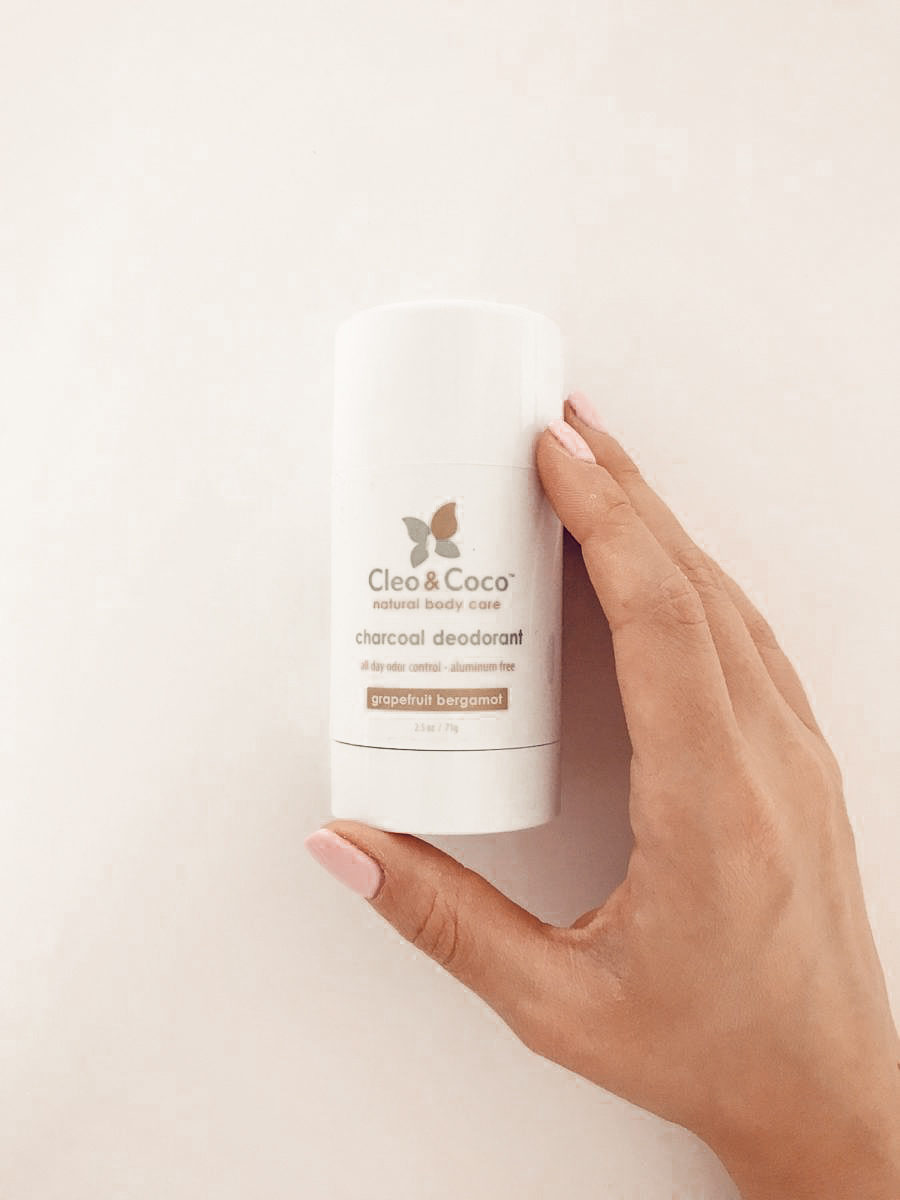 The Rundown
Product: Cleo & Coco Charcoal Deodorant (Grapefruit Bergamot & Lavender Vanilla)
Price: $18
Where to buy: Cleo & Coco website or enter our GIVEAWAY on Instagram for a chance to win one for free!
Perks: Aluminum Free | No Preservatives | All Natural Ingredients | Parabens Free | Sulfite Free | Cruelty Free | Gluten Free | Woman Owned
---
The Best Smelling Deodorant EVER
Okay guys, you know I'm all about scents. And these deodorants smell AMAZING. The Cleo & Coco charcoal deodorant has essential oils that create the perfect blend of sweet and relaxing. Not to mention, these oils have healing properties that help keep the skin calm and protected.
The vanilla oil acts as a mild antidepressant and is also anti-inflammatory and contains antioxidant properties. Amazing right?!
The lavender oil is an anti-inflammatory, antifungal, antiseptic, antibacterial and antimicrobial. Talk about a powerhouse!
The orange oil is also antiseptic and antibacterial, meaning it helps clear away oils and toxins. And the scent is totally energizing!
Lucky for us, Sam loves lavender and I love citrus. So we each got to experiment with our favorite scents!
Let's Talk Texture
Sam and I both agree that this is our least favorite part of the Cleo & Coco charcoal deodorant. Unlike our Primally Pure and Kai, this one doesn't glide as easily.
However, we do have a few tips to help with that!
Hold the deodorant under your armpit for a few seconds to warm it up and soften the texture.
Apply to warm damp skin after you shower for best results.
Once you get the hang of it, you'll notice a nice layer of deodorant on your pretty little pits. It might be a little sticky at first, but it all absorbs quickly.
Sooo, Does it Last?
I think Suzannah achieved her goal! Whenever I wear this deodorant, I feel like I smell like a fresh grapefruit all day long. It did take about a week for my body to adjust though!
I tested this sucker out during all my workouts and even on 90+ degree days, and it kept me pretty much odor-free. There was a bit more sweating than usual, but again, that's because it takes some time for the body to adjust. Even though I was using a natural deodorant prior to this, different ingredients provide different results.
Final Score
I think the two things we love the most about this deodorant are the ingredients and the scent. The ingredients are just so simple and clean and don't irritate our skin whatsoever. And don't get us started on those scents!! So yummy and fresh! Just what you need in a deodorant, right?!