Vitamins are a tricky, sticky subject. Everyone seems to have their own opinions of what we should and shouldn't take. So, just like everything else in life, it's important to do your own research and figure out what's best for YOU!
About a year ago I started to do just that after I felt like I needed some sort of multivitamin in my life. (I also started taking supplements with Hum Nutrition! I consider these to be non-essential, therefore in a different category from a vitamin!) There are so many vitamins and nutrients that we need on a daily basis and honestly, it can feel like an impossible feat to get them all in just one day through just food alone. I mean, seriously, I'd be SO impressed if someone could get absolutely everything in all three meals!
Here's the thing…most women are lacking nine essential nutrients (the ingredients of Ritual, duh!), but common multivitamins typically have 20-40 unnecessary ingredients (UGH!). So, tell me, what's in your current vitamin?
Maybe you only take one or two non-multivitamins so you know exactly what's in it, but are you sure you're getting all the nutrients you need then?That's why I went with Ritual vitamins. Honestly, it just made it easy! I had started to do my research of which vitamins I needed, which I didn't and everywhere I looked, I just kept finding vitamins with fillers and unnecessary stuff. With Ritual, I didn't even have to think twice about it.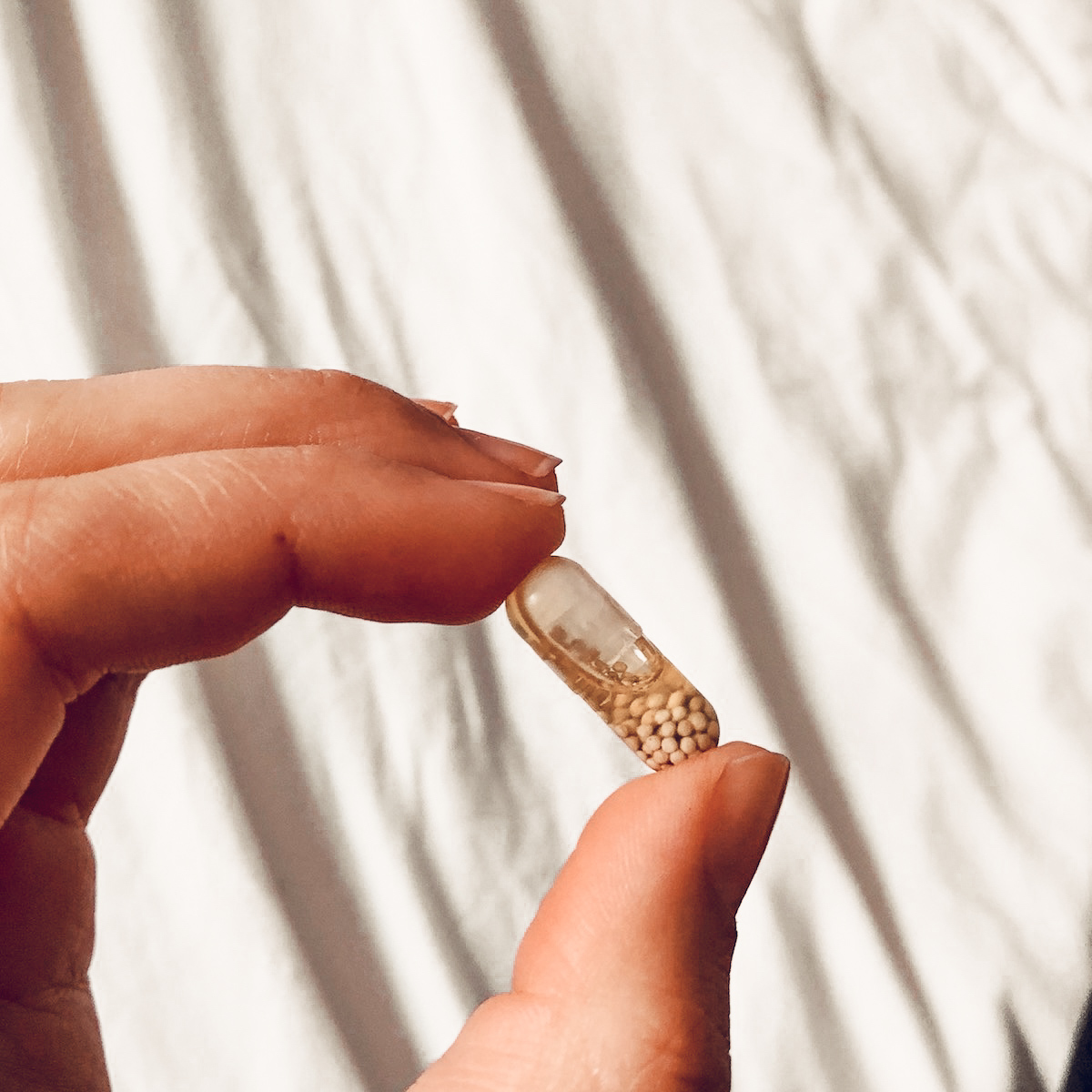 The Rundown
Product: Ritual Vitamins
Price: $30/month
Where to buy: Get $5 off your first order with this link!
Perks: Non-GMO | Vegan | Gluten & Allergen Free | No Synthetic Fillers or Colorants | Made in the USA | Patent Pending Technology | Free Shipping
Ritual Vitamins: First Impressions
Obviously, Ritual vitamins are easy on the eyes. I mean, those clear capsules with the floating beads…how cool! Not to mention, the packaging is simple and adorable. Even the packaging that arrives every month is super cute. Great product design and simple packaging can win over this designer girl's heart anyday!
As I went to take my first two Ritual vitamins I noticed something amazing…they smelled and tasted minty! There's really nothing worse than putting a vitamin that tastes like fish and rocks in your mouth so I was pleasantly surprised that these were pleasant on the palate!
So…Do They Work?
Honestly, I really struggled with how to "review" these vitamins because, just like with most vitamins, it can be hard to know if it's really "working." That being said, I've now been taking Ritual vitamins for over a year and there are a few things I've noticed:
Immunity: I can hardly believe this, but I haven't been sick since I started taking Ritual…not even once, not even a little bit! (Transparency note: I also take a Garden of Life Probiotic for Women that supports my immune system as well! Extra immune support never hurt!)
Overall Mood: I'm generally calmer, happier and have more maintained energy! Now that doesn't mean I don't have my days, but compared to times prior to Ritual, I'm generally more calm, cool and collected!
Peace of Mind: With Ritual, I know I'm getting all the essential vitamins and nutrients I need so I generally have full peace of mind when it comes to obtaining a balanced diet!
Let's Talk Ingredients
Remember when I said there are only nine essential ingredients that women need? Let's talk about those!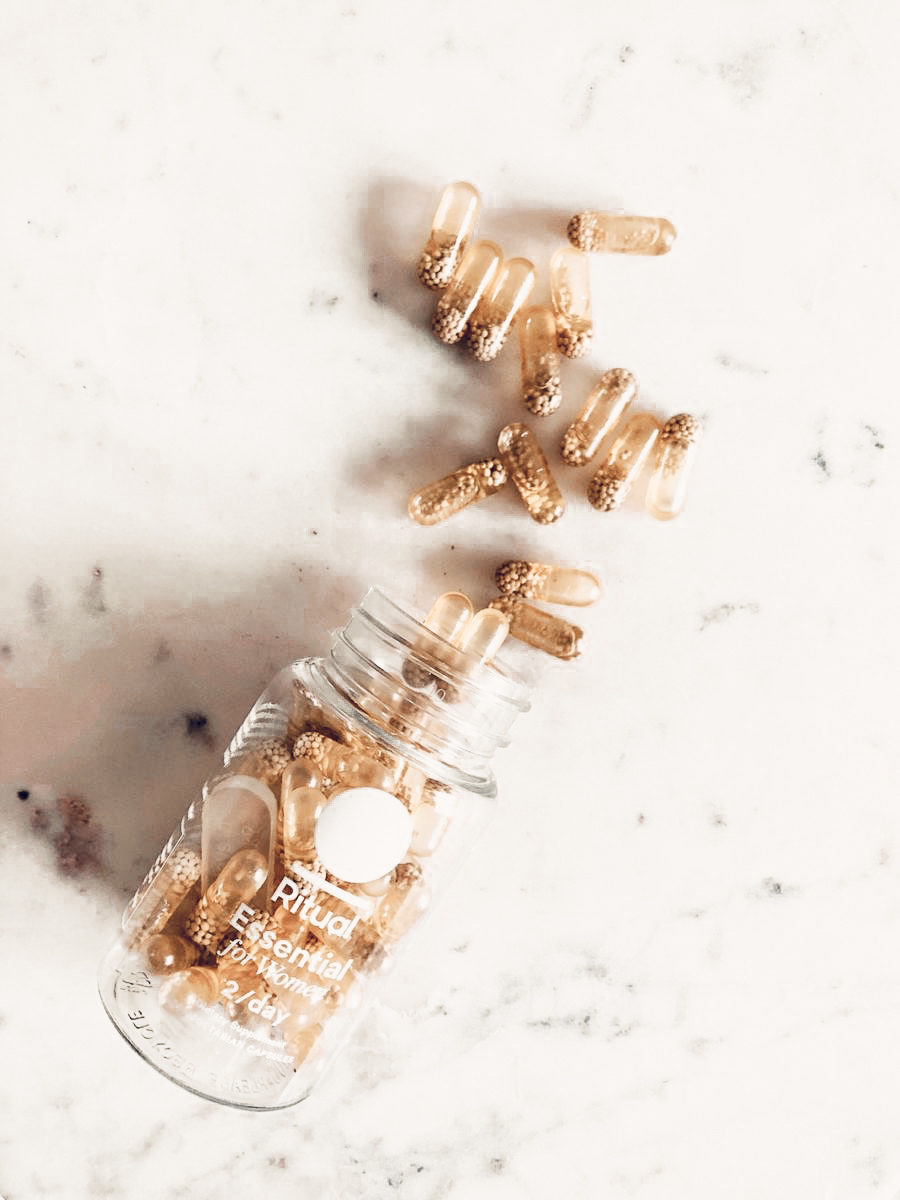 Vitamin K2 (90 MCG) is pertinent to your bone, skin, and heart health!
Vitamin D3 (2000 IU) supports your immune system, bone health, and cognitive function!
Vitamin B12 (8 MCG) aides in nerve and brain function, while supporting consistent energy levels!
Boron (1 mg) contributes to bone and joint health, while supporting healthy hormone levels!
Iron (8 mg) helps to build your blood while supporting your brain and energy!
Vitamin E (10 IU) is full of antioxidant actions, while helping you have healthy skin in delivering anti-aging properties!
Magnesium (50 mg) promotes calmness, while also supporting your bones and heart!
Folate (600 mcg) works to improve your brain health and overall mood, but one of its most unique jobs is DNA synthesis (a.k.a. The stuff we need to make healthy babies someday!)
Omega-3 (320 mg) supports your immune, cardiovascular, and neurological systems!
Feeling like you might need to add Ritual vitamins to your life?
Even though I generally feel healthier on a day-to-day basis since taking Ritual vitamins regularly, my aha moment here is the total peace of mind I have! Not only am I getting those nine essential nutrients, but I'm not getting a ton of other icky stuff that I don't need!

Since I did a ton of research beforehand, I know that these vitamins are a rare gem that I know I can't find anywhere else! So they most definitely have earned my 10/10 rating!