I'm very much obsessed with my cuticles (you can ask Sam!). If I'm concentrated on something or lost deep in my thoughts, you'll likely find me messing with my cuticles. I clean and trim them AT LEAST once a week…if not more. And if I ever see a hangnail, forget about it. That thing is dead and gone in 0.3 seconds.
Sounds strange? Well, growing up I was a notorious nail-biter. Gross, I know. Luckily, I eventually had an epiphany and realized that I should probably take care of my nails…not bite them off like a monster. So I put my obsession with my nails to good use and Claudia, the Cuticle Queen, was born.
FabFitFun to the Rescue!
The Deco Miami Cuticle Oil was one of the many FabFitFun goodies I was crazy about in the last box…obviously. Anything that will keep my nails and cuticles healthy is a winner in my book!
Not to mention, the oil came in the CUTEST packaging. The colors, the shape of the box, the gold top…everything was totally reminiscent of the art deco Miami style I grew up around. The bottle even looked like it could come straight out of my (very fashionable) grandma's vanity. Retro, fun and very stylish!
I was hooked and decided to research the brand a bit more. Not to my surprise, I learned that their philosophy is all about size, formula and packaging…of course!
Small sized products…because who actually finishes a full bottle of nail polish?
Chemical-free formulas…because chemicals are soooo out of style. Duh.
Supa cute packaging…because pretty products should be shown off on your vanity!
But did the quality oil meet the high standards of the Cuticle Queen?
---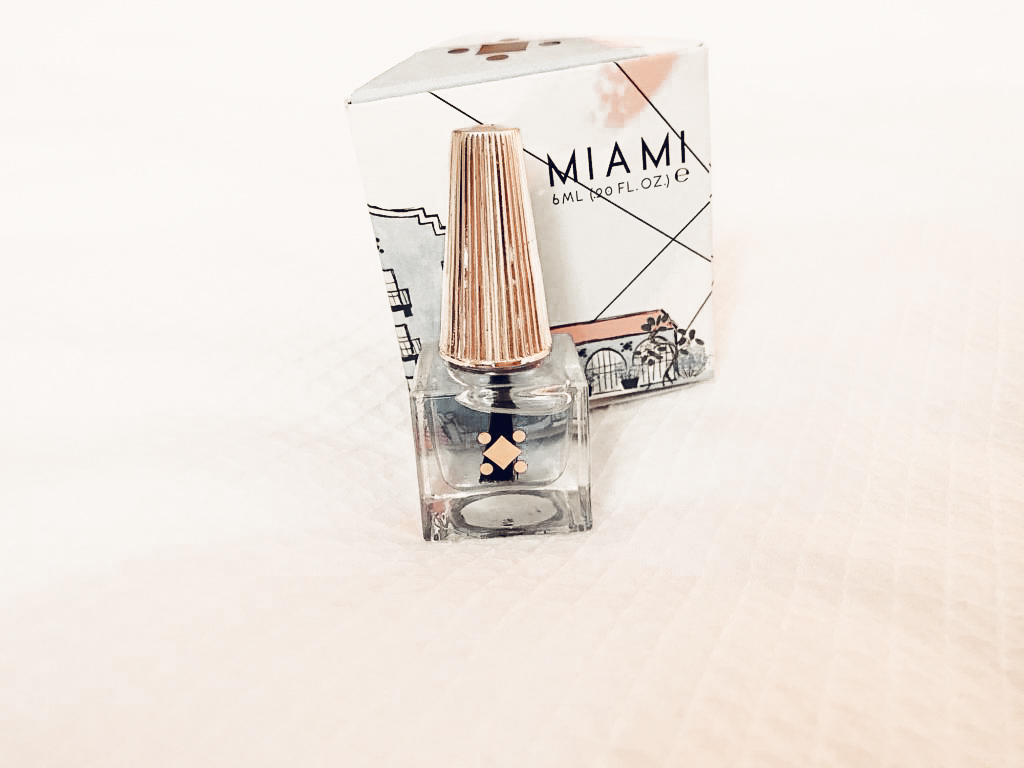 The Rundown
Product: Deco Miami Cuticle Oil (Lavender)
Price: $12.50 (use code OBSESSED30 for 30% off your order!)
Where to buy: Deco Miami website
Perks: 8-Free | TPHP-free | Vegan | Cruelty-Free
---
Dry Cuticles, Go Away!
Even if you're not on my level of obsession when it comes to your cuticles, I'm sure you can agree that dry, cracked cuticles are no fun (and don't do your pretty nails any favors.)
With the yucky winter season just around the corner, I've stepped up my nail care game to ensure I can avoid the effects of the unforgivingly dry, cold Michigan air.
Prior to using the Deco Miami Cuticle Oil, I typically massaged coconut oil or the Acure Argan Oil on my nails once or twice a week to keep them moisturized and healthy.
These oils definitely do the trick if you're in a pinch. You likely already have at least one of the two in your vanity so you don't have to go out of your way to buy anything extra.
But for those of us that are nail care obsessed, it's fun having different products to play around with!
A Cuticle Oil Fit for a Queen
I switched out my coconut and argan oils for the Deco Miami Cuticle Oil about two months ago and have definitely noticed a difference in my cuticles.
With all the traveling I've done the past couple months, my nails are nowhere near the level of perfection I'm used to. Ain't nobody got time for that…at the moment! So rather than worrying about painting my nails every week, I've focused on just keeping them filed, cleaned and moisturized.
I use the Deco oil about twice a week on my hands and feet. After I get out of the shower, I'll trim off any excess or cracked cuticles and apply generous amounts of oil along my nail beds. I then spend a few minutes rubbing it into my nails and skin and follow up with a good moisturizer. Next thing you know, my nails are looking mighty fine, mighty hydrated and best of all…mighty healthy.
What I Love About Deco Miami Cuticle Oil
There are many things I love about this product!
The oil has hints of lavender, making it a perfect addition to my nighttime beauty routine. Nothing like a little lavender to relax the mind!
You apply it with a brush, just like you would with nail polish. It makes the whole experience easy and quick…and also makes me feel like I'm at my own little professional nail salon!
The bottle is small enough to bring with me when I travel! Airplanes, city water and changing weather make for a deadly dry combination. And it's, unfortunately, a combination I can't escape! But if I have the cuticle oil handy, I can at least ensure my nails are nicely hydrated during trips.
Deco Miami was started by a 20-something for 20-somethings! Jules, Deco's founder, was sick of men being in charge of the beauty industry and took it upon herself to start a brand that was real and relatable for our generation. #BOSSBABE
What I Don't Love
Not really much to say here! However, this wouldn't be a good #COTest if I didn't have a couple of things to criticize…
Not available in-stores. If I could walk into a Walgreens and pick one of these bad boys up when I needed to, that would be extremely convenient.
Main ingredient is mineral oil. I'm not a big fan of mineral oil being that it's not exactly the most natural or best kind of oil for your skin. But since I'm applying it just to my cuticles (and not my entire face, for example) I don't necessarily mind.
Overall, I think this is a great product if nail care is high on your beauty priority list!