And the natural deodorant search continues!
That's right, guys. I've got yet another natural deodorant to share with you! But spoiler alert: this is the BEST ONE YET.
Since I've already talked you into possibly buying two natural deodorants, only to find out that after a few months they actually weren't the best…I don't blame you for thinking, "Yeah, yeah, she's said this before." Sooo, I'm going to be VERY open and honest about my experimentation with this next natural deodorant because I don't you to think I'm just willy-nilly about picking my favorites. (Although Sam and I have both become a pair of natural deodorant connoisseurs!)
Primally Pure Charcoal Deodorant
If you're into the Instagram health and wellness world, then I'm almost positive you've seen some of your favorite bloggers raving about Primally Pure. And if you haven't, no worries! That's what we're here for.
Bethany McDaniel, founder of Primally Pure, comes from a pretty amazing family who spontaneously started an organic livestock farm in Southern California. Umm talk about AMAZING! After discovering the benefits of what eating real food can do for your health, she was driven to translate all that natural goodness into the beauty world. Bethany said buh-byeee to toxic skincare products and started formulating her very own replacements made with pure, simple ingredients. #GOALS
And that's where the amazing Primally Pure charcoal deodorant was born! I don't know what it is about this one, but guys, trust me when I say it's pretty darn perfect.
---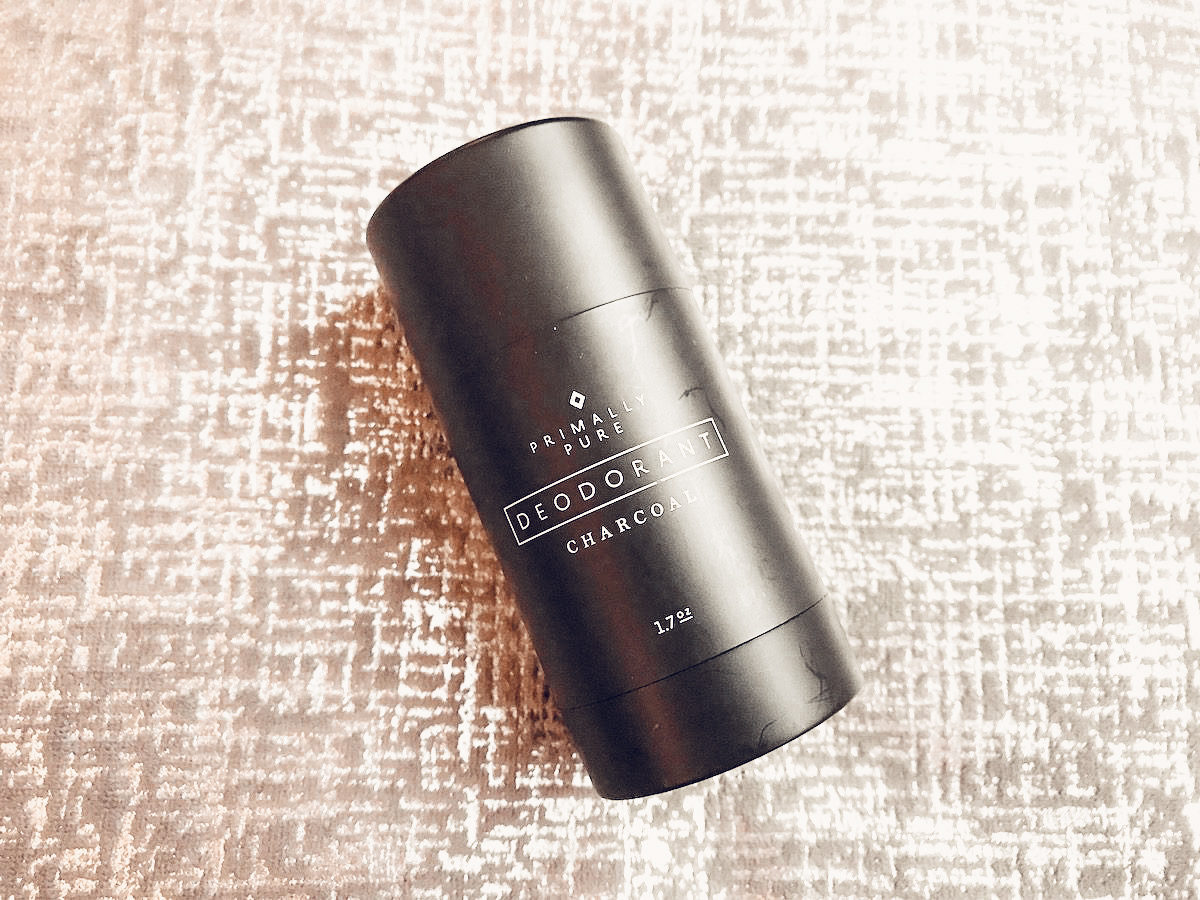 The Rundown
Product: Primally Pure Charcoal Deodorant
Price: $16
Where to buy: Primally Pure website
Perks: Controls Odor | Aluminum Free | Fragrance Free | Made with Organic Ingredients | Handcrafted | Independently Owned
---
Charcoal Deodorant, Where Have You Been?
First things first, let's talk about that amazing ingredients list in our Rundown! The Primally Pure Charcoal Deodorant is made from all natural ingredients but somehow works a million times better than any other natural deodorant I've tried in the past. (Between Sam and I combined, we've pretty much covered them all!)
The Primally Pure charcoal deodorant is free of nasty aluminum and is scented with only organic essential oils to help purify the skin and control odor. It's also fortified with kaolin clay, which is a super powerful detoxifier and has non-nano zinc oxide to help soothe irritation.
But best of all, this deodorant has activated coconut charcoal which detoxifies, deodorizes and disinfects. Talk about a triple win!
The one issue I was running into with other deodorants, like Schmidt's or Native, was that the baking soda was irritating my skin. Now, this Primally Pure deodorant still has some baking soda, but they put less than in their original formula and just a tad bit more than their sensitive formula. So it's the best of both worlds!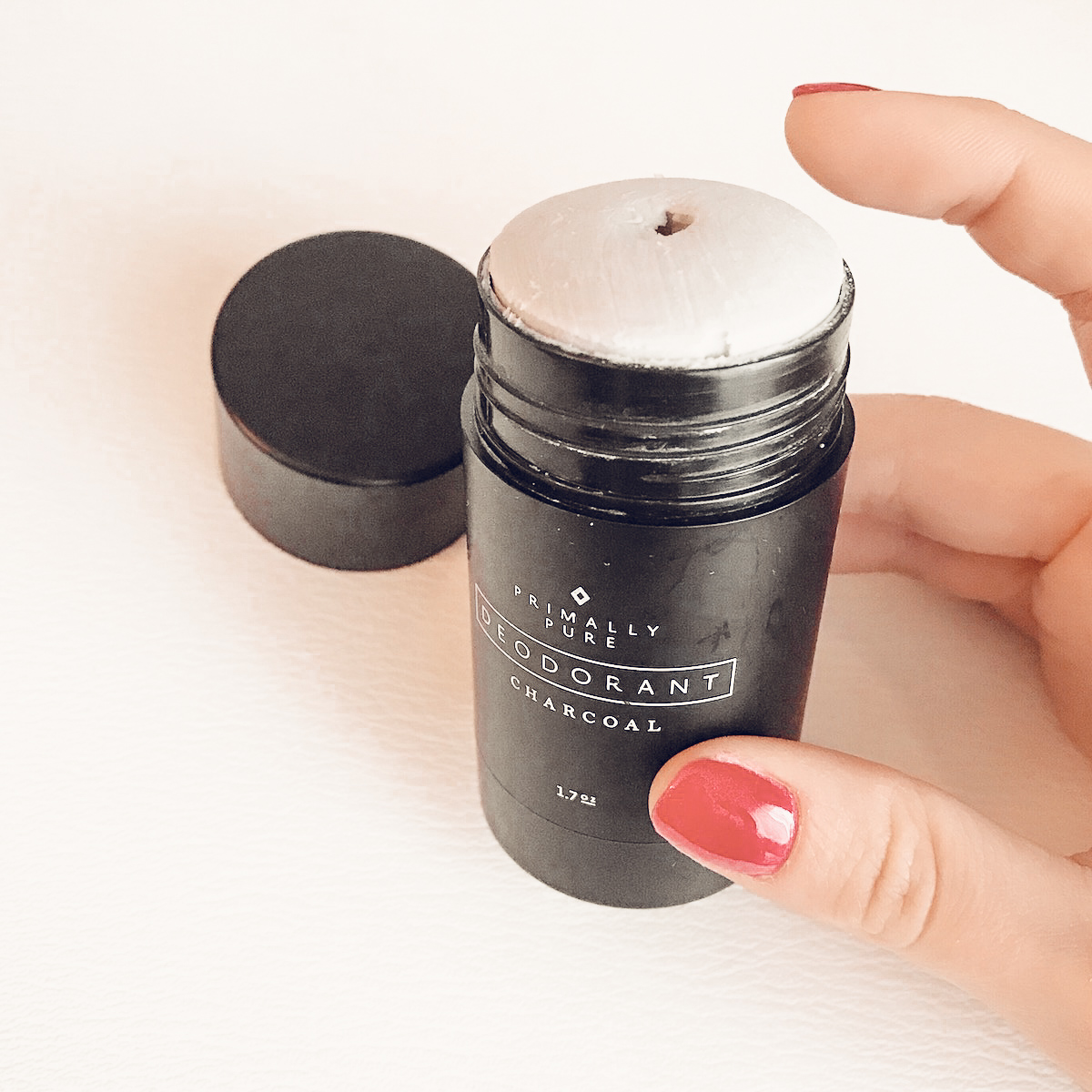 Minty Fresh Pits
Mmmmm peppermint. Seriously, this stuff smells so fresh and so clean! It's got organic eucalyptus and peppermint essential oils that make it smell like minty heaven on Earth.
This one's a great one to gift to the men in your life! The scent is completely unisex and stays on ALL DAY. No joke. When I first started experimenting with it, I would smell my armpits throughout the day (lol yes I'm a weirdo like that) and would be shockingly surprised to find that they smelled nice and minty all day long. No sign of BO! Woohoo!
I do have to say that now that the weather is warming up and the moisture in the air is increasing, I'm a little less minty at the end of the day because I sweat more. But either way, this Primally Pure charcoal covers up that BO like no other natural deodorant I've ever used before!
Waves Your Hands in the Air Like You Just Don't Care
Really though. I've found that with this deodorant, I don't have to worry as much about weird white marks under my arms or globs of deodorant piling up. My pits soak it right up!
One thing to note though: the Primally Pure website claims that this deodorant goes on clear, but it definitely doesn't. It has a bit of white pastyness to it so you have to be careful when getting dressed. But it does clear up pretty quickly. Just a couple of swipes under each arm and you're done!
Some Tiny Turnoffs
I promised you I would be honest, so here it is.
It does slightly stain your clothes. Ugh, I have sadly yet to find a natural deodorant that doesn't stain clothes. It does this more to my fiance's dress shirts than to mine, but I do notice it in my workout clothes a bit. But nowhere near as bad as with Schmidt's or Native…so that's a little win!
Now that it's almost summer, I do notice that my armpits feel a bit sticky since I'm sweating more. It's a little uncomfortable, but better sticky than chemical-ly!
This one is a bit pricier than other natural deodorants I've tried. It costs $16 plus shipping. But if you end up loving the deodorant, you can subscribe and not pay shipping at all!
(Can you tell I always like to find the silver lining?)
It's definitely not perfect, but the moment I realized this deodorant was both gentle on my skin but still powerful enough to combat BO, I knew I had to give it a solid rating of 8/10.