I'm ALL about simplifying my routines…especially when it comes to makeup. I'm not one that loves to spend a ton of time getting ready in the morning. Most of the time, my hair ends up in a braid or a pony, even if my makeup routine is super simple and quick…there's just other things I'd rather be doing in the morning!
When Claudia first started experimenting with First Aid Beauty and had such success, I knew I was going to have to give one of their products a try! I knew the Ultra Repair Cream wasn't the perfect starting point for me, since I was already so in love with my Glossier Priming Moisturizer, but when they released their First Aid Beauty Ultra Repair Tinted Moisturizer, I knew it was time to give it a try!
Three Products in One
I was so excited to try this First Aid Beauty Ultra Repair Tinted Moisturizer because it was a moisturizer, tint, and SPF all in one! Talk about simplifying a routine! Doesn't get much better than that. And, though it's no news that SPF is uber important, ever since I started using Curology, it's been crucial that I have SPF in my daily routine.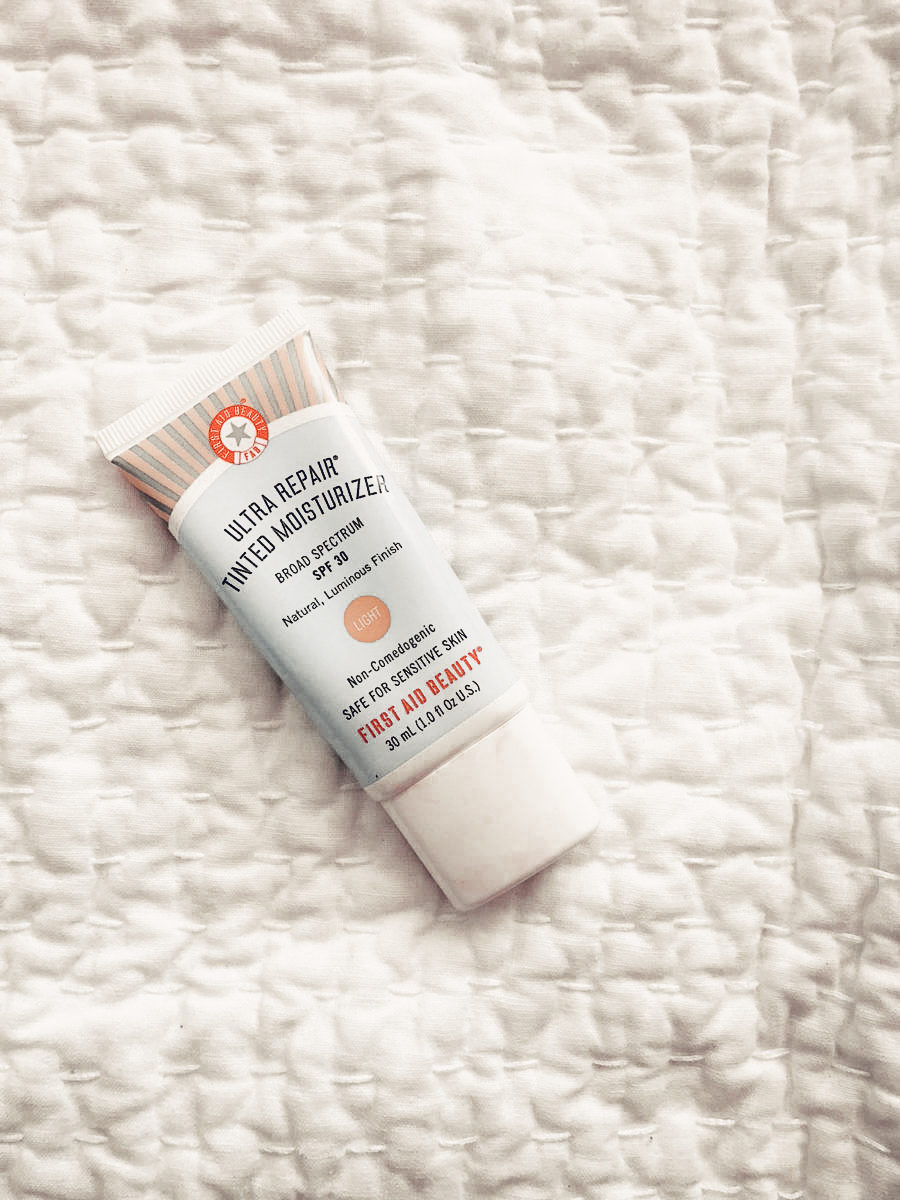 The Rundown
Product: First Aid Beauty Ultra Repair Tinted Moisturizer
Price: $28
Perks: Allergy-Tested | Gluten-Free | Non-Comedogenic | Nut-Free | Suitable for Sensitive Skin, Vegan | Nano-Free | Free From: Alcohol, Artificial Colorants, Artificial Fragrance, Lanolin, Mineral Oil, Parabens, Petrolatum, Phthalates, Propylene Glycol, Sulfates, Talc, Formaldehydes, Oxybenzone, Coal Tar, Hydroquinone, Triclocarbon, Ethanol, Ethyl Alcohol, Denatured Alcohol, Methanol, N-Butyl Alcohol, Isopropyl Alcohol, SD Alcohol
How I Used It
I was initially worried to use the First Aid Beauty Ultra Repair Tinted Moisturizer because the Glossier Perfecting Skin Tint is SO light and breathable, I knew I was going to have to make a slight adjustment while changing to a product that offers more coverage. As soon as a squeezed a little product out of the tube, I was really worried about the thickness. Good news: I actually love the consistency of this product! I don't know if I could go back to anything lighter! Crazy right?!
The consistency gives just the right amount of coverage without suffocating my precious pores! That's a major win for me! The First Aid Beauty Ultra Repair Tinted Moisturizer also has micro pearls (a.k.a. finely milled minerals with light reflecting properties) that amplify my skin's natural radiance! Trust me, I'll never say no to a little extra radiance!
Skincare & Makeup All-In-One
I truly believe all of your products should serve a true purpose to your skin's health. If it doesn't, at least for me, it's never part of my daily routine! Thankfully, the First Aid Beauty Ultra Repair Tinted Moisturizer is chock-full of ingredients that are good for your skin. There are four things that make this tinted moisturizer so perfect…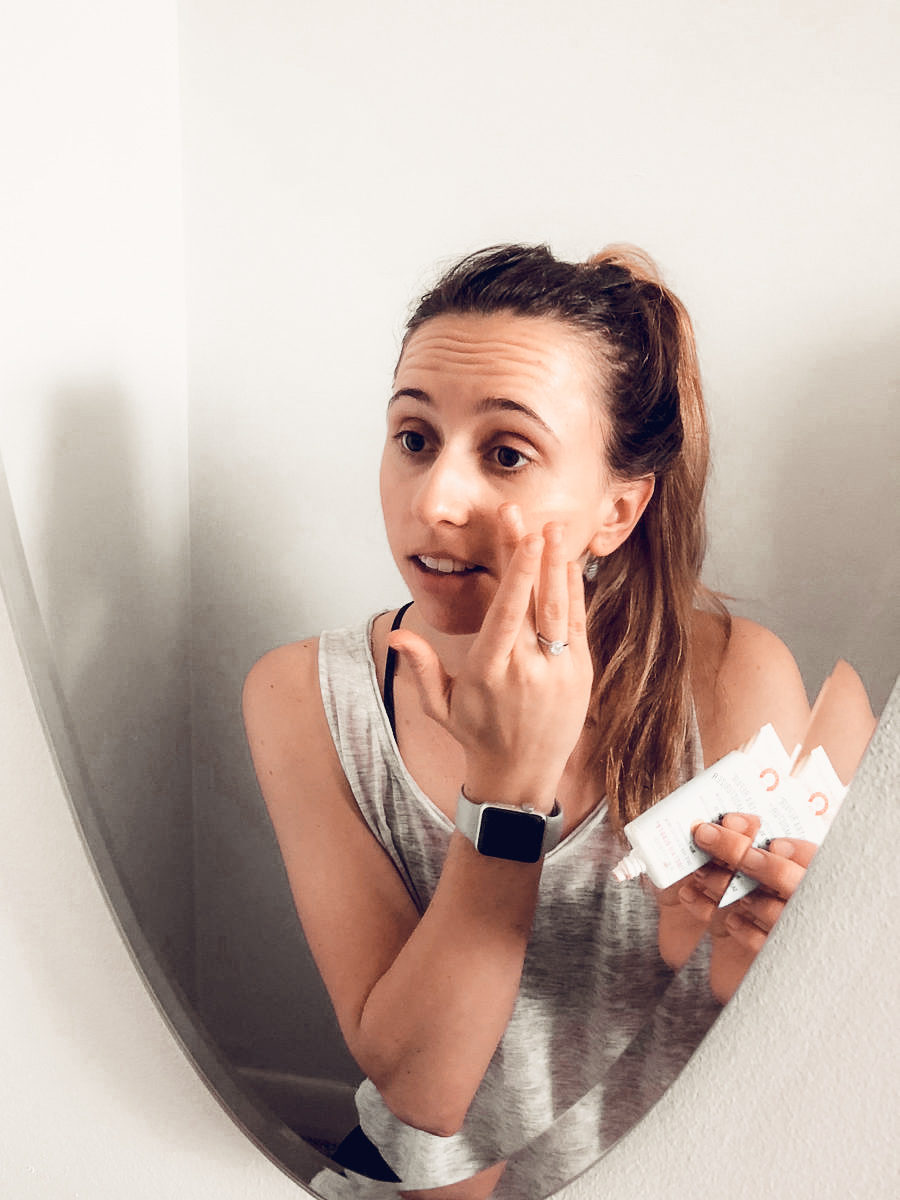 SPF 30: This one's a no-brainer…you can never have too much sun protection!!
Colloidal Oatmeal: Anything with oatmeal always calms and soothes your distressed skin…which I always need!
Vitamin E: Rich in antioxidants that helps condition and soothe skin and fight off environmental aggressors. Gimme all of that, please!
Micro-Pearls: Those little milled minerals that reflect light to amplify radiance!
Built to Last
This product was built to last…in fact, First Aid Beauty claims it lasts up to twelve hours! Honestly, I can totally attest to that. After wearing it through long work-days, hot sunny dog walks and even workouts, it doesn't ever wear off. When I get to my wind-down routine and grab my micellar water, it's crazy how much comes off on my cotton pad! With my prior Glossier friend, there was almost nothing left to take off at the end of the day. With the First Aid Beauty Ultra Repair Tinted Moisturizer, you can tell that it all stayed on all day!
Not only will it last through the day, but it has also become a lasting product in my beauty routine.
Just like they say…when you know you've found the one, you just know. That's how I feel about this gem of a product!
Tried and True by Two Twinsies
In true bestie fashion, I got Claudia on board with the First Aid Beauty Ultra Repair Tinted Moisturizer! Not that it was hard to do, since she's a die-hard First Aid Beauty fan. During one of our photoshoot days, we were photographing the I Dew Care Mini Masks and as we took them off, we realized we both forgot to bring face moisturizer! (Seriously the worst feeling on earth!)
Good news is, I just so happened to have my First Aid Beauty Ultra Repair Tinted Moisturizer in my bag and I told her to give it a try. She instantly fell in love with the consistency, coverage, and everything in between! Next thing I knew, she was ordering it too. Now, it's become a staple in her daily routine…just like me! #Twinsies.
The Results
One of my favorite methods to prove whether or not I like a product is to take a couple days of using something in its place and see how I feel. So for a couple days, I did just that…and welcomed my Glossier Perfecting Skin Tint back into my routine. It didn't take long for me to realize that I had found pure perfection in the First Aid Beauty Ultra Repair Tinted Moisturizer.
From lasting coverage to ALL the feel-good skin benefits, this perfection in a product more than deserves a 9/10!