This Detroit native and mama-to-be is here to share all the inside scoop on her beauty routine!
If you guys don't follow Alyssa of Lifestyles of a Basic Millennial, you MUST! She travels to the most beautiful places, shares beauty and wellness tips, and truly makes the most of her life between her 9-5. Not to mention, she's pregnant for the first time and has all sorts of good tips for any of you moms-to-be out there.
Let's get into it!
Tell us a little bit about you and why you started your Instagram account…
I live in Ferndale, MI with my husband and our cat, who happens to be from Canada, and who I also consider my real-life spirit animal. I'm a Barre addict, skincare junkie, lover of all Asian cuisines and I consider myself an expert at making the most of my allotted vacation days. My husband and I are also expecting our first baby in February 2020!

I'm fortunate that my day job allows me to be creative through writing, design, etc. I love what I do, but at the end of the day, the content I create for my job isn't always centered around topics that are near and dear to my heart. I started this blog in January 2019 as a creative outlet for myself. Lifestyles of a Basic Millennial touches on a wide array of topics from travel guides, to managing anxiety to my favorite skincare products. I am open and honest in all of my posts because I truly believe that the more we share with one another, we will realize that as human beings we have more in common than we do differences!
What are your AM and PM skincare routines like?

This is my standard routine, not necessarily what I do now that I am pregnant (some of these products are off limits to those expecting), but I'll share a bit more about that later!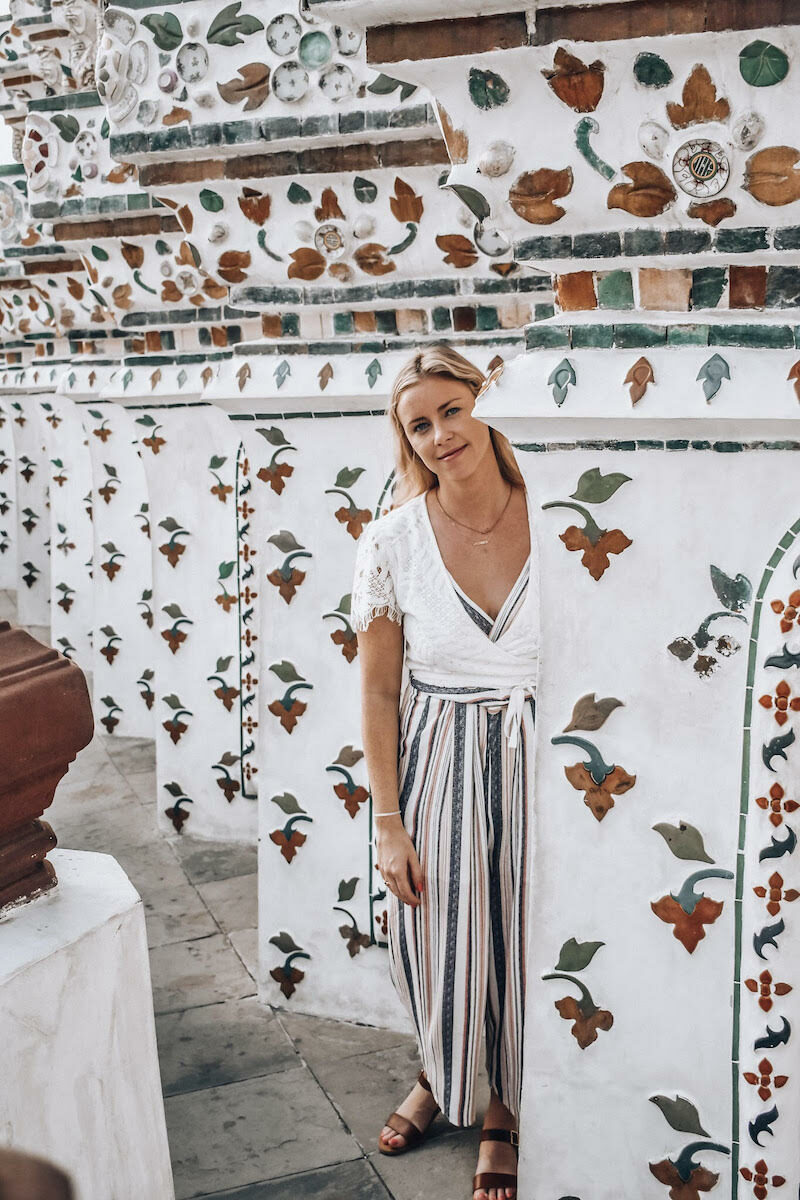 AM:
I am a morning gym person so I never skip my AM cleanse. I tend to lean toward a gentle, non-foaming cleanser. Lately, I am obsessed with Indie Lee's Brightening Cleanser. It's made with strawberry seed oil and the smell is seriously amazing.

Then I mix one pump of Drunk Elephant C-firma Day Serum and one pump of Drunk Elephant B-hydra serum. This is one of my all-time favorite combinations. The C-firma is great for diminishing any blemishes or acne scars and evening the skin tone. While the B-hydra plumps and seals in moisture. My final AM step is mixing ½ pump of Drunk Elephant D-Bronzi for a bit of color (I don't wear foundation on a daily basis) with Drunk Elephant's Protini daily moisturizer. Protini is my favorite daytime moisturizer because it's lightweight and hydrates without being too oily or heavy for my skin.
PM:
I start with an oil cleanser to take off my makeup. I use Origins Clean Energy Gentle Cleansing Oil. Then I use a non-foaming cleanser for my second cleanse. I'll use the Indie Lee cleanser again, or if I feel like I need some exfoliating action I will use Kiehls Rare Earth Deep Pore Daily Cleanser.

I usually have some eye makeup residue after all of that so I use Caudalie Micellar Water to get the last of my mascara off. Another one of my favorite products that I will work in a few times a week at night is Belif's Bubble Pore Cleaner. It's great for balancing the PH of your skin and bubbling out any dirt or oil residue.

Next, I use a few sprays of Herbivore's Jasmine Green Tea Balancing toner. For my final step, I rotate every other day between Sunday Riley Luna Retinol Sleeping Night Oil and Drunk Elephant TLC Framboos Glycolic Night Serum with 1 pump Marula luxury facial oil or a dab of Belif's True Cream Aqua Bomb.
What's your favorite beauty product right now?

I have to say my favorite product right now is Drunk Elephant B Umbra Tinted Sunscreen. It's the perfect lightweight, clean sunscreen for everyday wear. It's perfect for a day out on the lake or even as a replacement for your daily lotion under your makeup. The slight tint gives your skin a perfect glow!
What's one product you can't live without?
Besides anything and everything Drunk Elephant (hello, BabyFacial!), my ride or die product is Belif's Aqua Bomb Daily Moisturizer. It's a bouncy, jelly-like moisturizer that is so hydrating and lightweight. I have convinced almost everyone I know to buy it!
What are some clean swaps you've made in your life recently?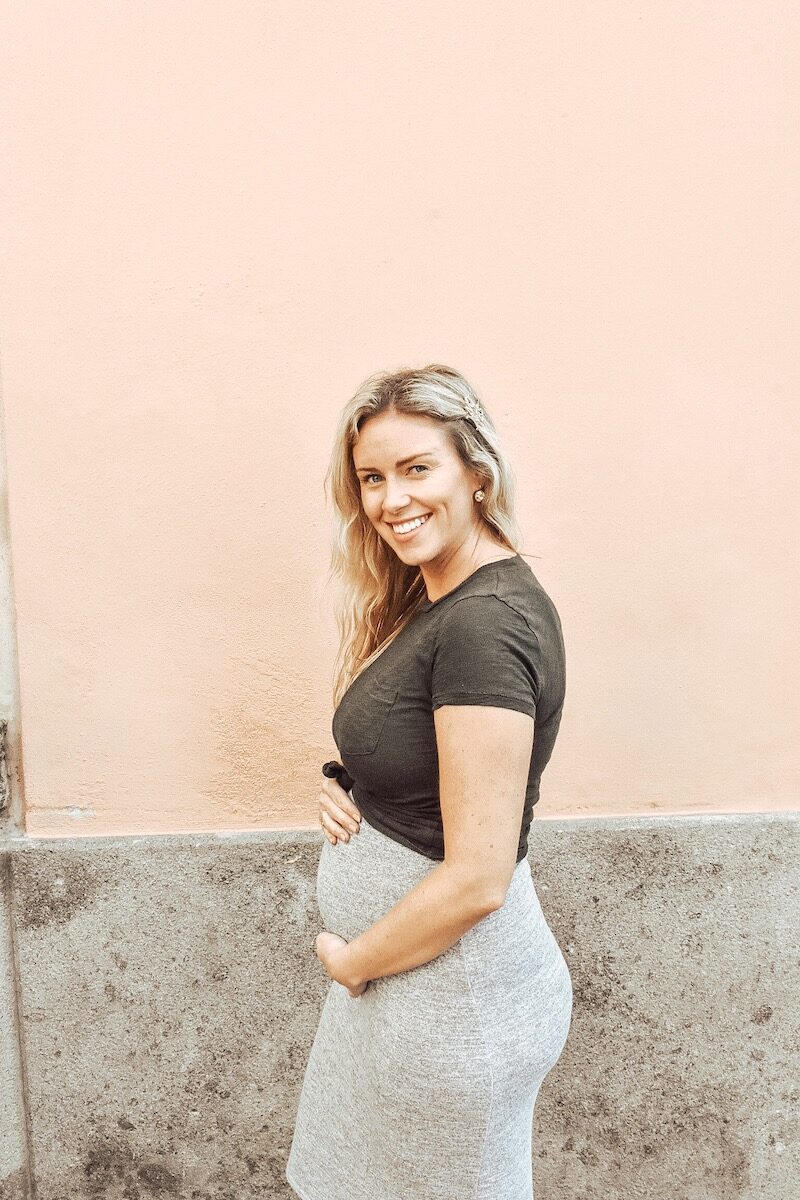 I've always been very health conscious about what I put into my body, but more so now that I'm pregnant! I am reading the labels of all of the food I am eating and the wellness products I use. One thing that I am trying to be really conscious of is how much sugar I consume. I recently swapped my daily Clif Bar for RX protein bars. There are 0 grams of added sugar in RX bars and they keep me full for so much longer! My favorite flavors are dark chocolate sea salt and mint chocolate chip.

Drunk Elephant's BabyFacial is also off the table while you're expecting (SO SAD), so I've been trying to find some gentle treatments for my mild pregnancy acne. I've been using the Origins Clear Improvement Active Charcoal mask in place of BabyFacial and swapping my retinol with The Ordinary's Azelaic Acid Suspension. These pregnancy hormones are making my skin go crazy! So, I'm back to basics and using anything I can that is safe but effective for clearing up my pregnancy pimples.
Thanks for sharing all your beauty secrets with us, Alyssa!