Who else loves a good morning routine? I personally feel like I just can't function if I don't start my day by focusing on myself. It's hard to give your all to everyone around you if you haven't had time to take care of yourself. Cha feel?

The days where I focus on my precious "me time" right off the bat are the days where I feel like I can be more productive. And that's why I'm very particular about my morning routine!

Of course, this is the routine that works for me at this point in my life. Will it change when I get a puppy? Or have babies? YES! But for now, this is the routine I've learned to love.

So let's break it down, shall we?

Wake Up, Flawless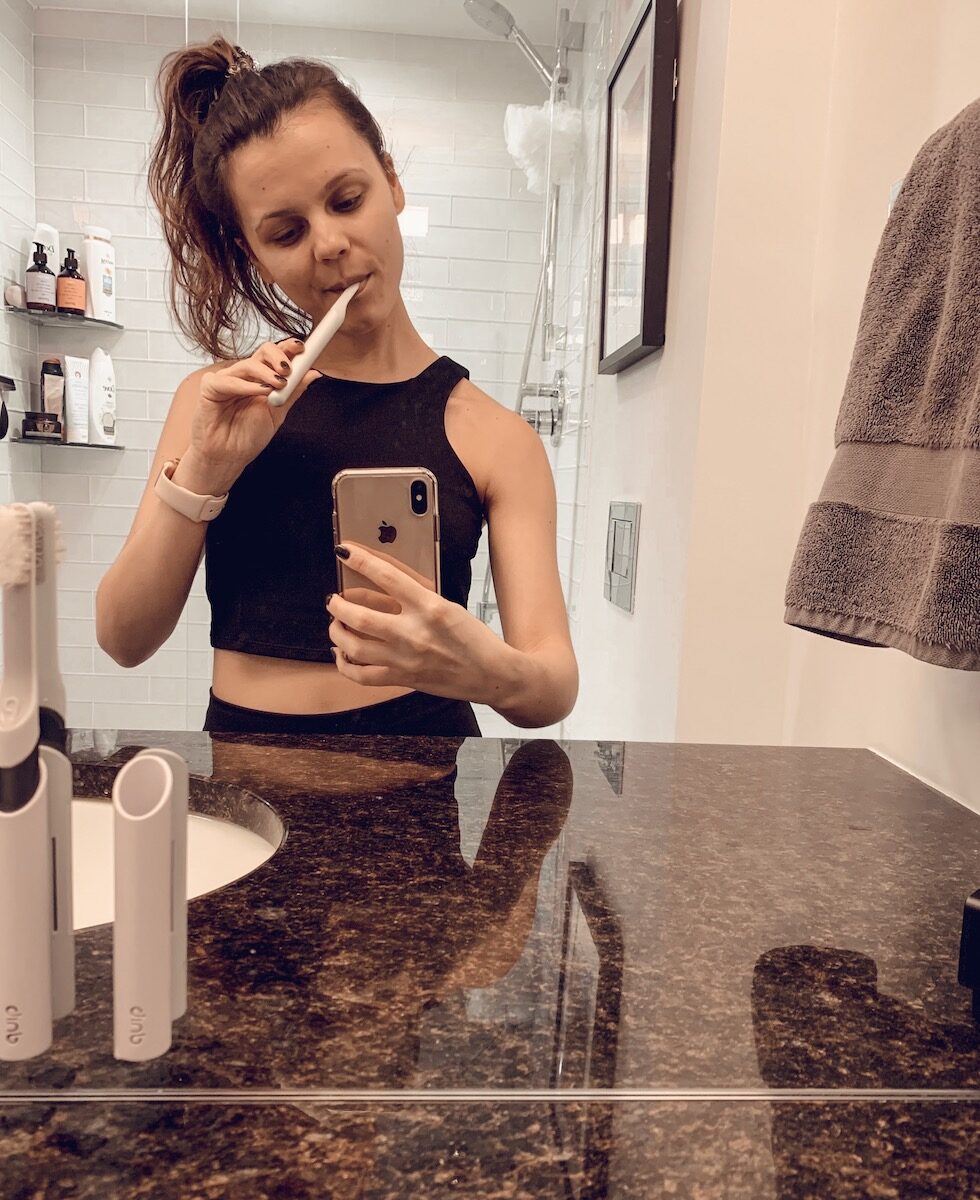 Yeah no. The bedhead and puffy eyes are real, guys.

Also, does anyone else have a super hard time waking up right when their alarm goes off? I've been trying to get better at it, but man! It's tough! That snooze button is super tempting.

So for that reason, I set my alarm 30 minutes before I actually have to wake up. LOL! I also make sure I wake up three hours before I have to leave for work. You might think that's crazy, but again, I need my "me time" people!

6:00am – Alarm goes off…snooze…snooze…and snooze.
6:30 – Ok now I'm up!
6:45 – Bed is made, teeth are brushed (still obsessed with Quip), and deodorant and workout clothes are on.
Yes, I make my bed every single morning…Monday through Sunday.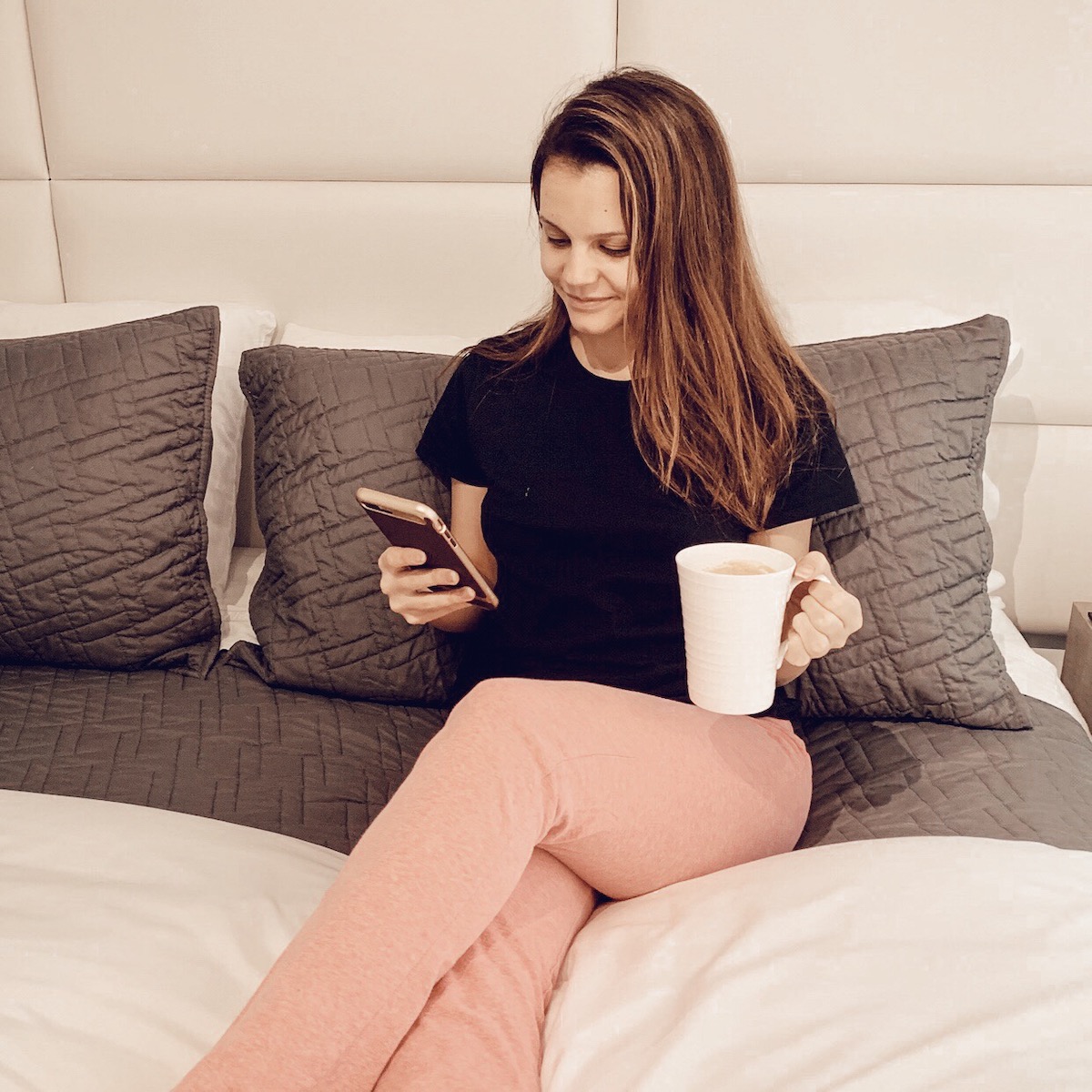 It might sound a little OCD, but for me, it's all about order, routine and simply starting my day on the right foot. Plus, there's nothing like coming home after a long day and seeing that your bedroom is nice and tidy and clean. Anyone else have to make their bed right away??
7:15-8am – Get My P.volve On
Before I get to my beloved morning workout, I make breakfast for my hubby! Hehe! I love helping him out in the morning. It gives us a chance to connect before we go about with our days.

Lucky for me, Alex is now obsessed with Fab Four Smoothies, just like me! So I make him a quick Blueberry Avocado Smoothie (recipe below) and he's out the door.

Now it's time for P.volve!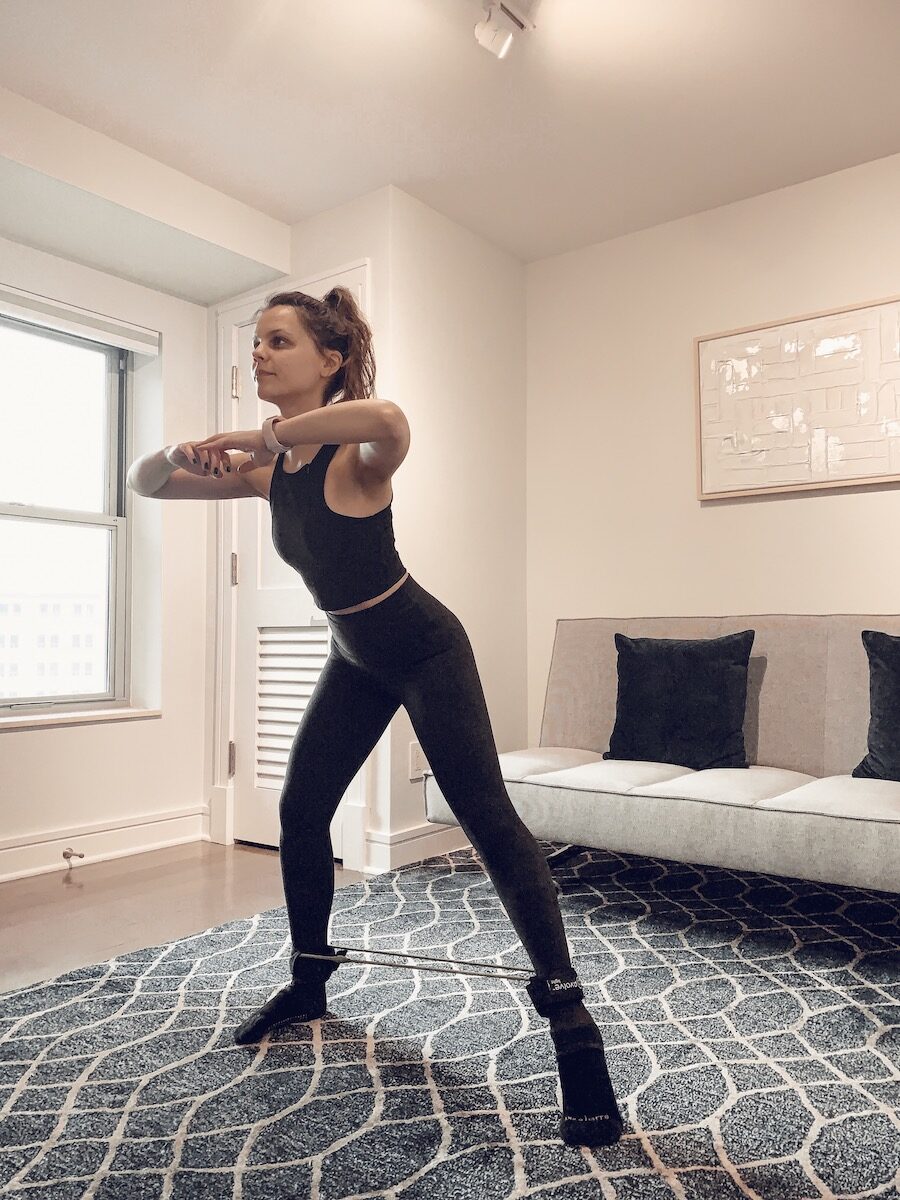 I typically workout anywhere between 30-50 minutes, four times a week. And always with P.volve! On the weekends, Sam and I like to do a little yoga. But during the week, it's just me and P. (Click here to get $30 off your subscription!)

Why I workout in the morning:

It gets my body moving and stretching right away.
It takes my mind off of any stress or anxiety I might be feeling that day.
There are less distractions and possibilities to make excuses not to workout.
I feel more energized and level-headed throughout the day.
8-8:45am – Recovery Breakfast + Matcha Time
Ahhh this is probably my favorite part of my morning. After I workout, I like to really slow things down and take my time to enjoy my breakfast. I hate rushing through it! It's much better for my digestion if I eat slowly and mindfully.

For breakfast, I either have a smoothie or a chia seed pudding bowl accompanied by a nice warm cup of matcha tea. Check out the recipes below!

Blueberry Avocado Smoothie
1 cup of cashew milk (Forager is my favorite)
2 tbsp of flax seeds
2 scoops of Chocolate Naked Pea Protein
¼ of an avocado
1 spoonful of almond butter (I like the generic Whole Foods brand!)
1 cup of blueberries
Handful of spinach
Chia Seed Pudding Bowl
1 cup of cashew milk
2 scoops of chocolate protein
½ scoop of Collagen for Her
2 tbsp of chia seeds
Toppings: blueberries and a drizzle of almond butter
While I'm eating my breakfast and sipping my tea, I like to read. I used to spend this time scrolling through social media, but I found that to be too distracting.

Before I knew it, I had lost track of time and wasted 45 minutes watching people's Instagram stories. (I still do that from time to time…I'm not perfect people!)

So instead, I opted to use this time to read. Sam and I are currently into more educational type books about the industry that we're in, so we've read Influencer and The Brand Gap. I've also got The Power of Your Subconscious Mind on my list!

8:45-9:30am – Get Ready for Work
I take a quick body shower to rinse off the nastiness, throw on an outfit and do my hair and makeup! Typically hair and makeup only take me about 15 minutes total…no joke!

Check out my quick hair tutorial below, and keep scrolling for my everyday makeup look.

And that's my morning! The key to getting so much done is waking up 3 hours before I have to leave. I know that's not feasible for a lot of people who have to get to work by 7:30am, but maybe getting up 2 hours earlier might do the trick!

The moral of the story is: Make use of your time and make sure you're spending it doing things that bring you joy.