Let me tell you, packing your hospital bag for labor and delivery makes things feel pretty dang real.
I'm officially in my 36th week of pregnancy and my bags are FULLY packed…like not missing a thing! At least, I hope I'm not missing anything… Let me tell you, I did A LOT of research of what I needed to pack. The more you look around, the more you'll find that people really vary on what they pack. When forming your own list, I recommend the following:
Ask your healthcare provider first. Between my midwives and my birth class instructor, I learned there were things that the hospital provided that I shouldn't bring and even things that I'm not allowed to bring that a lot of #influencers typically bring.

Gather resources from people who had/are planning to have a birth similar to your plan.

Are they birthing at a hospital? Birth center? Going natural? Planned c-section? These are all really important questions to ask before taking someone's advice.
My Birth Plan (ish): On that note, when you read through what I'm packing, know that I'm planning for a natural birth center birth that is tied to a hospital. So while there's the overarching goal of a natural birth, the center still abides by standard hospital protocol since it's under the same roof.
To keep it easy, I'm going to break down this post by bag. We have one for me, one for baby and one for my husband. Ready? Let's get packing!
---
Mom's Hospital Bag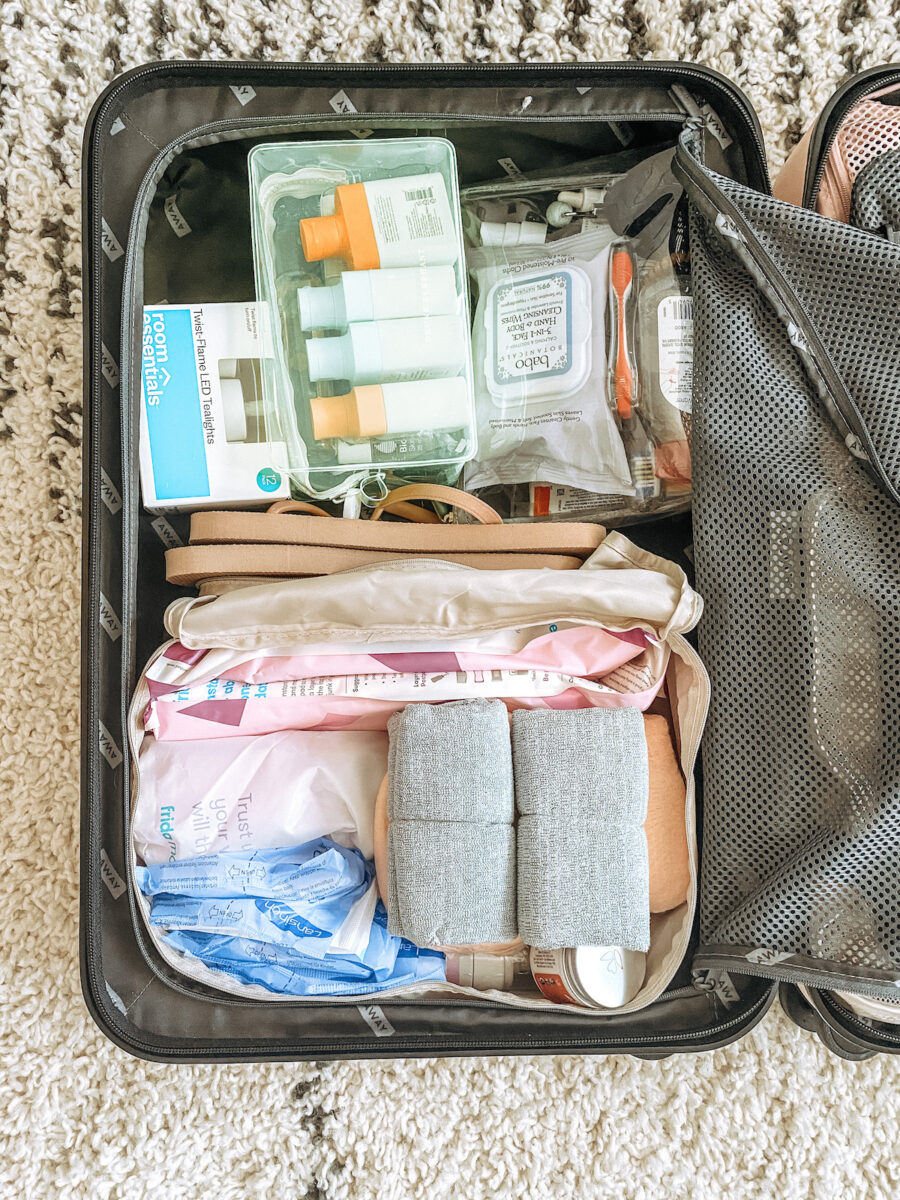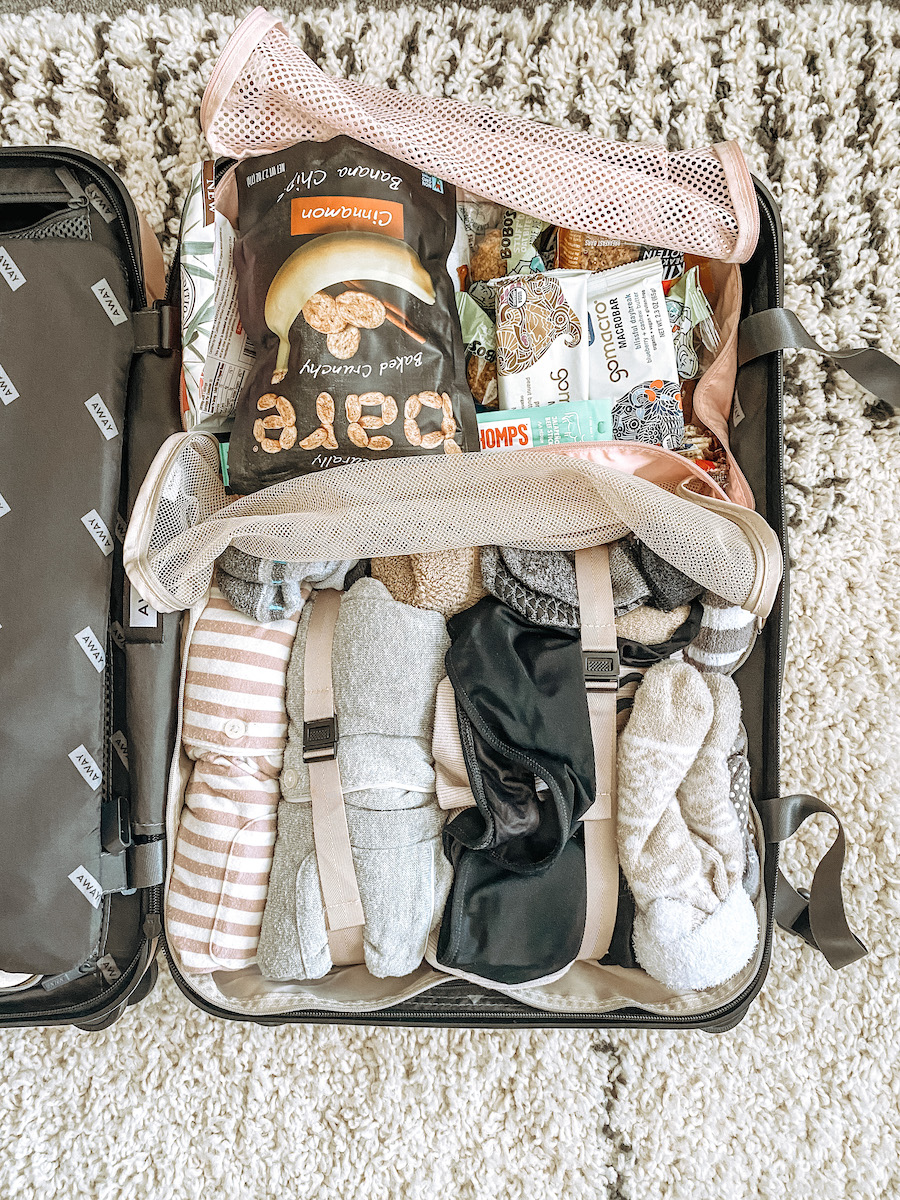 Let's start with the bag itself! I used my AWAY Bigger Carry On that I'm OBSESSED with. I purchased this before my honeymoon and it's the best. We have a full review of AWAY here, but if you're interested in buying, you can use my link for $20 off!
For packing cubes, I use a combo of the AWAY cubes and these ones from Amazon.
Okay, moving onto the categories!
Clothing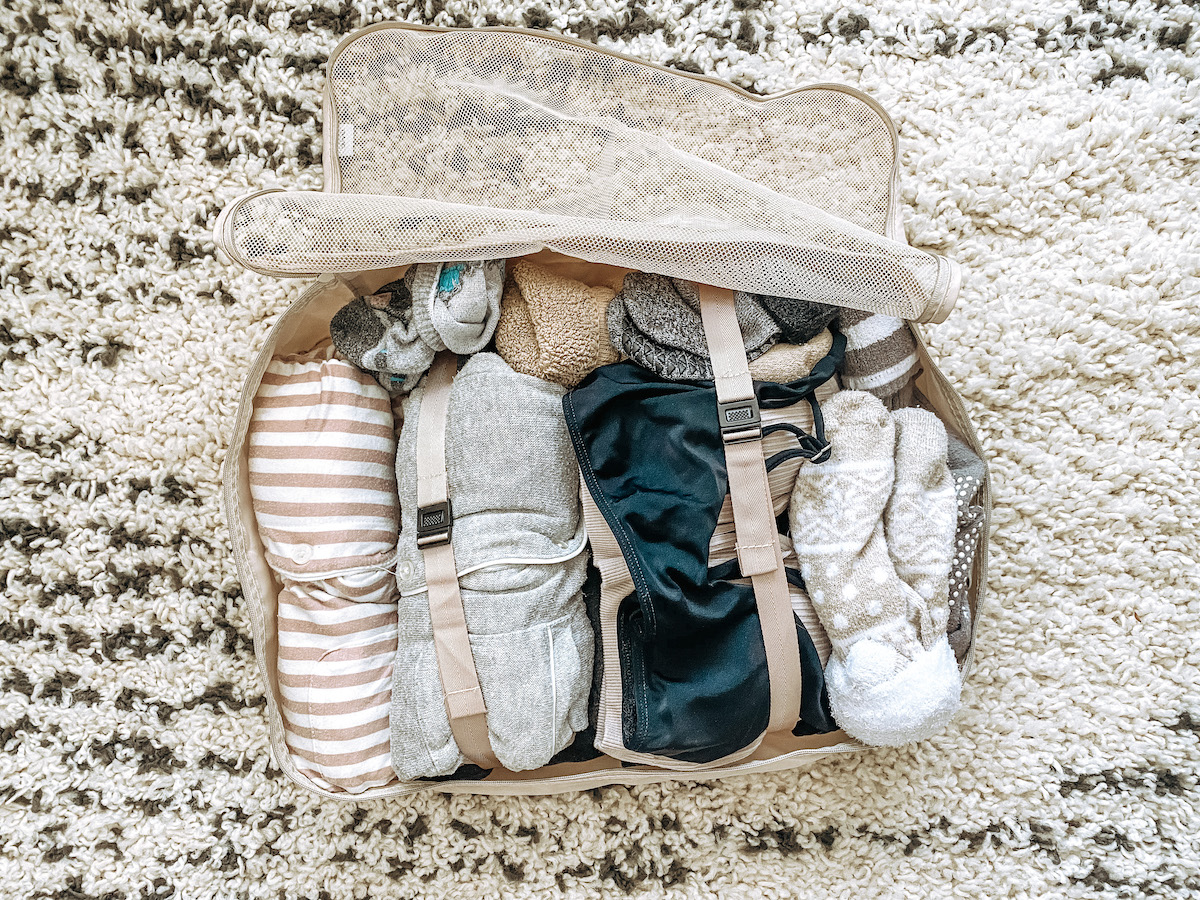 When it comes to clothing for myself, I decided to keep it fairly simple and focus on comfort more than anything. My list:
Postpartum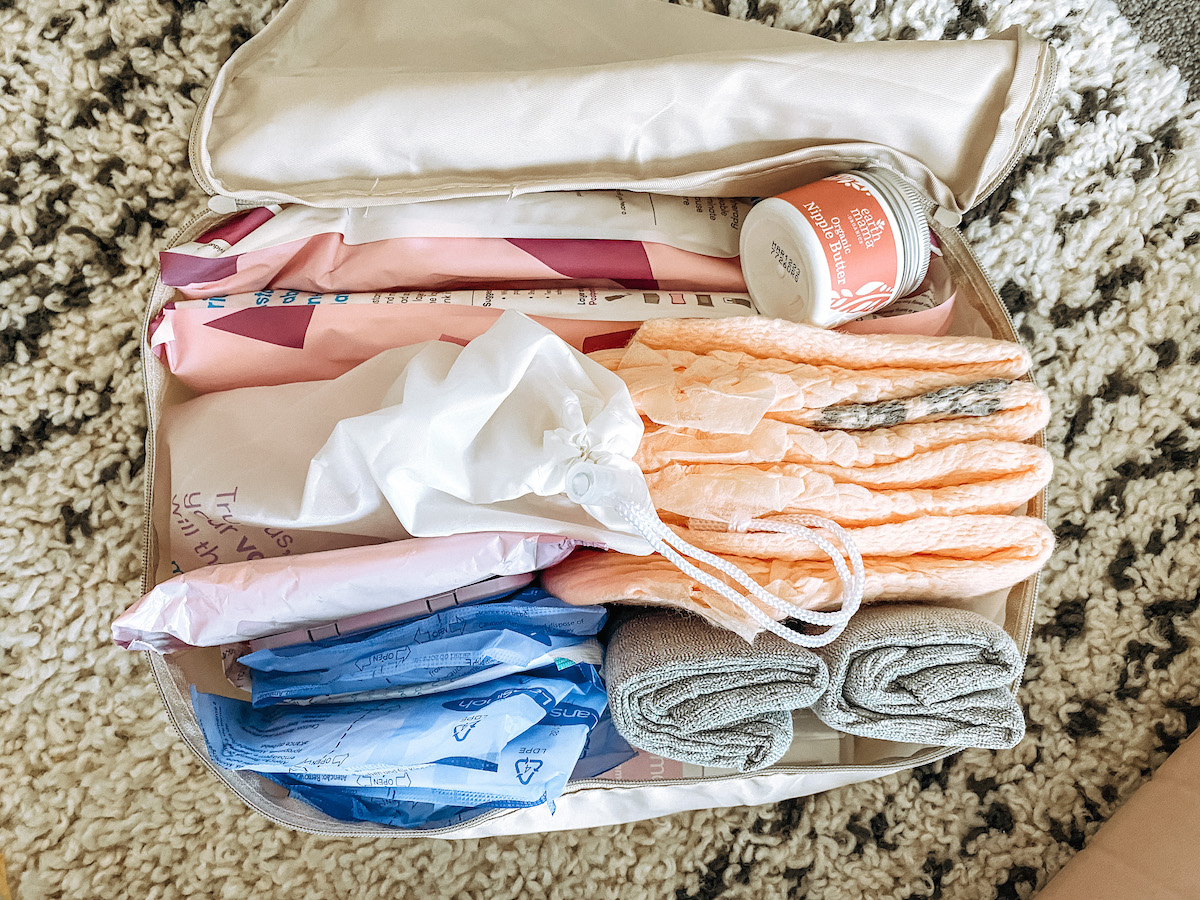 I know the hospital will provide a lot of this stuff, but I want to have my own options there just in case I don't like the stuff provided. Most of my stuff comes from this Frida Mom Postpartum Recovery Essentials Kit, but I'll link stuff individually below! On my list:
Toiletries + Other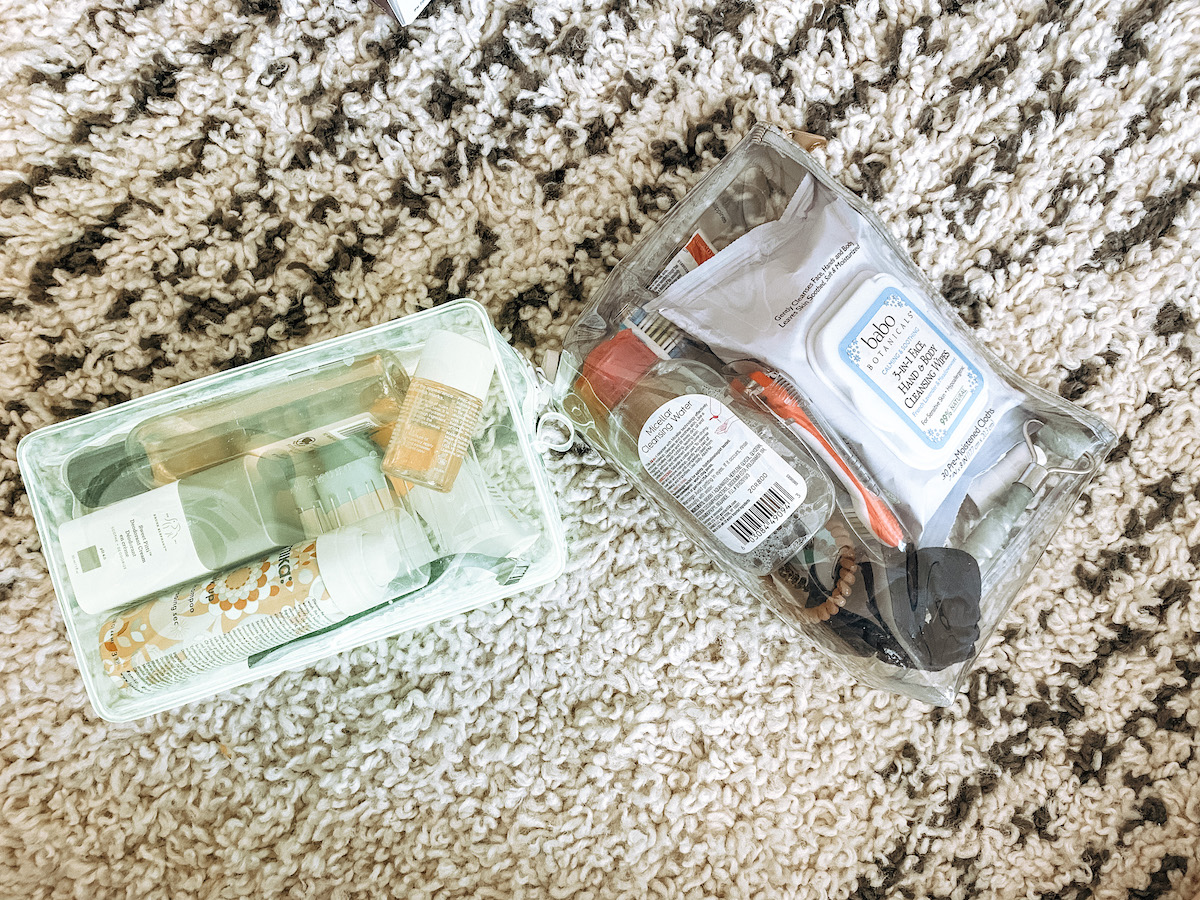 Toiletries
For toiletries, I tried to just use whatever I have on-hand in travel size. The idea is that this can all stay packed for the next few weeks and I don't have to grab anything at the last minute.
Cotton pads
Hair brush
Toothbrush
Toothpaste
Other
When it comes to other, it's really just the extra ammenities to help with overall comfort. My list:
Massage oil
Airpods
Long charger cord
Backup battery (I use my AWAY battery)
Bluetooth speaker
Water bottle
Shower shoes
Snacks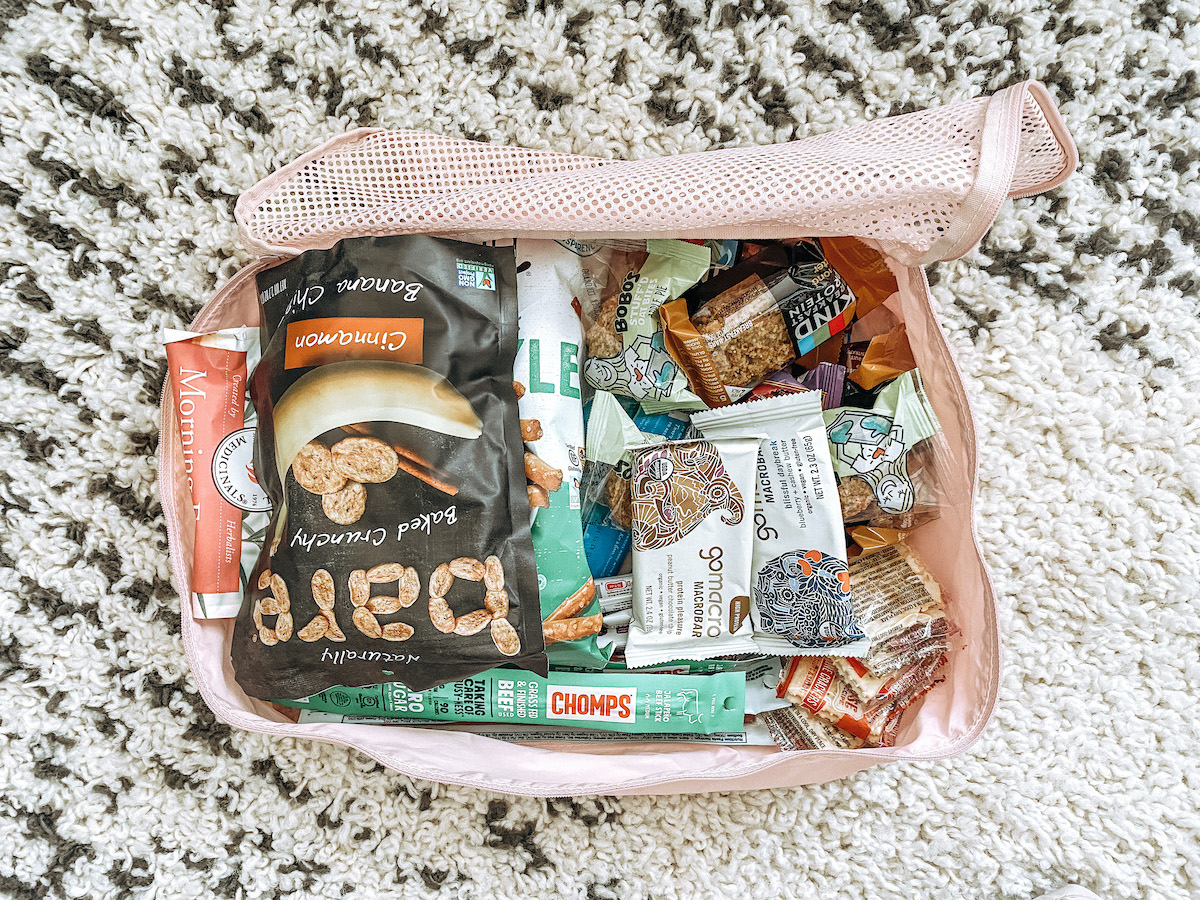 Snacks are 100% a personal preference, but I thought it would be fun to share some ideas with you in this picture. I picked up most of this stuff through Thrive Market (they make it so easy to have pantry staples within days!). You can use my link to get 25% off your first purchase!
---
Baby's Hospital Bag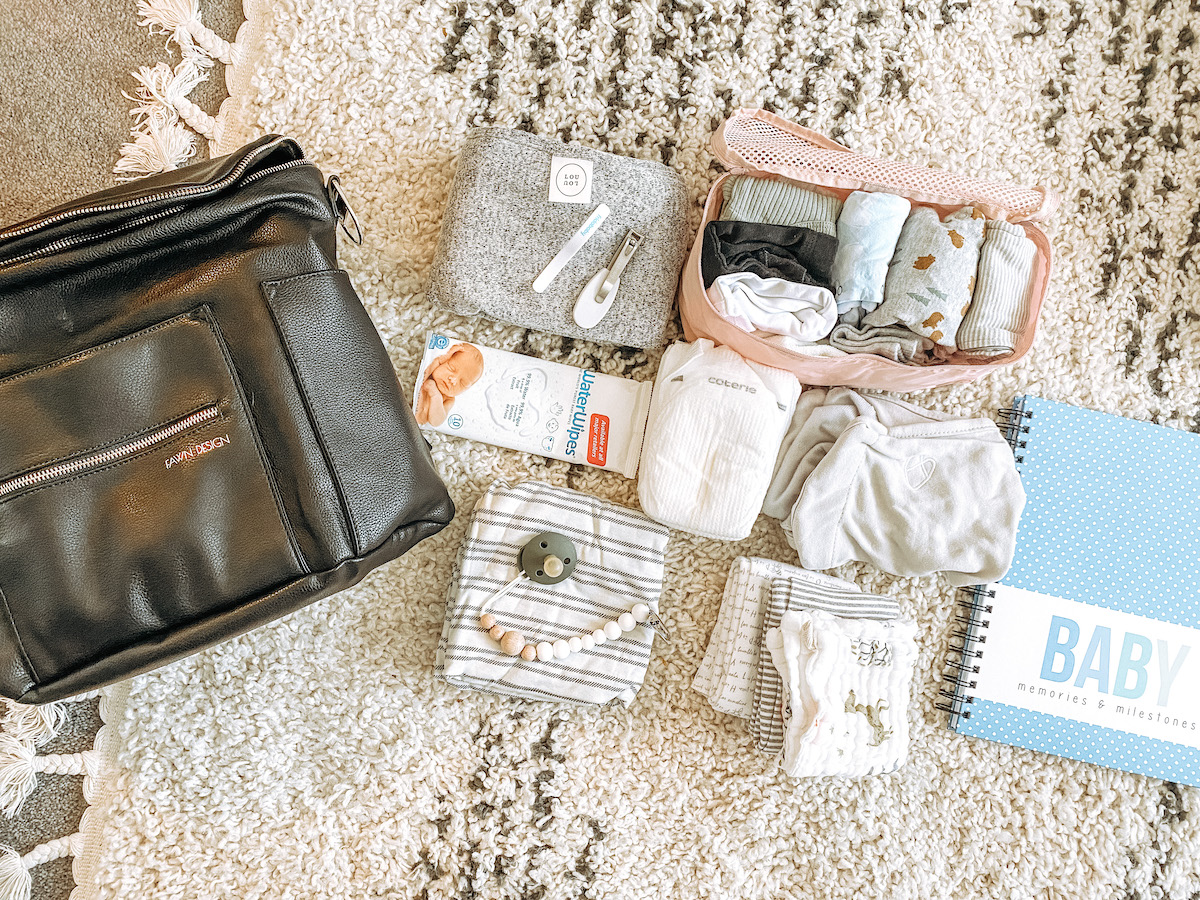 I decided to keep baby's stuff entirely separate from us using my Fawn Design Diaper Bag! I figured this is easy to just toss to the side until he arrives. Plus, the diaper bag itself is super easy to carry since it's a backpack! What I packed for baby:
---
Dad's Hospital Bag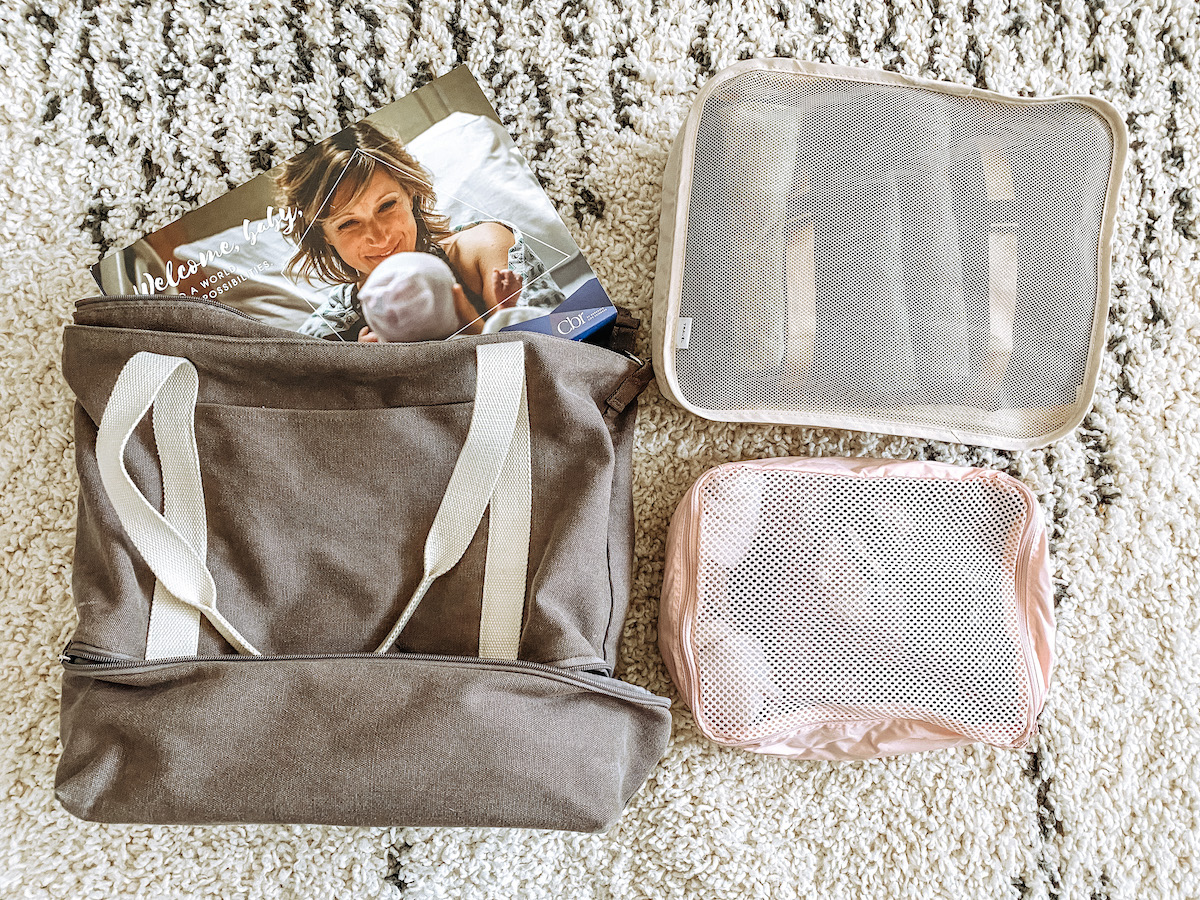 For Patrick's bag, we used our Lo & Sons Catalina Deluxe Tote because it can attach onto our suitcase and it fits all of his things perfectly. We're also using this as our bag for important documents since it will be easily-accessible. In this bag we have:
Dad's Stuff
Two pairs of joggers
Two short sleeve shirts
Two long sleeve shirts
One sweatshirt
Swimsuit (if he needs to help me in the tub)
Socks
Boxers
All of his toiletries
Important documents/stuff:
Cord blood/stem cell banking kit
Insurance card
Driver's license
I already pre-mailed hospital registration paperwork.
---
That's what's in our hospital bags!
We're ready for you, baby boy! Now one thing I know for sure is that I may end up having regrets over bringing something I didn't use or not bringing something I really wanted. That said, I will totally keep you guys updated on this post regarding that. Give me some time after he arrives, but I got you guys! And in the meantime, if you have questions or think I'm missing something, please comment below!