Finding out your baby is breech can be totally disheartening…but thankfully, there ways to flip a breech baby naturally.
I've been there! At 32 weeks I felt my baby flip and at my next appointment, my midwife confirmed it. I was totally bummed, but she quickly armed me with lots of resources and info to help me get him into position. Thankfully, a few weeks later, at 34 1/2 weeks, I felt him flip back and it was confirmed at my next appointment! Trust me, I did a lot in those two weeks to get him to flip.
Before I jump into the methods that worked for me, let me give you a piece of wisdom/advice another mama gave me that helped me mentally get through the whole ordeal:
This mama was pregnant with her first when she found out her baby boy was breech too. She did everything in her power to try to flip him. She even started her maternity leave with work early (34 weeks) so she could really focus on it. In the end, she ended up with a c-section because baby boy was just stubborn! And you know how she felt about it? She had zero regrets and literally couldn't picture his birth going any other way.

She feels the biggest thing that helped her be accepting in the end was that she literally tried everything to get him to flip. So when he didn't flip, she had no regrets wondering what would've happend if she had tried another method.
Her story helped me really relax going into the whole process. It's super important to remember that no matter how your baby enters the world, it's going to be perfect. We can only control so much. But for those who love control (me), it's best to do everything you possibly can to shoot toward your optimal outcome so you don't have regrets later.
Okay, now that we're all on the same page, let's talk about what I did to help my boy flip on his own!
---
Tip 1: Chiropractor
Chiropractic care was recommended by my midwife and I'm so glad she did. If you live locally, I used Optimal Wellness in Royal Oak, MI and they were wonderful. Just so you know, a chiropractor isn't going to manually flip your baby, but they will make sure your hips, pelvis, etc. are all aligned to ensure baby has plenty of room to make the flip on their own.
Note: When looking for a chiropractor to help with breech babies, look for a provider that is certified in Webster Technique! This basically means they are trained to work on pelvic balance during pregnancy (the key thing for flipping breech babies!).
When baby boy was breech, I saw the chiropractor twice per week. Now that he has flipped, I'm regularly going weekly just to keep up the balance. I honestly feel so good since regularly going to the chiropractor and I don't want to give it up!
Tip 2: Get the Right Exercise
The best thing you can do is keep your body moving, but make sure you're doing it the right way. I was advised by my chiropractor and birth course instructor to avoid squats. Why? You want to keep your knees lower than your pelvis as much as possible. This was so frustrating to me since most of third trimester workouts are just a bunch of squats. So what did I do instead? Walk!
The goal was to walk 2-3 miles daily. Did I always hit the goal? Nope. Did I feel good when I did? Yep!
P.S. If you're looking for great pregnancy workouts, check out my Pregnancy Must-Haves post where I talk about Expecting and Empowered! You can use my code UNCOVERTHEGLOW for $10 off too!
Tip 3: Use Spinning Babies
The Spinning Babies website has SO much information on optimal positioning for babies. It's so helpful! Here are the key things I took away from their site and practiced regularly:
Sitting on an exercise ball as much as possible (make sure your hips are above your knees)
Tip 4: Breech Tilt with Moxabustion
Now this is going to sound a little cray, but just stick with me.
This was recommended by my chiropractor (you can also find a little bit on it on Spinning Babies as well), and while it wasn't super comfortable, I feel like it played a big role in my success.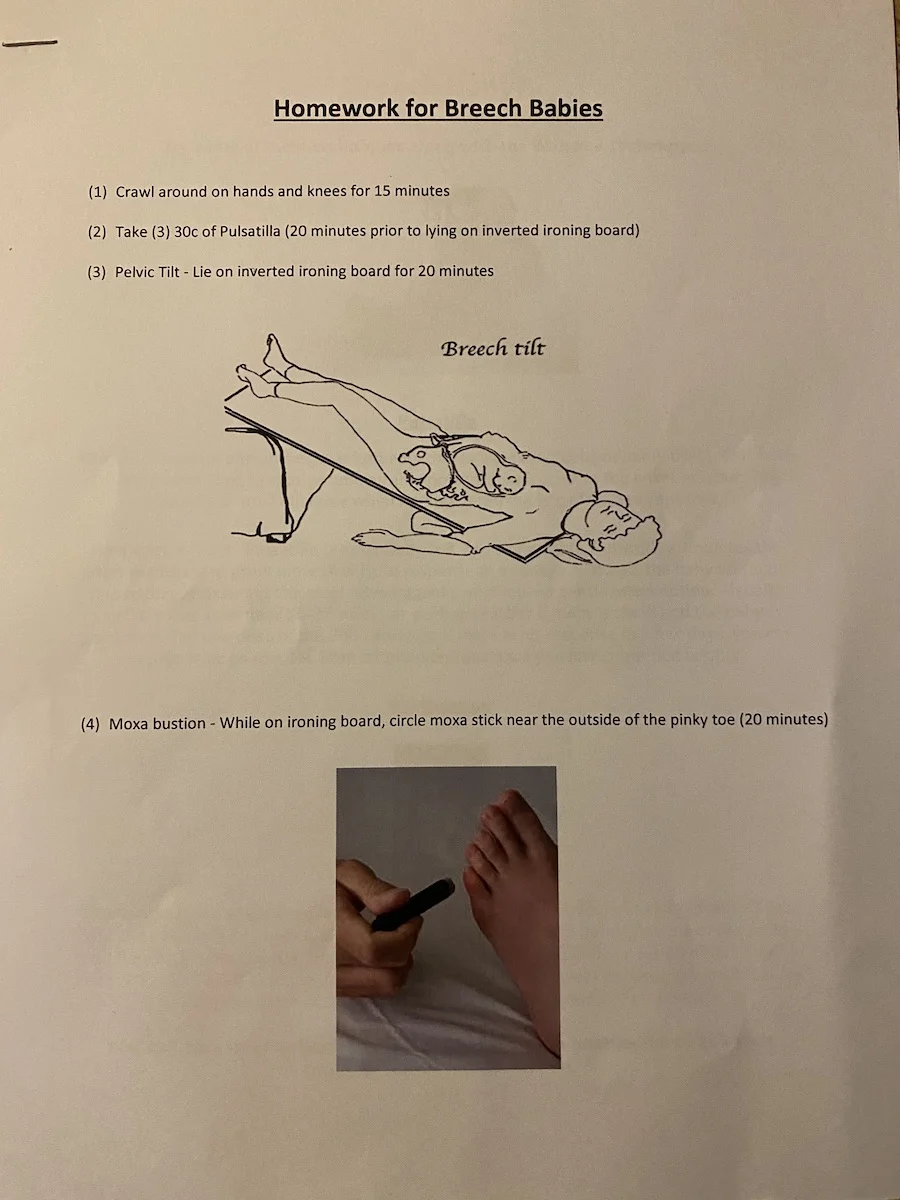 Here's the instructions my chiro gave me:
Note: I skipped the Pulsatilla. I actually did purchase it, but I just forgot to use it…honestly!
Here are the moxabustion sticks I purchased.
I probably did this a total of 5 times in the 2 weeks that he was breech. It's not comfortable, but wow my baby really moved when I was in that position! And those moxabustion sticks made me super relaxed (see note on moxa below). That said, if you're going to burn the sticks, make sure you're by a window or else you'll smoke out your whole house!
What's the deal with moxabustion?

Moxibustion uses a tightly rolled stick of mugwort herb, much like a stick of incense. The coal at the end of the moxibustion stick is held over an acupuncture point to heat it up. Pure moxa rolls produce a gentle heat that will warm you up and loosen your tired muscles, making you relaxed and at ease.
Tip 5: Lay on Your Side
Later in pregancy you're told to sleep on your side (ideally, left side) anyway, but here's the real trick (according to my birth class instructor): lay on the side that baby's head is on. Think about trying to help them do a somersault. For me, that was my right side. Which was inconvenient since you're supposed to be on your left side, and my right side made my heartburn flare up big time. But I just took some Tums and got through it. I really think laying on my side for long periods of time helped him to move…especially because he's most active at night anyway!
---
That's what worked for me!
Now there are a lot of other things out there that you could try…accupuncture, headstands in a swimming pool, putting an ice pack near baby's head and a heat pack near their bum, etc. the list goes on and can get really wild. And fortunately, my baby flipped before I had to try too many things or have a medical ECV done.
That said, if he hadn't flipped, I would've tried EVERYTHING. My goal is to have as natural of a pregnancy and birth as possible, but I wouldn't have been comfortable birthing him vaginally in a breech position so I would've ended up on the c-section route. Again, nothing wrong with that, but if that was going to happen, I wanted to know I did everything in my power to help baby boy get to that optimal position.
I hope you find this post helpful if you're currently sitting in breech baby craziness! If you have any questions about what I did, comment below.