These are the best clean makeup products we've ever tried.
It's crazy to think a year ago, we were still pretty iffy on whether we could fully commit to only using clean makeup. But now? There's no going back! This list is filled to the brim with the most effective clean makeup products we've tried thus far, and we think these will become your tried-and-true favorites too.
But before we get into it, let's talk more about "clean makeup" and what that phrase really means.
What is clean makeup?
One of the most important things you need to know is "clean" and "natural" are NOT the same thing.
Clean makeup means the product is made without toxic or unsafe ingredients like sulfates, phthalates, parabens or artificial fragrances that could irritate your skin. The product does, however, still contain synthetic ingredients (a.k.a. lab-made ingredients specifically created to target skin concerns or to give products a longer shelf life.)
Natural makeup means the product is made solely with ingredients found naturally in our environment – like oils, plants, fruits and minerals. Now, just because a product is natural doesn't mean it is safe for your skin! Sometimes, ingredients like essential oils can actually be more irritating to the skin than a synthetic ingredient, like hyaluronic acid.
Both clean and natural have their pros and cons! At the end of the day, it truly depends on what ingredients work best for your skin type.
With that being said, the makeup products below all fall into the "clean" category!
Face: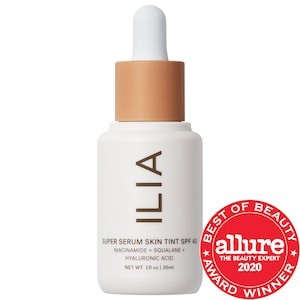 ILIA Super Serum Skin Tint
This is, by far, our all-time favorite tinted moisturizer. We both love the way it feels on our skin, and it doesn't break us out. The ILIA Super Serum Skin Tint is lightweight yet moisturizing and gives you the perfect amount of coverage if you're going for a more natural look. We also love that it contains niacinamide, squalane, hyaluronic acid and SPF 40! It has it all.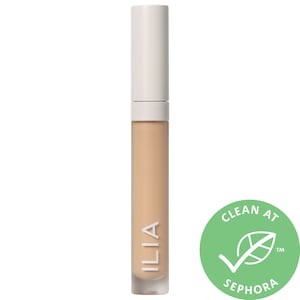 ILIA True Skin Serum Concealer
In case you can't tell, we are obsessed with all things ILIA. They are really dominating the clean makeup game! And this concealer does not disappoint. It provides ample coverage (buh-bye dark circles), and doesn't crease throughout the day. Can you believe that? A concealer that DOES NOT crease?! Yup, you read it here first. This is a definite must-try!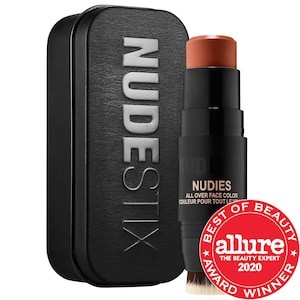 NUDESTIX Nudies All Over Face Color
If you're a fan of creamy bronzer, you should definitely give the NUDESTIX Nudies All Over Face Color a try! The shade "Sunkissed" is beautifully warm and doubles as a bronzer and blush. It is very easy to apply and lasts all day long. It really gives that perfect, spent-the-day-at-the-beach look!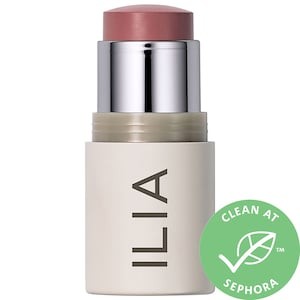 ILIA Multi-Stick Lip & Cheek
Another two-in-one! This multi-stick blush/lip tint is perfectly pigmented and gives your cheeks and lips the right amount of pop. Sam even likes to use this on her eyelids as well for a monochromatic, fresh look. We love anything that comes in a stick because it's easy application! Just swipe and blend in with your fingers or your favorite brush.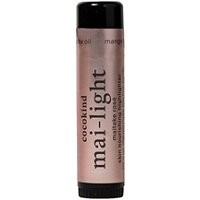 Cocokind Mai-Light Highliter
Okay, we could not be more obsessed with this Cocokind highlighter. Seriously, no other highlighter out there compares! It glides perfectly on the skin and blends in with just a few taps of the fingers. This highlighter gives the PERFECT amount of glow without looking fake. Plus, it lasts forever! We like to apply this on our cheekbones, the bridge of our nose, above the lips and even on our brow bones.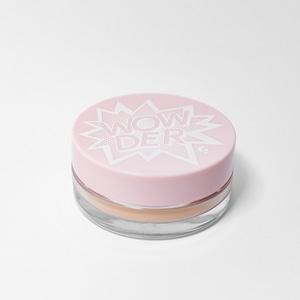 Glossier Wowder Finishing Powder
If you like to finish your makeup with a setting powder for a long-lasting effect, then you're going to want to give the Glossier Wowder a try! It's great at controlling that extra dewiness and shine that builds up throughout the day. Plus, it's super light so it never looks caked on! It really does give you a great, matte finish. We also love that it's fragrance and talc free.
Eyes & Brows: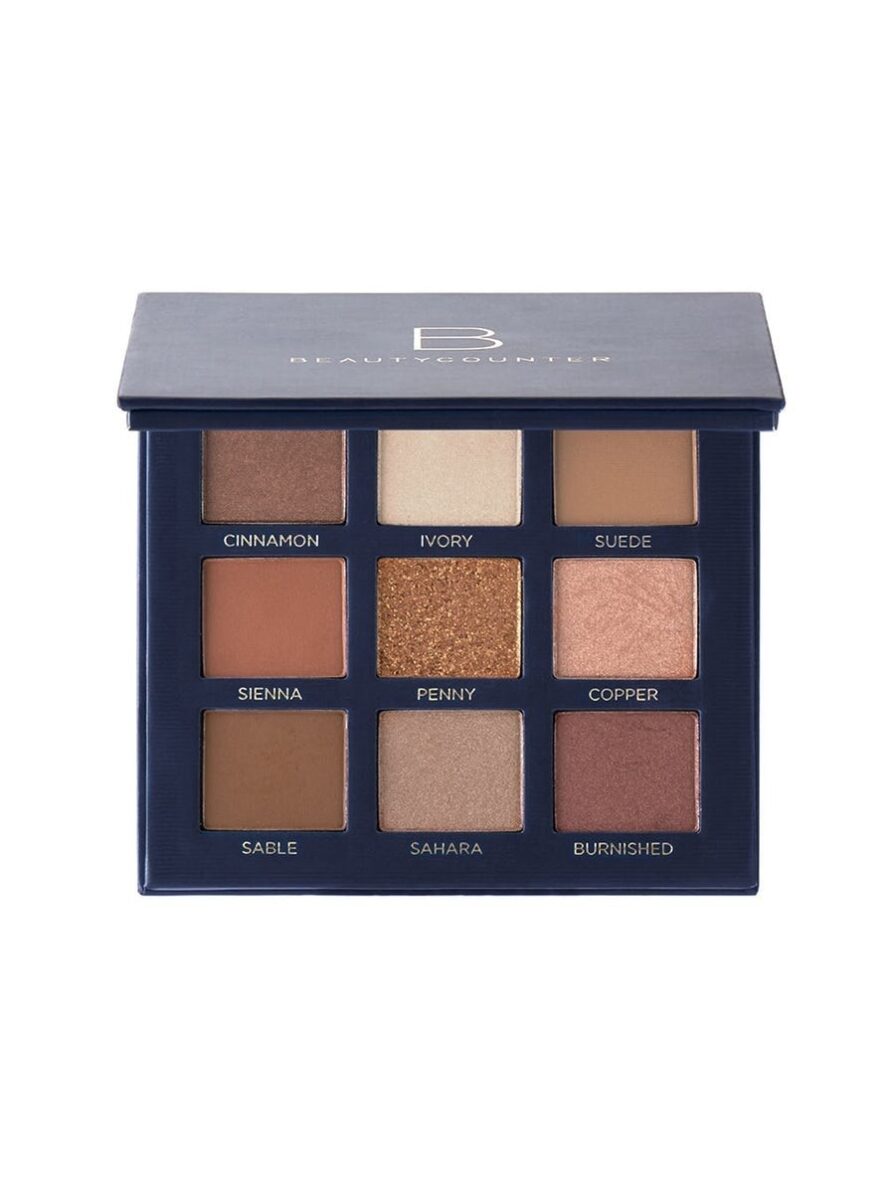 Beautycounter Velvet Eyeshadow Palette
Obsessed is an understatement when it comes to this eyeshadow palette by Beautycounter. These colors literally could not be more perfect! I love that it comes with a mix of matte and glittery shades. They are all nicely pigmented and last almost all day. If you love neutral tones and want one palette to take you from day to night, and from season to season, then this is it. I really could not recommend this enough!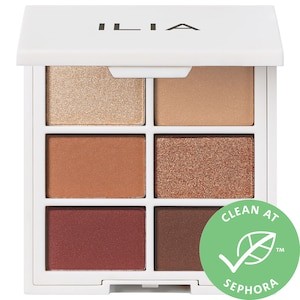 ILIA The Necessary Eyeshadow Palette
This is Sam's favorite eyeshadow palette! She loves that it comes with fewer shades to choose from, making it super easy to swipe on and go. The neutral tones in this palette are also great year round! And of course, you really can't go wrong with all things ILIA.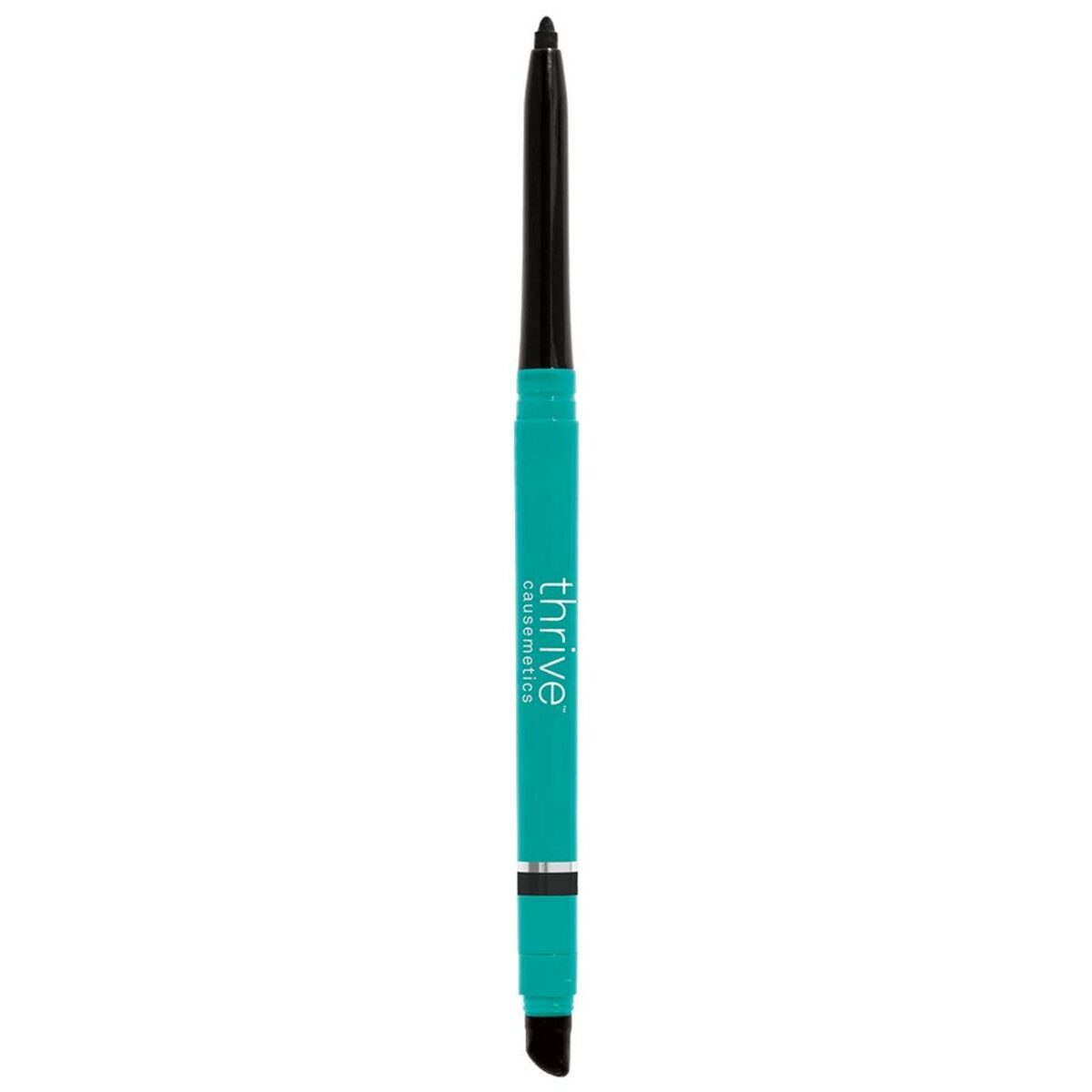 Thrive Causemetics Infinity Waterproof Eyeliner
We both love this eyeliner because it is extremely easy to apply and actually lasts! Plus, it's one of the few waterproof eyeliners out there that is made with clean ingredients.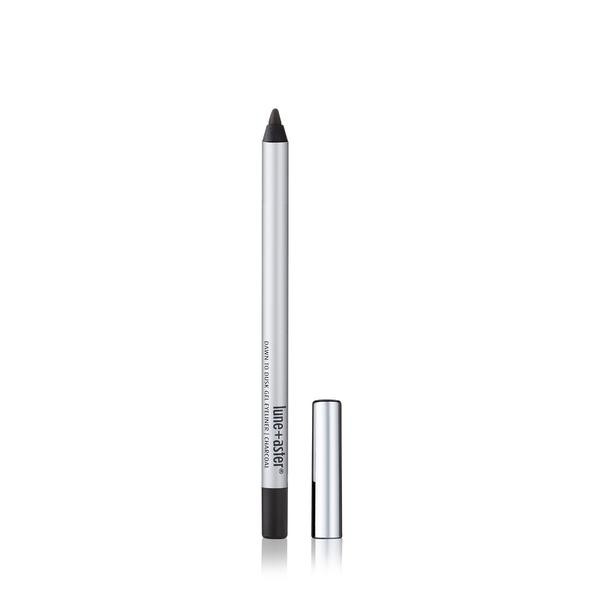 Lune+Aster Dawn to Dusk Gel Eyeliner
This Lune+Aster eyeliner is a recent favorite of ours too! While not waterproof, this eyeliner does last quite a bit. It's also very easy to apply because it has a somewhat creamy, gel-like consistency, which means it glides right along the lids. The brown and copper shades are our favs!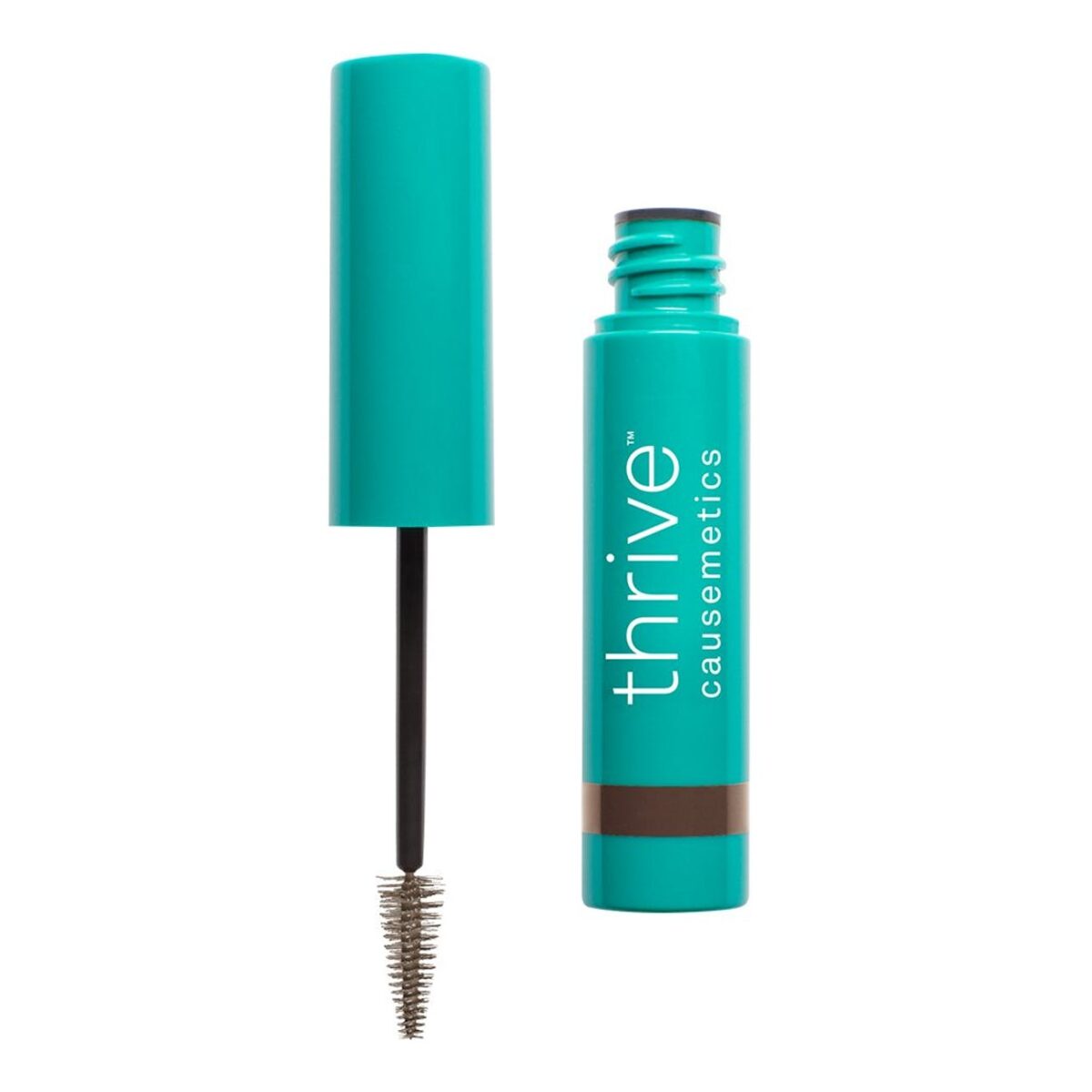 Thrive Causemetics Instant Brow Fix Semi-Permanent Eyebrow Gel™
OMG guys, you have to give this gel a try! If you're a fan of Glossier's Boy Brow but want something with a little more oomph, then this is the brow gel for you. We love how easy it is to apply, and how pigmented the gel is without making your brows look "painted on"…if ya know what I mean. Plus, the gel holds your brow hairs in place all day so you don't have to worry about strays.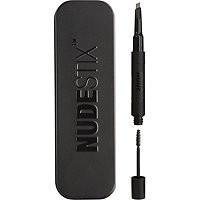 NUDESTIX Eyebrow Stylus + Gel
If you prefer to use a pencil to fill in your brows, then you must try this NUDESTIX Eyebrow Stylus + Gel. You guys know how much we love a good two-for-one, and this does not disappoint! The stylus is perfectly angled to match the direction of your brows, and the clear gel on the opposite end keep those brows in place ALL day long. This is such a good combo product!
Lips:
Lilah B. Lovingly Lip ™ Tinted Lip Oil
This tinted lip oil is great for both day and night looks! It is super hydrating and smells/tastes delicious. We love the shade "b. elegant", it's the perfect neutral! Not to mention, this lip oil contains tons of anti-aging ingredients like vitamin E and bilberry seed oil.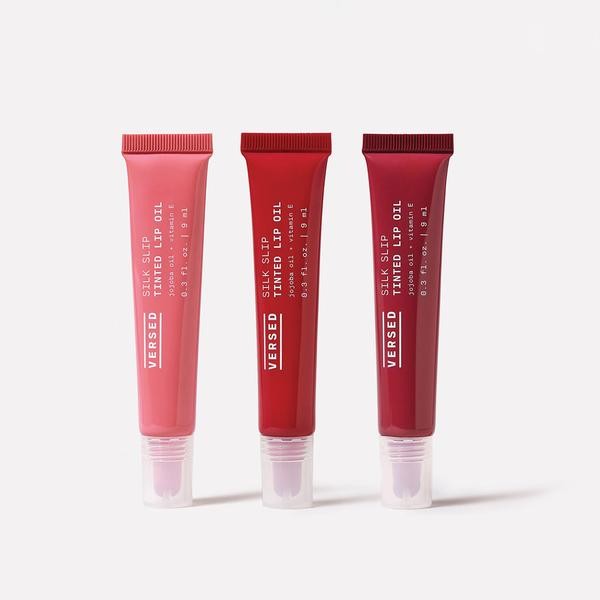 Versed Silk Slip Tinted Lip Oil
In case you couldn't tell, we love our lip oils over here! And as always, Versed does not disappoint. This trio of tinted lip oils is the perfect set for everyday use. They are easy to apply and give your lips just the right amount of color if you're going for a more natural look. We love all three shades, so you might as well get the whole set!
Thrive Causemetics Glossy Lip Hydrating Serum
If you're looking for more color, then you're going to LOVE this Thrive Causemetics lip serum. The shade Pamela is my favorite! This one is great to wear on a date night or girls night out. It doesn't last forever, but because it's a gloss, it's super easy to reapply throughout the night. Plus, it doesn't dry out your lips one bit.
There you have, friends! Our clean makeup master list.
We hope you guys love these products as much as we do! We will be sure to add, replace and/or remove products as we continue to test more. If you have any favorites you think should make the cut, comment below or share with us on Instagram!