Is it ever too early to jump on the anti-aging bandwagon?
Not according to our lovely friends over at Pura Organics! I mean really, who doesn't want youthful, glowing skin for the rest of their lives? We sure do, and we were thrilled when Pura sent us a couple of their natural, anti-aging products to experiment with.
Pura's founder, Molly Fay, is a total #bossbabe! A lifestyle blogger and beauty entrepreneur at just 25 years old? You can say we're certifiably inspired!
Molly actually started her own line of preventative skincare, right here in Michigan, after struggling for years to find the right products to heal her allergy-prone skin. She took it upon herself to find clean, natural ingredients that are actually effective and used these ingredients to create Pura Organics. And best of all, we got to give this Michigan-born skincare line a try!
Did you know that even though signs of aging don't begin to show until your 30s, the damage begins in your 20s? Guess it's really time to get our preventative skincare routines set! We started our anti-aging journey 30 days ago with the Pura Organics Nourishing Face & Body Scrub and Firming Night Moisturizer.
Future wrinkles be gone!
---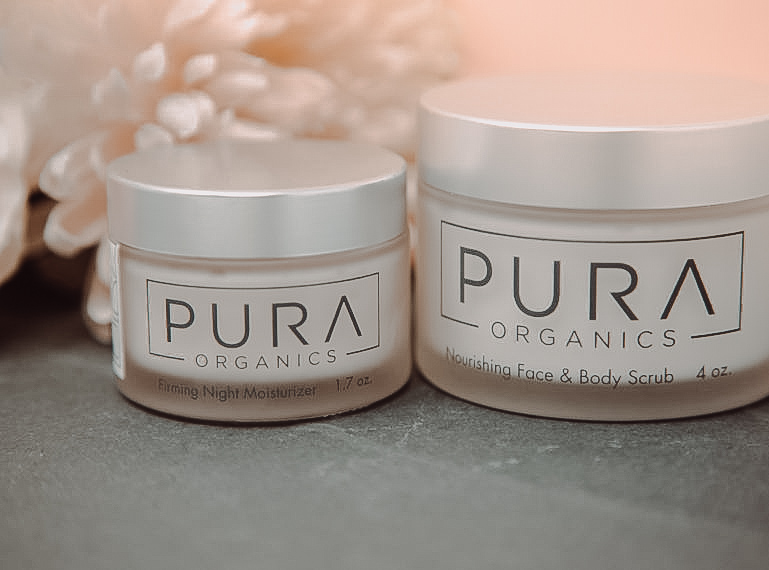 The Rundown
Products: Nourishing Face & Body Scrub | Firming Night Moisturizer
Price: Nourishing Face & Body Scrub: $46.00 | Firming Night Moisturizer: $58.00
Where to buy: Pura OrganicsWebsite
Perks: Non-Toxic | Cruelty-Free | 100% Money-Back Guarantee
---
Claudia's Pura Organics Experiment
My experimentation with Pura Organics started with the Nourishing Face & Body Scrub. I love using scrubs 3 times a week to wash away dead skin and build up. So you can say my skin was pretty excited to hear we had a new product to play with!
Pura Organics Nourishing Face & Body Scrub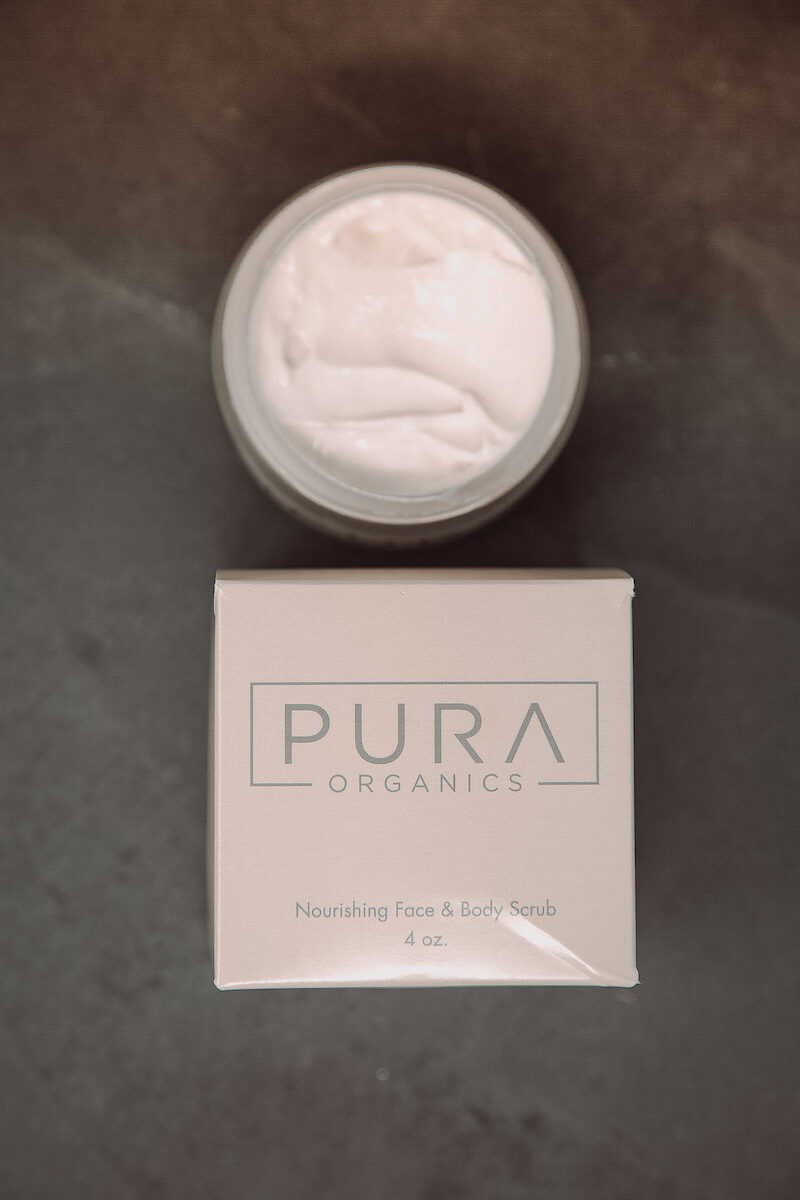 First of all, this exfoliator smells amazing. It's very faint (which I like) and somehow very warm and soothing at the same time. Perfect for a nighttime cleanser!
And it's filled with skin-loving ingredients like shea butter, avocado oil and grapeseed oil – all powerhouse ingredients for repairing damaged skin cells, smoothing your skin and protecting it from future breakouts.
This scrub is now part of my shower 2-3 times a week.
I take a small amount and rub it in circular motions all over my face and neck for about a minute. After rinsing, my skin feels smooth like a baby's butt!
Pro Tip: Use the scrub on your legs after shaving to remove all that dead winter skin. I definitely noticed my legs were WAY smoother, and my self-tanner looked perfect the next day. I'm ready for summer!
Our Pura Organics Obsession
Funny story: Sam and I agreed to switch products midway through our Pura experimentation, but we each loved the products we started with so much that we just couldn't give them up! So we compromised and gave each other half of the scrub and half of the moisturizer in travel containers.
We got a little greedy with this one…
I'll let Sam give you the inside scoop on the Firming Night Moisturizer, but all I can say is WOW. My skin was literally glowing every morning after using this stuff. It's kinda magical!
---
Sam's Pura Organics Experiment
Honesty moment: I've never thought about using anti-aging products. Call me naive, but it's just one of those things you think "that's not happening to me." WRONG.
We're aging every day. So why wouldn't we be proactive about treating signs of aging? It's always easier to prevent than to cure when it comes to skincare. At Pura Organics, they believe it's never too early to start an anti-aging routine. After trying their products, I couldn't agree more.
Pura Organics Firming Night Moisturizer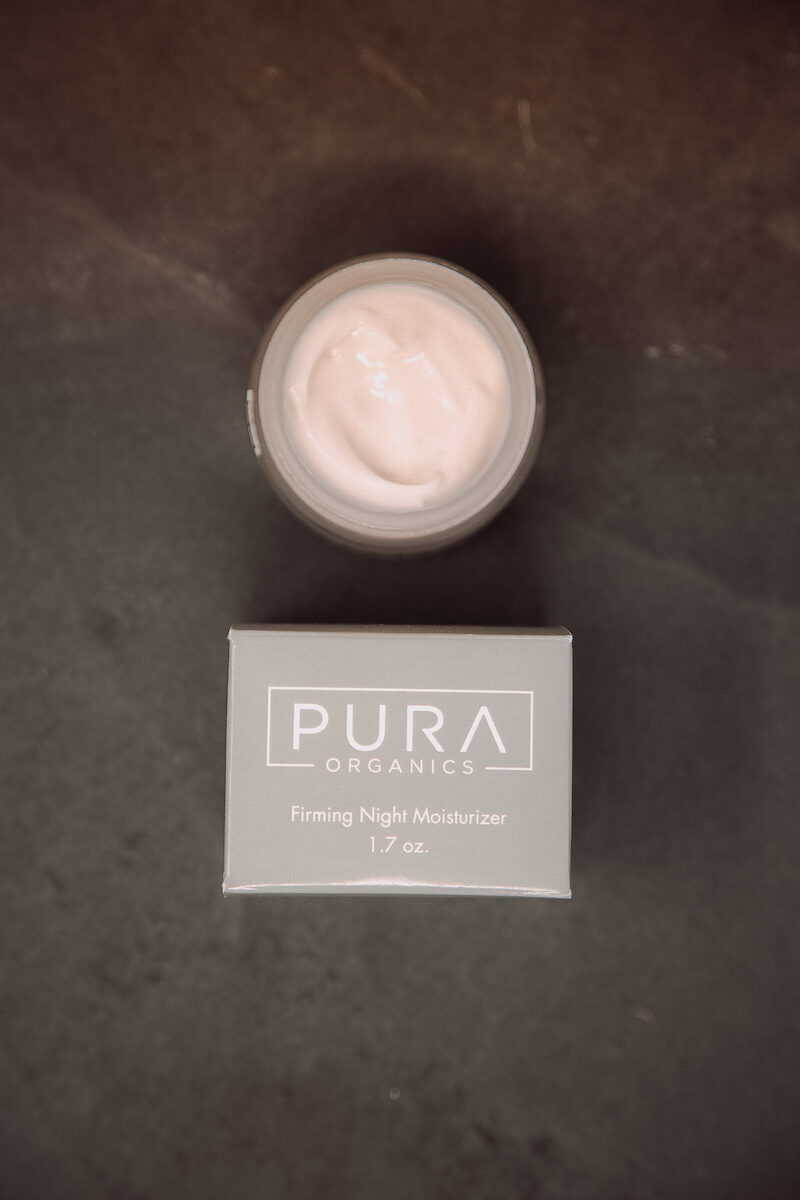 I started my Pura experimentation with the Firming Night Moisturizer. When Claudia and I decided who was going to try which product first, part of me thought I got the short end of the stick.
Honestly, I didn't think my face needed firming and I thought this product was going to do nothing for me.
Girl, I was wrong. After a few days of continuous use, I started noticing my skin was glowing and yes, firmer when I woke up.
Talk about a total shock!!
Pura Organics Nourishing Face & Body Scrub
The scrub is just as perfect as the moisturizer. It's a super fine scrub that makes my skin baby butt smooth (You caught me, I retweeted Claudia on this one).
And when it comes down to it, all we really want is skin as smooth as a baby's behind right? #GOALS
My other favorite thing about both of these products is the scent. It's a warm, almost vanilla scent, but it's oh-so faint that it literally lulls you to sleep. Seriously, the best.
So long story short, I realized I didn't get the short end of the stick after all. In fact, neither one of us did because these products are AMAZING.
Our first go at anti-aging skincare was a total success, thanks to Pura Organics. And the fact that they're a local, Michigan brand makes it that much better.