Ditch the Chemicals. Go For REAL.
Protein bars can be pretty deceiving these days. We're trained to think that these easy, grab-and-go snacks are a healthier alternative to the typical junk food options…and sometimes they are! But the protein bar industry is also plagued with chemical-filled, sugary culprits that are pretty much equivalent to eating a candy bar. So moral of the story: read your labels and always go for REAL ingredients.
With that in mind, we went on a hunt to find a protein bar alternative to our TIU bars (gotta switch it up!) that was just as healthy and filled with wholesome ingredients our bodies would love. And after a quick trip to Whole Foods…we came upon perfection.
Perfect Bar, Where Have You Been All Our Lives?
Perfect Bar was founded by Dr. Bud Keith, a true believer that whole foods are your body's true BFFs. We couldn't agree more! These protein bars are made with only fresh ingredients…no preservatives, no chemicals, no nonsense. Hence why these bars must be kept in the fridge! They're THAT fresh.
You can probably tell we're already slightly obsessed with Perfect Bar…so let's get down to the good stuff. Experimentations below!
Claudia's Thoughts…
I have to admit, I'm not as big of a snacker as I used to be. Since reading Body Love, I've cut down to my main three meals a day and feel totally satisfied! Every now and then, however, I'm in need of a quick meal replacement or a snack…especially when I'm traveling or find myself out of my normal day-to-day routine.
That's where Perfect Bar comes in! I first heard of these bars through Tone It Up (ironically). They were listed as part of their "approved" snacks in their nutrition program, so of course I had to give them a try. I'm pretty sure it was love at first taste!
My Favorite Perfect Bar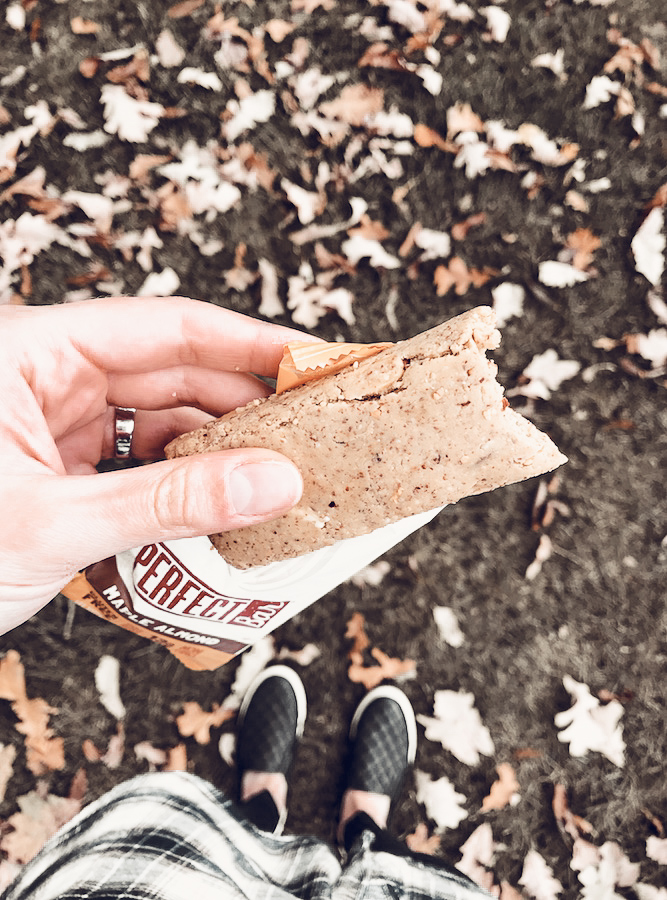 Almond buttaaaa! Oh-em-gee. Guys, this bar is so delicious. It's the perfect blend between nutty and sweet. For any Spanish readers, it kind of tastes like a turron! (Basically Spain's Christmas candy bar.) And being that this is one of their staple flavors, you'll likely have no trouble finding it at your local Whole Foods.
I also tried their Almond Coconut bar but definitely preferred the Almond Butter flavor over Coconut. For some reason, the coconut is a bit too overpowering. But for all you Almond Joy lovers…this one's for you!
Sam will give you her breakdown of her favs…she's the new Perfect Bar Queen!
Perfect Bar Nutritional Facts
Because my daily sugar intake is WAY low now, I tend to stay away from anything that is overly sweetened…even if it's naturally sweetened with honey. I feel that it messes with my blood sugar too much, and I end up crashing and craving even more sweets. It's kind of a vicious circle!
The Almond Butter Perfect Bar has 18 grams of sugar…a little too much for my changing taste buds these days! They also have 310 calories, so if I want a light snack, I'll just eat half the bar.
However, when I'm in pinch (a.k.a at the airport) and need a meal replacement, I definitely go for the full Perfect Bar over any other granola bars that are filled with fake sugar alcohols. Keep in mind, these bars have to be kept in the fridge. But lucky for us, they sell these at Detroit Metro Airport. So when I want to avoid airport and airplane food, I grab an Almond Butter Perfect Bar and I'm good to go for at least 3 to 4 hours.
Are These Perfect For Me?
Yes and no. When it comes to protein bars, these are pretty much the only ones (besides Kind Bars) that I'll go for these days. The ingredients are amazing and the taste is SO SO good. Not to mention, they keep you full for a long time so you don't feel like you're wasting your money.
But being that I don't eat protein bars very often anymore, these aren't really a staple in my regular diet. That's not to say I don't love them though! If you're looking to introduce a new bar into your life…def go for Perfect Bar. You just can't go wrong!
---
Sam's Thoughts…
I love, love, LOVE to snack. Mid-morning? Snack time. Mid-afternoon? Snack time. Between dinner and bedtime? Snack time. Catching my drift? I'm sure I'm not alone here…I'm talking to all you Tone It Up gals. I seriously think my metabolism runs at the speed of a racehorse so even if I have the most balanced meals on earth, I still need a snacks. If I don't have a snack…you don't even want to know how feisty I can get. Welcome to my reality!
When I need a snack, it's best for me to reach for something that's going to be healthy and hold me over as long as possible. As Claudia mentioned, these bars are filling! Half a bar goes a long, long way! If I have a whole bar, I'm set for like 5 hours. That's seriously FOREVER for me!
Perfectly Filling
These bars are oh-so-filling because they're jam packed with nutritious, delicious ingredients. I mean all the veggies…kale, carrots, kelp, etc. are masked by dark chocolate and peanut butter? Yes, please. Speaking of…Dark Chocolate Chip Peanut Butter Perfect Bar is my fav flavor so far! It seriously tastes like chocolate chip cookie dough. (It's okay if your mouth is currently watering.) Obviously no complaints here!
I haven't gotten my hands on all the flavors just yet, but trust me…I've got big plans! Until then, I'll always have my favorite flavor combo on hand. If you take a look in my fridge, you'll be sure to find a Perfect Bar at all times. I don't eat them everyday, but these bars are such a strong fridge staple. Whenever I'm in a pinch, I go for the Perfect Bar! And I'm not the only one. Just a couple hours ago, Patrick told me if he didn't have time to make dinner tonight, he'd just grab the Peanut Butter Perfect Bar. That's right, these babies are #PatrickApproved.
Are These Perfect for Me?
Pretty much! I love everything about these bars except for a few tiffs.
These are so delicious I ALWAYS want to eat the whole bar…even when I shouldn't.
I so wish these were dairy-free! Sometimes dairy leads to serious skincare woes for me.
18 grams of sugar is A LOT. (For reference, a Snickers Bar has 22 grams of sugar so we're not too far off here.) These sugars are balanced out with real, nutritious ingredients, though! (Obvi a Snickers Bar is far from balanced!)
Pro tip: halve the bar, and you've cut it down to 9 grams of sugar which is much more approachable and tummy-friendly!
The flavor? Perfection. The texture? Perfection. The ingredients? Perfection. Like Perfect Bar says…#itsjustperfect.