Anyone else feel overwhelmed this time of year?
Between holiday get-togethers, meeting end-of-year deadlines, gift shopping, and crossing everything off our to-do list before the DECADE ends (like what?!), you can say we're feeling a wee bit frazzled.
That's why we're doing anything and everything we can to help save time when it comes to our AM and PM beauty routines. From easy hair styles to finding the best multi-tasking products, we've got this thing down to a science.
Check out our favorite time-saving beauty hacks below!
Shower & Bath Hacks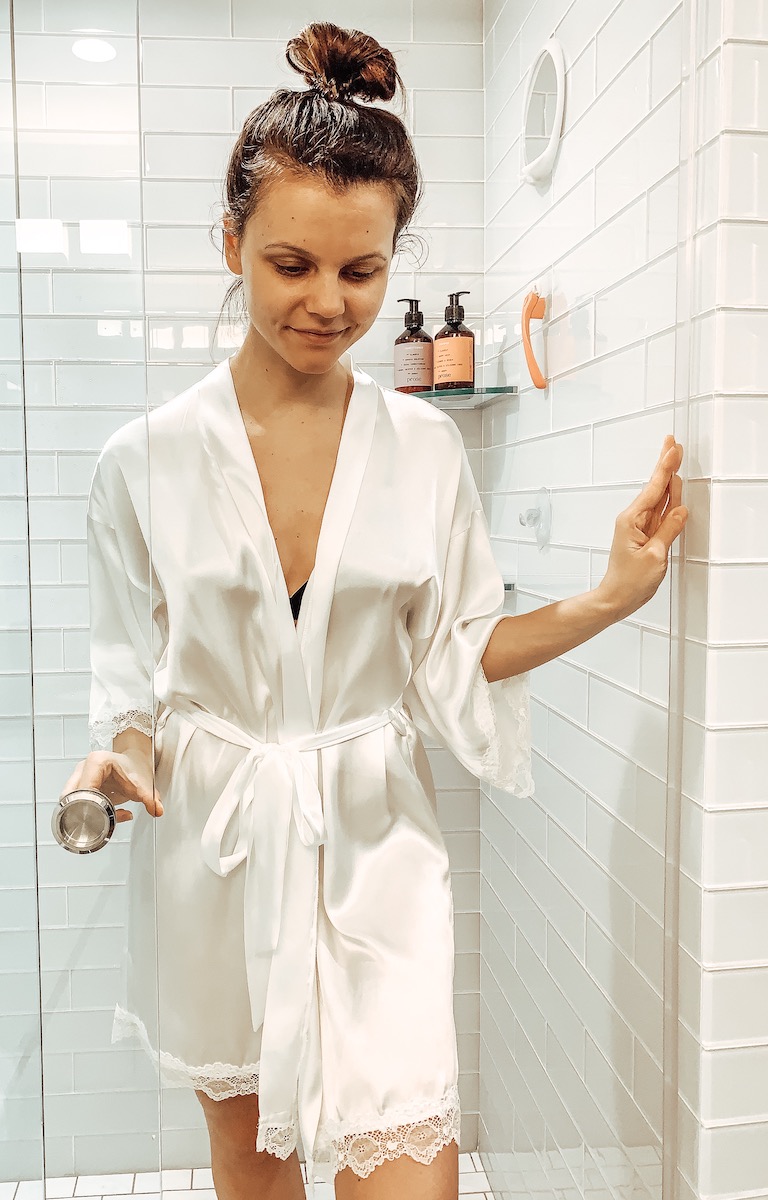 1. Rinse your conditioner out right away!
Yes, you read that right! Be a rebel and skip the "wait 3-5 minutes before rinsing" instructions when it comes to conditioning your hair. Unless you have ridiculously long, tangly, unruly hair, you can skip the waiting period and rinse right away! I find that my hair is just as soft and shiny (and less oily!) if I don't let my hair conditioner sit for a long time.
So shampoo, rinse, condition, rinse, DONE.
2. Moisturize in the shower.
My favorite thing to do lately is to apply body oil while I'm in the shower! That way, I don't have to worry about moisturizing when I get out. I'm currently LOVING the Versed Body Oil. I got it at Target for $15, and it works like a charm. My skin is soft, smooth and supple all day long. Plus, it smells amazing!
3. Apply a hair and face mask while you take a bath.
Multi-tasking is key! Sam, our resident bath connoisseur, loves to optimize her weekly bath time by applying both a hair mask and face mask at the same time. Talk about the ultimate beauty hack! She walks out of that bath with bouncy hair, glowing skin and feeling totally relaxed.
Hair Hacks
1. Dry shampoo before you go to bed.
Anyone else hate waking up to oily hair? It's so much harder to style, and you just feel icky and gross all day long. That's why one of our all-time favorite beauty hacks is to apply dry shampoo BEFORE we go to bed in order for the oils to soak up overnight. The result? Clean, easy-to-style hair in the AM!
2. Wear headbands.
If you haven't jumped on the headband trend, we highly suggest you do! Not only do they help pull an entire look together, they also hide any "day two hair" mishaps. All you have to do is brush your hair out in the morning and throw one of these suckers on to immediately look like you tried! Shop a similar one to the hairband I'm wearing here, or snag a pack of our favorites from Amazon.
3. Braid your hair before bed.
Another easy beauty hack! Put your hair into a loose braid before bed and wake up with perfectly wavy hair. This is also a great way to avoid applying heat to your hair every day.
Skincare & Makeup Hacks
1. Don't wash your face in the morning.
Lately, we've been skipping face wash in the morning and just go straight to toning. I love using the Thayer's Witch Hazel Toner and Sam uses her go-to Cocokind Rosewater Toner. We find that our face stays calmer and more hydrated the less we strip it of its natural oils in the morning. Plus it saves us a step! Time-saving beauty hack for the win.
2. Use 2-in-1 products.
Meaning find skincare and makeup products that take care of multiple things at once! For example, we love using The Ordinary Foundation Serum because it also contains SPF. So we don't have to worry about applying yet another layer of sunscreen before we head out the door.
I've also been loooving my new Nudestix Nudies Bronze Stick in Sunkissed because I can use it as both a bronzer and a blush. It gives me a perfectly natural bronzy look in less than 2 minutes. Yesss, TWO MINUTES.
3. Wear eye gels while you get breakfast ready.
Waking up with puffy, tired eyes is no fun. And sometimes we don't have time to jade roll or gua sha our face, ya know? As much as we would love to sit there and massage our puffiness away, it's just not super realistic when we're running to get out the door. So a quick time-saving beauty hack for you is to apply eye gels while you make breakfast, drink your coffee and catch up on emails first thing in the morning. That way, your eyes are bright and bushy tailed before walking out the door!
What's your favorite time-saving beauty hack?
Tell us below! We'd love to find even more ways to optimize our time and ramp up for the end of the year. Hopefully some of these hacks will help you guys stay calm and sane this holiday season!