Toners, serums, exfoliants…oh my!
Where do you begin? Sometimes we get so excited about trying new skincare goodies that we end up layering too many things at once and cause more harm than good. Or, you could be the type that feels slightly overwhelmed with all the products you're "told" to use and don't even know where to begin.
Either way, we're here to help! In this post, you'll learn how to layer skincare products as well as which ingredients mix well and which don't. We want this to be an easy-to-follow guide you can use when building your own skincare routine.
When it comes to layering skincare products, always apply from thinnest to thickest.
Sample Skincare Routine: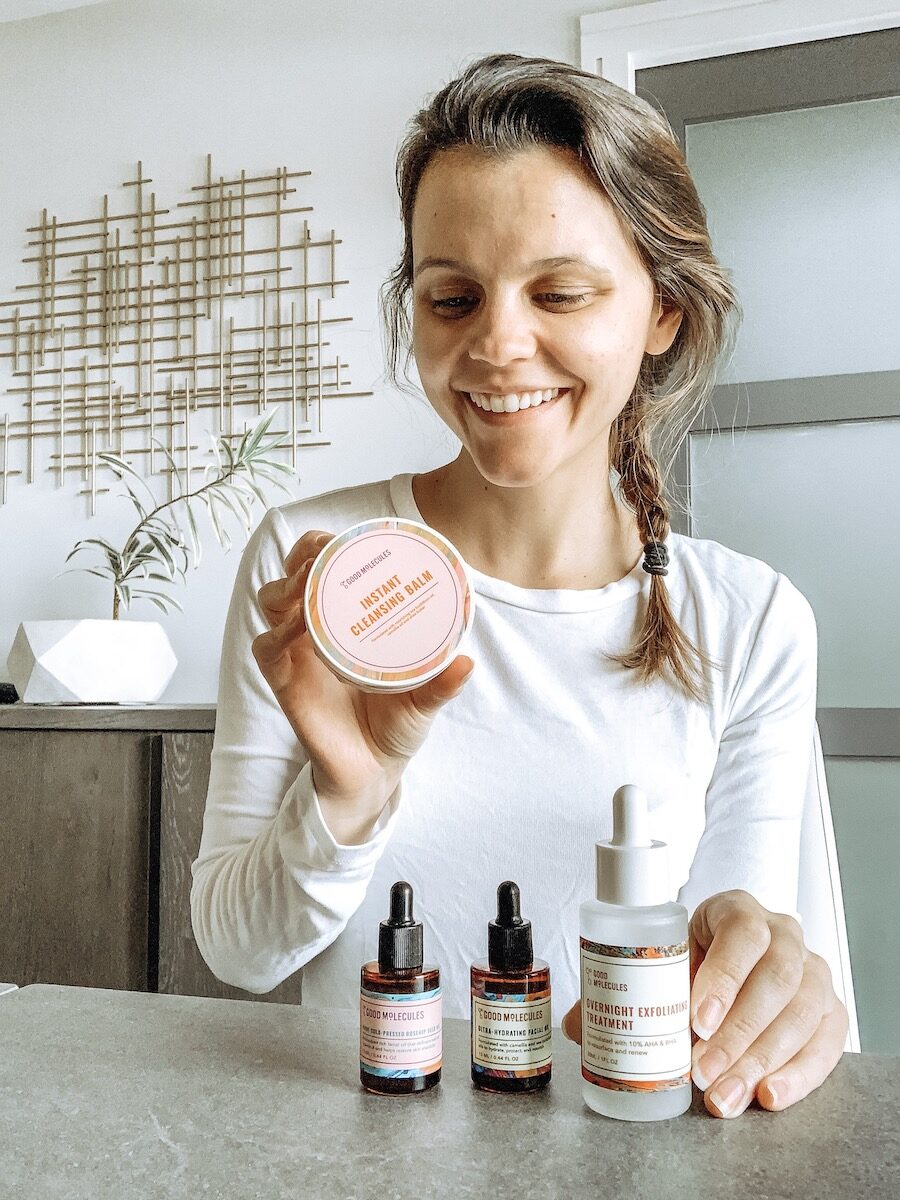 AM:
Cleanser
Toner
Serum
Eye cream
Moisturizer
Face oil
Sunscreen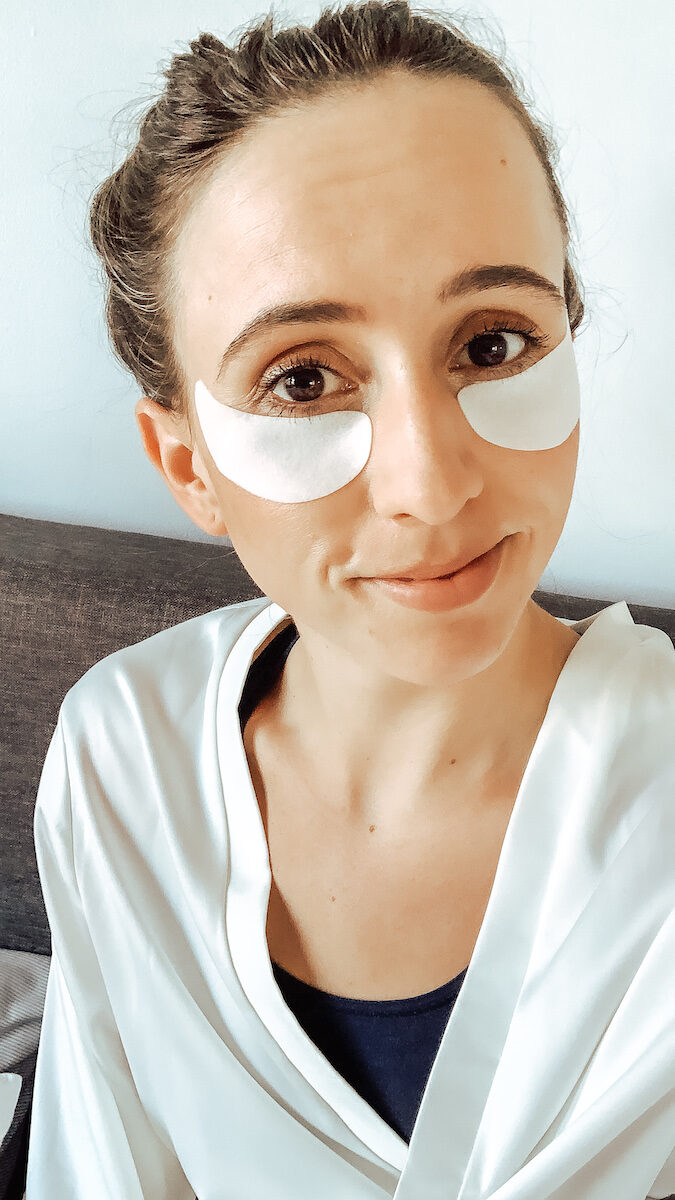 PM:
Cleanser
Toner
Retinol
Serum
Eye cream
Spot treatment
Moisturizer
Face oil
Now, this doesn't mean you necessarily have to include ALL of these steps in your routine. This is just a guideline so you know how to layer skincare products! For example, in the mornings, I skip out on cleanser, eye cream and face oil. I also apply my eye treatment as the last step before bed because it's actually an oil instead of a cream. At night, you can also swap out steps 6 through 8 for an overnight mask instead. You just have to find what works for you!
For more details on our current skincare routines, check out this post! Also learn more about each of the steps outlined above in this post.
Which skincare ingredients can you mix together?
We get this question all the time, and we don't blame you for asking! Knowing which ingredients mix well together and which don't can be pretty confusing. And it's a key part of knowing how to layer skincare products. Let's start with what you can and should mix!
AHA + BHA
For those of you with extra clogged pores, you might want to layer your AHAs and BHAs for a super deep clean. BHAs (like salicylic acid) are oil-soluble meaning they can penetrate deeper into the skin, while AHAs (like glycolic or lactic acid) are water-soluble meaning they exfoliate the surface of the skin. Mix the two together and you have quite the exfoliation duo! Be sure to only do this a couple times a week and follow up with a rich moisturizer. We do not advise this combo if you have sensitive or dry skin.
AHA/BHA+ Hyaluronic Acid
Building off of that, you can and should follow up exfoliating acids with hyaluronic acid. This ingredient is a humectant –– it absorbs moisture from the air or underlying layers of the skin and seals the moisture on the surface of the skin. So, once you clear your pores with your exfoliating acids, be sure to use a serum or moisturizer containing hyaluronic acid to seal that moisture in!
Hyaluronic Acid + Retinol
For the same reasons as above, hyaluronic acid and retinol make a great pair! Retinol can sometimes be irritating on the skin, so following up with a super hydrating ingredient like HA can help soothe and moisturize your skin. It also doesn't interfere with the effectiveness of retinol, meaning you'll get the same results with less irritation.
Retinol + SPF
While you should always apply retinol at night, it can still make your skin susceptible to sun damage during the day. Sensitivity from retinol can last for days after application, which is why retinol + SPF is a required combo in our book! Be sure to find a sunscreen with at least SPF 30, and apply that sucker every morning. This is one of our favorites!
SPF + Vitamin C
These are two powerhouse ingredients that, when combined, can help reduce and prevent sun damage and pigmentation. Vitamin C has tons of antioxidants to help fight off environmental stressors and keep you skin glowing and healthy. So when you mix that with SPF, you're golden!
Vitamin C + Vitamin E
These two vitamins work so well together! Not only do they leave your skin glowing, but they protect it in so many ways. Vitamin E is oil-soluble, meaning it can penetrate deeper into the skin's surface to fight off free radicals in the environment. Vitamin C is water-soluble, meaning it protects the outer layers of the skin from things like UV damage. Together, they make quite the powerhouse couple! This serum contains two-in-one.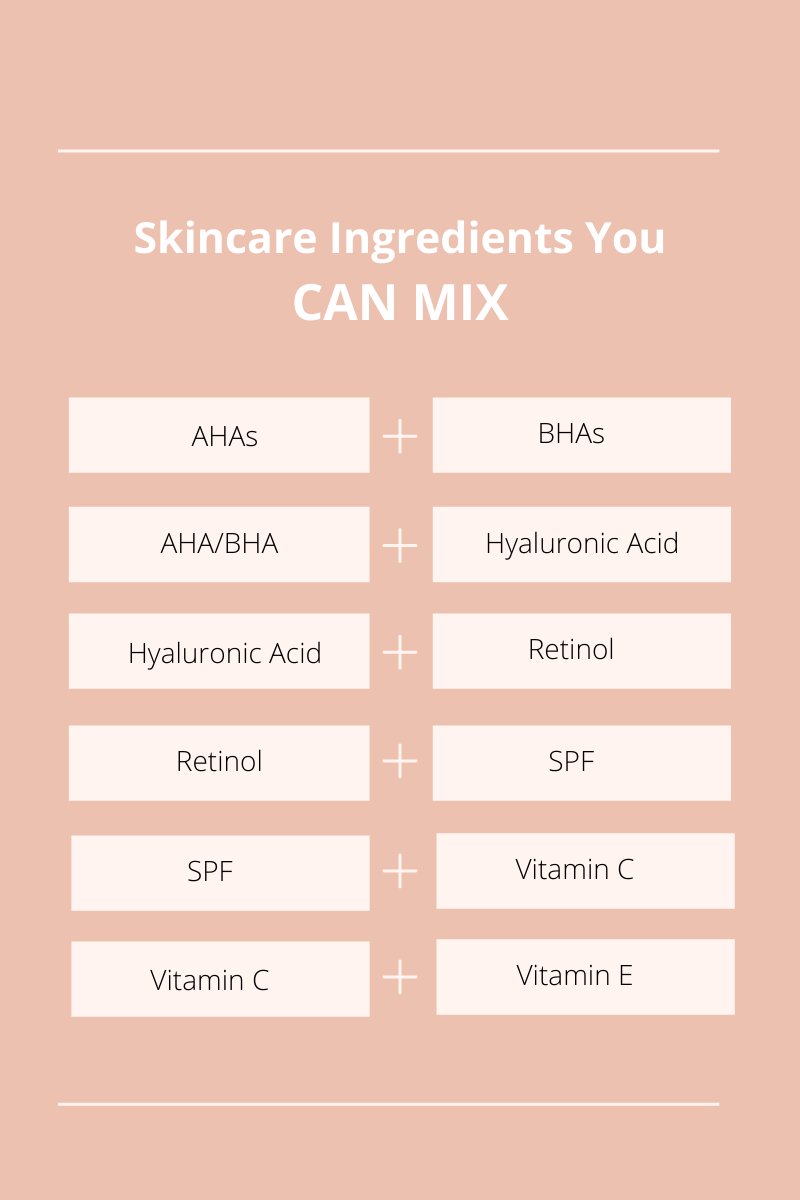 Which skincare ingredients can you NOT mix together?
You'll notice a lot of common offenders in this list! (Cough, cough, retinol.) Ingredients like retinol and vitamin C can be quite finicky when mixed with others, so be careful when experimenting with these two. Check out our no-no list below!
Retinol + AHA/BHA
Retinoids and AHAs/BHAs should not be used on the same day. These are very powerful ingredients that can easily cause irritation and sensitivity. To play it safe, alternate days if you want to use both!
Retinol + Vitamin C
These two also don't like each other very much! Vitamin C works best at lower pH levels than retinol, meaning when mixed together, neither will perform at their best. Vitamin C is best used in the mornings, while retinol is best for night time. So as long as you don't layer them on top of each other, you're good!
Retinol + Benzoyl Peroxide
Retinol and benzoyl peroxide pretty much cancel each other out to the point to where neither of them are truly effective when mixed together. These can also both be irritating to the skin, so you definitely want to avoid mixing them together at the same time.
Vitamin C + AHA/BHA
This one is a little trickier! Technically, because both vitamin C and AHAs/BHAs work well in acidic environments (low pH), they could be mixed. Some combinations could help with oily skin, while other could could cause irritation. Salicylic acid and vitamin C, for example, are okay when mixed together. However, we recommend you either stagger/alternate applications or you wait until the AHA/BHA completely dries before applying vitamin C.
Vitamin C + Niacinamide
Niacinamide is a VERY friendly ingredient that plays well with most! However, sometimes the combination of niacinamide and vitamin C can go awry. The chances of this happening are very slim though! When these two are combined in a high-temperature environment for a long period of time, they create nicotinic acid, which can cause sensitive skin to flush. Either way, to be safe, we recommend you use vitamin C in the AM and niacinamide in the PM.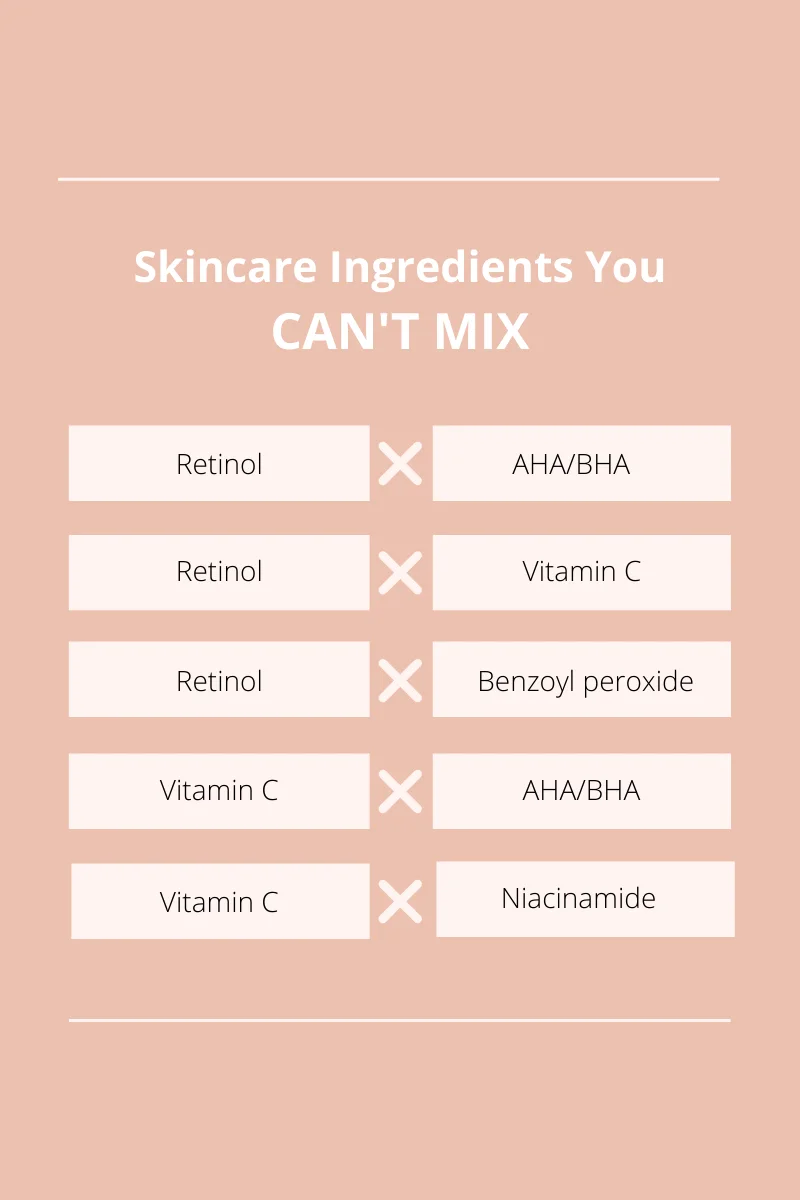 Now you know how to layer skincare products!
We hope this post was helpful! Be sure to chat us on Instagram with questions or feedback. We love to hear from you and know what it is you want to read next on the blog. Hope everyone is staying safe!