Did you know the average woman uses 10K feminine products in a lifetime? That's a lot of trips to Walgreens.
Every month, that magical time seems to hit when I'm not expecting it, of course, and I find myself opening every bathroom drawer and digging through every purse to find a tampon. I'm always out and always running to the store. Getting my period is already stressful enough, I don't need to be stressing about not having anything to deal with it!
I don't know about you, but I never thought much about what ingredients were in my tampons beyond buying the unscented version (who needs the extra chemicals?). It wasn't until an organic feminine care brand, LOLA, started targeting me on Facebook and Instagram that I started to question what I was putting in my body. Shocker: I was weak for social media ads…AGAIN.
You probably guessed it, but LOLA is here to solve both of my period woes…unnecessary chemicals and running out of my stash at home.
The Rundown
Product: LOLA (feminine care products)

Price: Vary based on your customized subscription.

Sam's subscription: 2 boxes of 18 applicator tampons, every 2 months for $13.

Claudia's subscription: 1 box of 18 applicator tampons & 1 box of 12 ultra thin pads, every 2 months for $12.

Where to buy: LOLA's website (Use the referral codes SMCCLURE4 or CPAEZ1 for $5 off your purchase!)

Perks: Free Shipping | Certified Organic | Customizable | No Synthetic Fibers | No Chlorine Bleach | No Chemical Additives | No Fragrance | No Dyes | FDA Approved
Sam's LOLA Experience
So I'm a tampon-only kinda gal. Hence, my subscription to LOLA is only applicator tampons. You'll have to wait for Claudia for the other goodies. Let the tampon review commence!
Before LOLA, I used Kotex U exclusively. I was a sucker for the pocket-sized tampons and pretty packaging. Why fix something that isn't broken? With no leak mishaps ever, the convenience of combo packs, and being the perfect size to stash anywhere, I had no issues. I bought my 34 pc. combo pack for $12.79 and was as happy as you can possibly be while dealing with such a miserable time.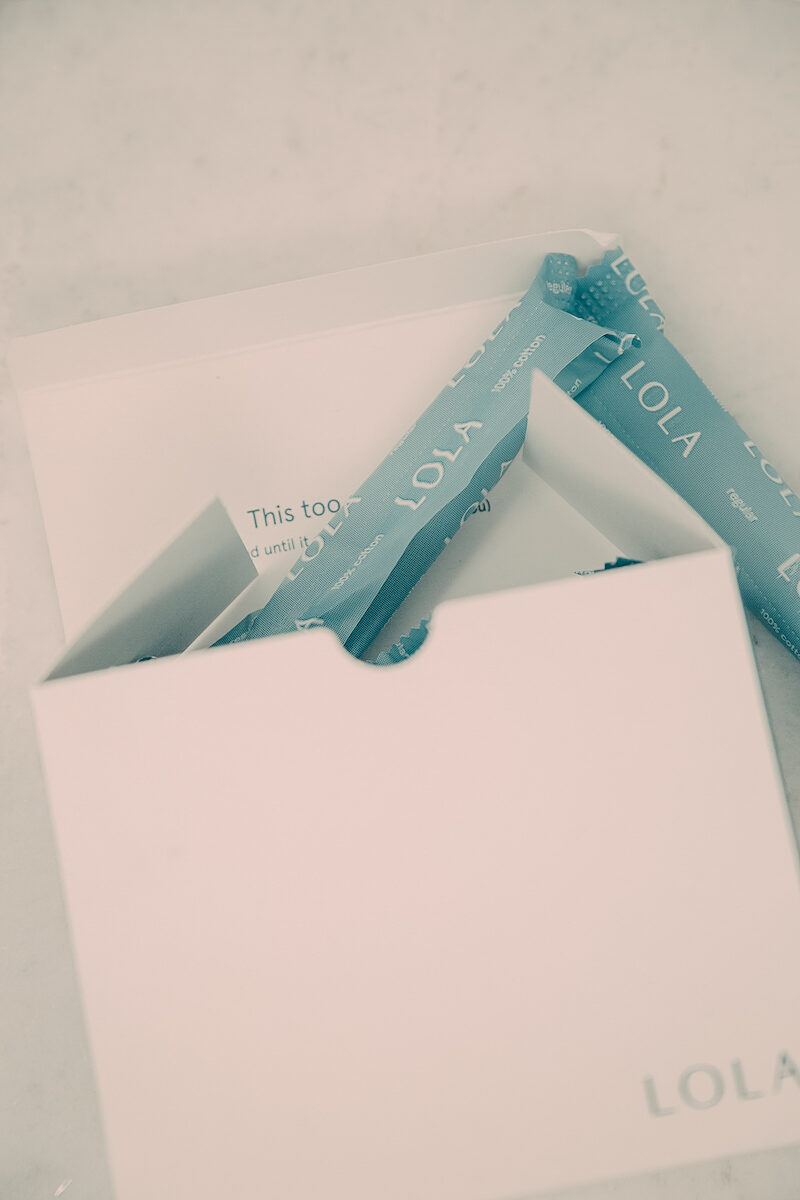 Then, LOLA made me question everything. "You mean to tell me that tampons have other ingredients in them?" Goodbye blissful ignorance.
For those of you who have also been blissfully ignorant like me, here are the ingredients my old tampons have: polyethylene (plastic used for the applicator), polyester cover, rayon (synthetic fibers), polyester string. Do you see cotton in that list? Nope, me neither.
So, I wouldn't say using Kotex tampons are going to kill me. I'm not going to be opposed to using other brands when I'm in a pinch, but I will choose LOLA first. Here's why.
Those other ingredients might not be full of incredibly dangerous toxins, but if I have the option to choose organic cotton, straight out of nature, or man-made fibers to sit in my body for hours on end, I'm going to go with the organic cotton. Easy.
With LOLA, your subscription is completely customizable. You decide how many boxes you want and how often. You even decide how many of each size tampon you want in the box. Now that'scustomization. Depending on you and your period you may need more of the heavy and a few of the light…or vice versa. You do you, girl!
These tampons are also compact (the same size as my old friends) and work so well. I haven't had a single leak in the last 4 months. That's all I could ever ask for in a tampon.
So…goodbye ignorance. Hello bliss.
Claudia's LOLA Experience
Couldn't agree more, Sam!
As a previous Tampax Pearl user, I was also on that ignorance bandwagon and had no idea tampons were filled with so many strange materials. As if periods weren't annoying enough…now we have to worry about what chemicals are in the darn feminine products we buy every month? C'mon!
When Sam and I found LOLA, we were kinda #mindblown. We immediately made the switch to cotton and couldn't be happier. Since Sam gave you guys the full rundown of the tampons, I'm just going to keep it short and sweet. These guys work just as well as any other brand out there. No leaks and zero discomfort. They were especially reliable during my workouts…a definite MUST!
Now let's talk pads, shall we? Last month I added their ultra thin pads with wings to my subscription because I don't like to wear tampons when I sleep for whatever crazy reason. All I have to say is…these pads were UNREAL. No, seriously. I never thought I would ever in my life like a pad, but these are just too perfect.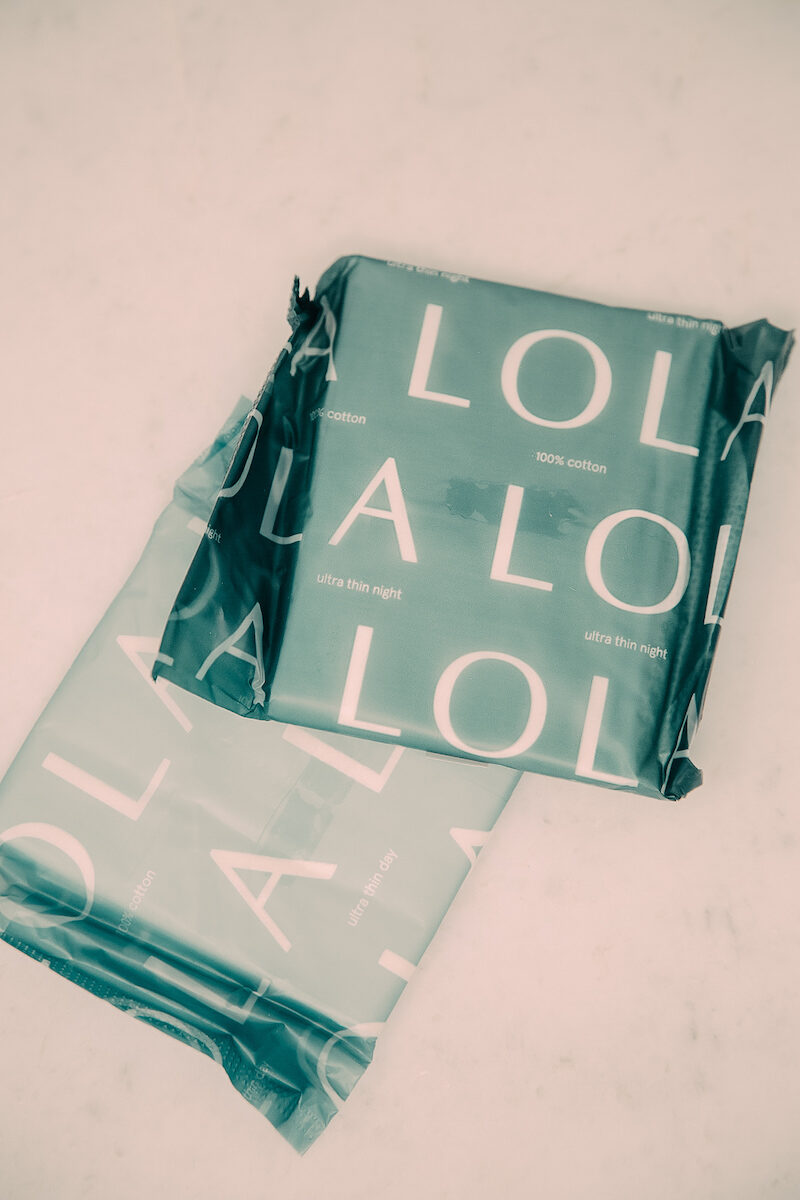 Pads that don't feel like diapers? Yes, please?
LOLA pads are long enough to ensure no leaks or spillage will ever ruin your sheets.
Once these pads are on, they're on. They don't mess around when they say these provide a "secure fit".
The box comes with 6 daytime and 6 nighttime pads (which you can adjust the quantities of each type as needed). I haven't tried the daytime pads just yet since I only use these at night. But if the time comes, I wouldn't be opposed to it!
I also love the fact that I don't have to run out to the store to replenish my stash at the last minute. They magically show up at your doorstep just in time! And you can always skip an order if you already have enough supply. So no stress there!
The Results
Beyond loving the lack of chemicals, LOLA is now our go-to feminine product brand because we haven't found ourselves running to the store to grab tampons or pads when it's already too late! We don't even think about buying them anymore. Those babies just show up at our doorstep a week or so before our periods and we're all set. Not only that, but we LOVE being able to customize how many of each size tampon (or type of pads) we want in our boxes. Millennials and customization…it's like an addiction!
LOLA has found a way to relieve some of the stressors of that wonderful time of the month. For that, we are forever grateful and will be forever customers.
Here's that 10/10, LOLA. You deserve it!!

Has anyone else fallen for LOLA's ads? Were you ready to give up your Walgreens trips too?