Guys, Away is legit the trendiest luggage brand out there. Never have we ever seen so much buzz around a freaking suitcase! Lol so naturally, we had to see what all the hype was about. Because if we're paying $250 for a carry-on, it better be DAMN GOOD.
My husband, Alex, jumped on the Away train wayyy before Sam and I did…such a little #trendsetter he is. And guess what? He fell in LOVE with these suitcases almost immediately.
After hearing his rave reviews, you bet Sam and I weren't too far behind! Sam splurged and got herself the Bigger Carry-On for her honeymoon to Greece, and Alex bought me the Bigger Carry-On and the Medium Away luggage as an early birthday gift being that I had a bunch of trips coming up in the fall. In true twinsie fashion, we both got the blush pink color!
(And of course now Sam's hubby, Patrick, is feeling the FOMO. Tbh, you might be too after reading this!)
Okay so let's get down to business. Is this luggage seriously worth the hype and money?
---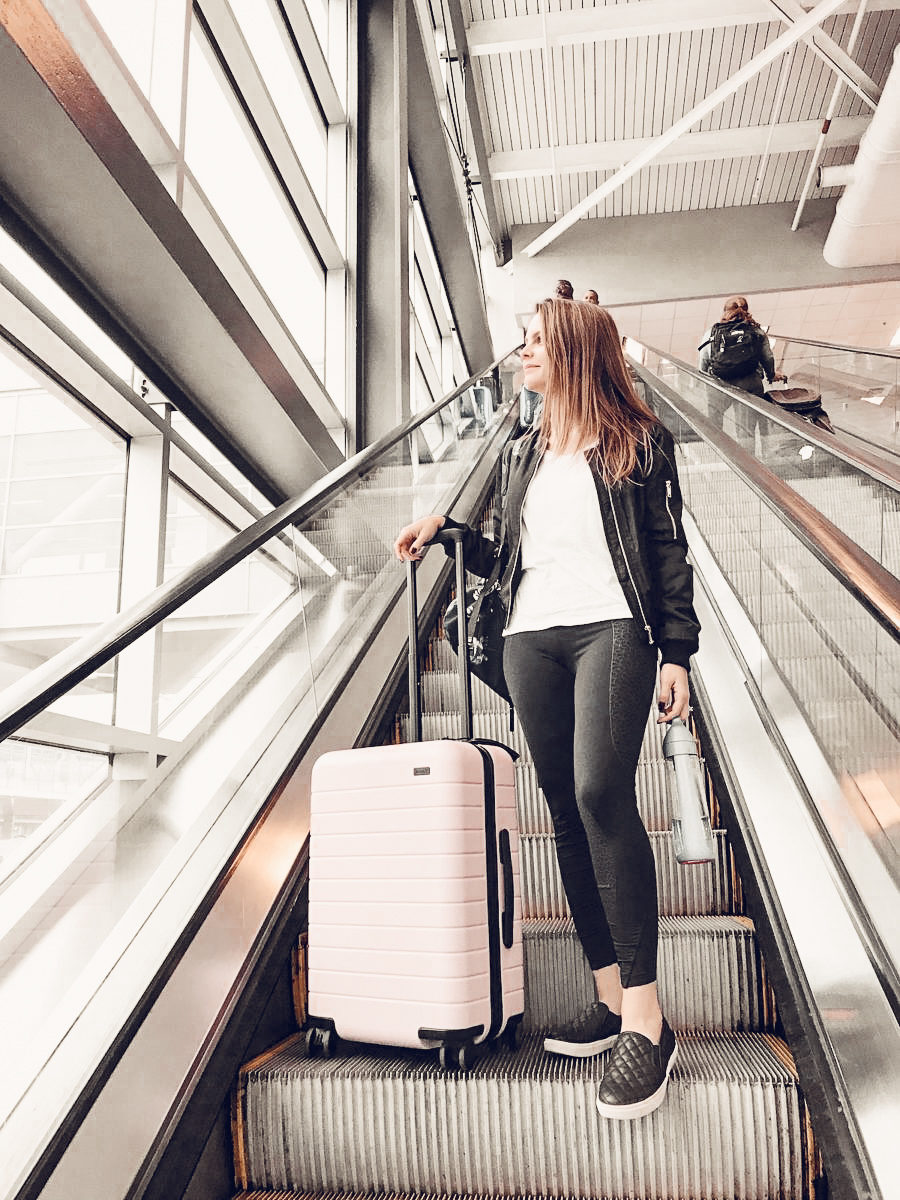 The Rundown
Product: Away Luggage
Styles: The Carry-On, The Bigger Carry-On, The Medium and The Large
Price: Range between $225-$495
Where to buy: Away website (use our referral link to get $20 off your purchase!)
---
Away We Go!
Sorry, I couldn't possibly get through this post without at least one pun!
Soon after we both got our Away luggage, I took a couple of trips to the east coast for a friend's wedding festivities, and Sam went off on her enchanting honeymoon to Greece. We both brought our Bigger Carry-Ons with us and put them to the CO test.
Before we get into our experiences…here is our list of #musthaves when it comes to suitcases:
Must make the packing process easy
Must roll around effortlessly
Must be light enough that even our wimpy little arms can lift it into the overhead bin
Must have well-made zippers
Must be strong enough to take the "checked luggage" beating
Lucky for us, Away pretty much checks off all these must-haves. But even luckier for us, these bags come with so much more than that!
Away Luggage Perks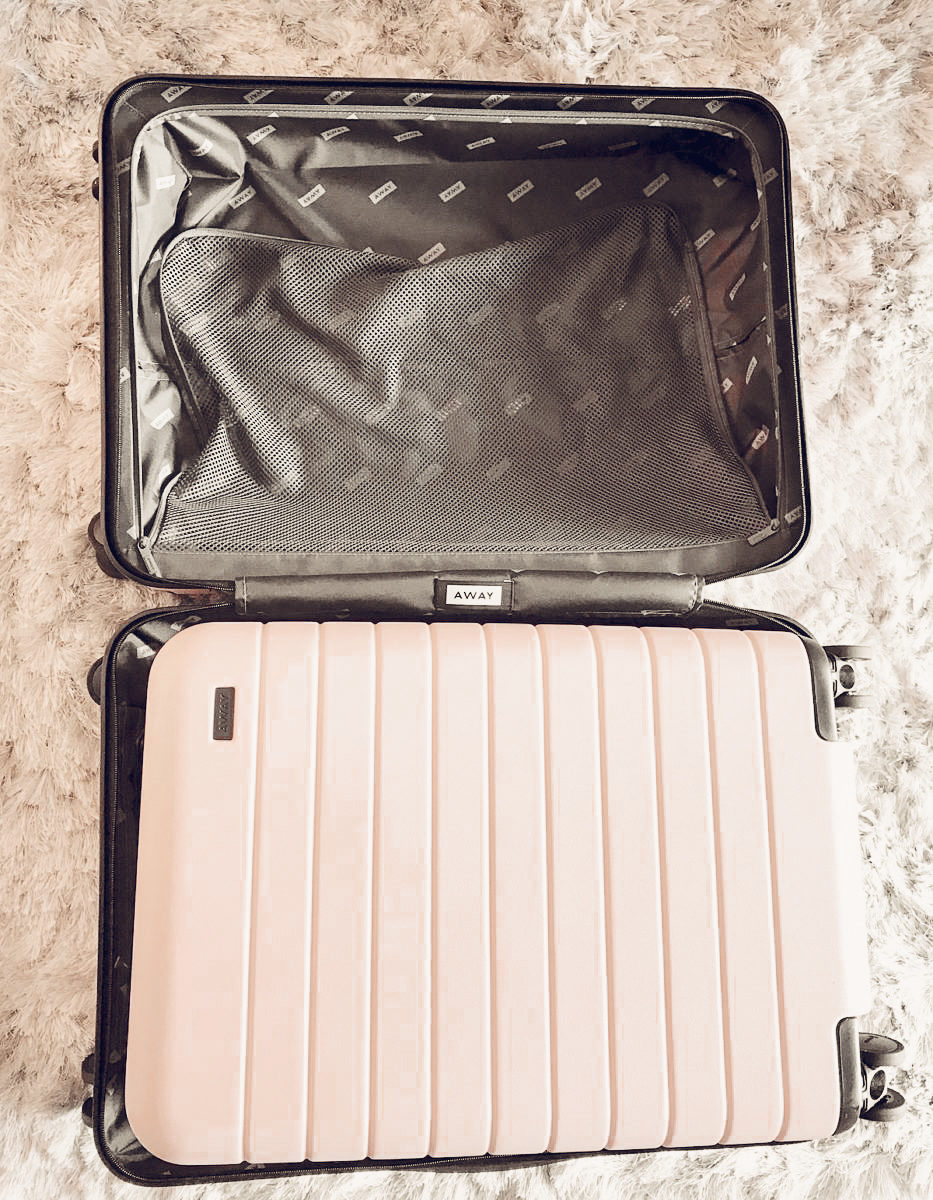 So besides the fact that Away bags…
Offer the perfect amount of space and capacity for all our goodies (even when we go overseas!)
Are the perfect fit for all overhead bins (except this teeny tiny plane that Sam and Patrick had to take from Athens to Santorini that didn't have overhead storage)
Roll really well throughout the airport and even over the cobblestones in Greece and Italy!
And are super lightweight and easy to maneuver
They also offer…
An ejectable charging battery that can charge any phone up to FIVE times before it dies!
This comes in super handy after long flight delays where literally all airport charging ports are taken (you know what we're talking about!)
An attached nylon laundry bag so you can keep your dirty clothes separate from the rest.
Alex and I actually used these laundry bags to bring all our dirty clothes to a little laundry shop in Rome during our honeymoon! It was great because we didn't have to lug around our actual suitcases.
Easy storage when you're back home.
One of my favorite parts about the Away luggage is that they all fit inside of each other like little Russian nesting dolls! Lol The Carry-On fits into the Bigger Carry-On which fits into the the Medium bag which fits into the Large! So if you live in a small apartment (like us) and don't have tons of storage, this comes in super handy because four suitcases take up the space of ONE.
TSA-approved lock
All Away bags come with built-in TSA approved locking systems so you can rest assured your precious cargo will be kept safe and sound no matter what. All you have to do is a pick a 4-digit code and you're off!
Away Luggage Let-Downs
Sadly there were a couple of let downs. Womp womp!
#1: Ejectable Battery Regulations Differ Per Airline
The past few flights I've been on, I've had to show the gate agent that the ejectable battery compartment is empty before I board the flight (even though my bag is a carry-on.) This has only happened on Delta flights so far! So beware. If you're planning on bringing your Away Carry-On on a Delta flight, be sure to put the battery in your backpack or purse before boarding.
#2: Scuffs and Scratches
The only other let down is the durability. Even though the hard shells are GREAT at protecting your belongings, they don't necessarily hold up well when they have to be checked. Expect plenty of scratches people. However, you can easily get these out using a Magic Eraser!
Which Away Luggage Should You Get?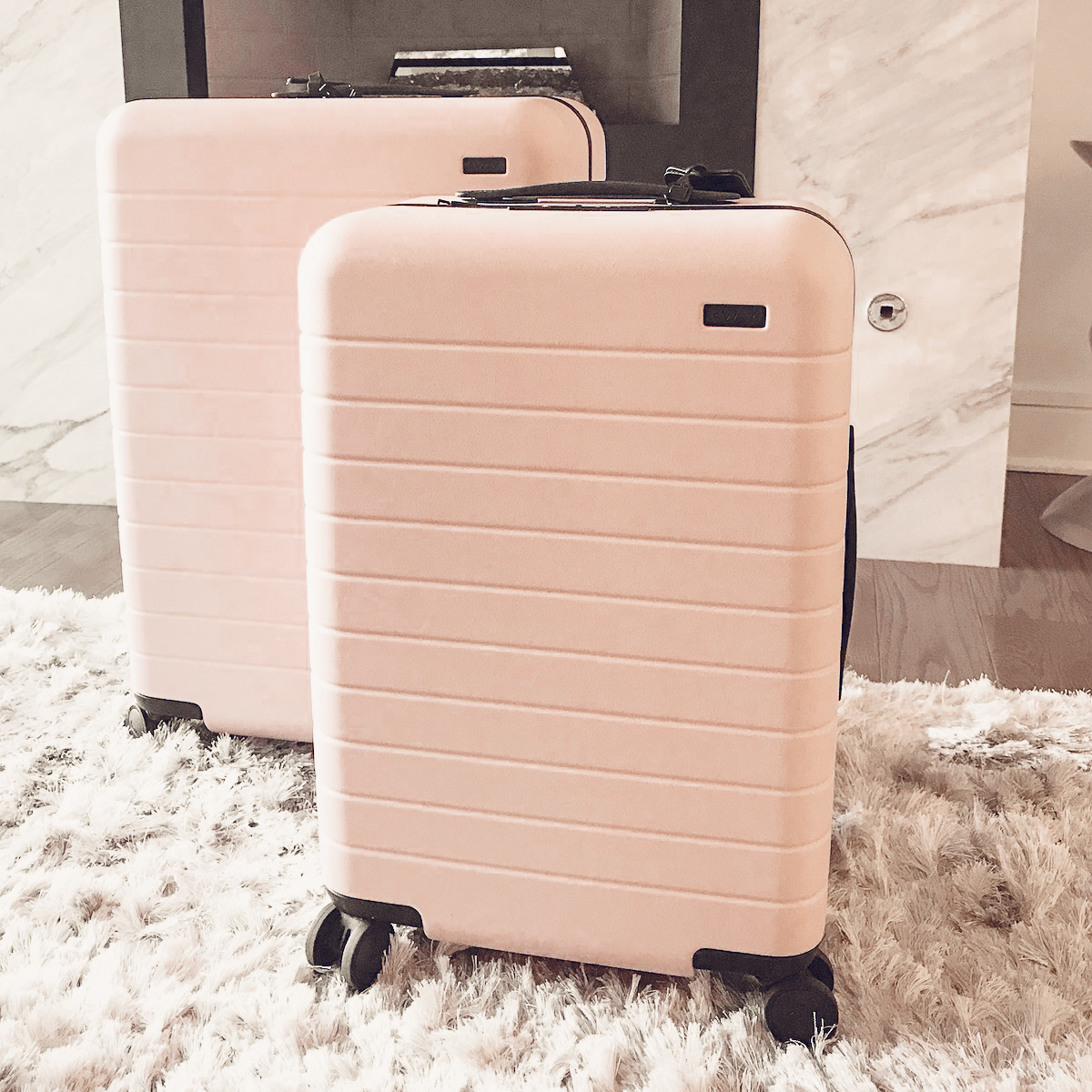 There are four sizes to choose from in the Away family: the Carry-On, the Bigger Carry-On, the Medium and the Large.
If you're planning on just investing in a good carry-on, we HIGHLY recommend you get the Bigger Carry-On. It fits perfectly into all overhead bins and you get more space to pack. So why the heck not??
As far as the Medium and Large, both Alex and I agree that the Large is TOO large. Alex originally had the Large and ended up returning it to get the Medium because he knew we would definitely risk getting charged with overweight bags if we had the Large Away. You can literally pack for a lifetime in that thing. Now we both have the Medium and think it's more than plenty of space for a long trip!
Packing with Away
Okay do you ever really look forward to packing? If you're anything like me, you'd rather have the packing genie take care of it for you am I right?
Well friends, things have changed with Away. They somehow managed to get us both excited about packing! Why you ask? It's a little thing called: ORGANIZATION.
Check out the video below to see how Sam packed for her entire honeymoon just using her Away Bigger Carry-On, some packing cubes and the super trendy Lo & Sons tote!
To Get Away or To Not Get Away?
Hehe. Are my puns killing you yet?
First of all, always get away…literally. Traveling is the best thing you can do for your soul!
And second of all, yes please get Away! As you can tell from both of our experiences, these really are some of the best pieces of luggage we've ever had. If you're an avid traveler like me and Sam, you're definitely better off investing in suitcases that won't let you down.
And with that friends, we give Away a solid 10/10. Happy traveling!