Winter sucks. Okay, sorry. There's no two ways about it! The weather here in Michigan is dropping into the negatives this week, friends. So you know what that means? It's time to amp up our beauty routines! We're talking more masks, more oils, more ultra-hydrating creams…basically more moisture!
And that applies to our nails too! Sometimes we spend so much time and money taking care of our hair and skin that we forget about the nails. But with dry, frigid weather comes brittle, weak nails. So we have to give them the extra TLC they deserve!
Here are my three tips on how to cure dry winter nails…
Add Collagen to Your Diet
The first thing I noticed when I started taking collagen on a regular basis was that my nails were growing at the speed of light! They were also MUCH stronger and even looked shinier. People that were close to me would even comment on how nice my nails looked! Who doesn't want that?
I took a break from collagen for about two months due to some digestive issues (which were NOT collagen related!) and noticed that my nails started breaking and peeling way more than usual. So this stuff seriously makes a difference!
So what does collagen even do?
It holds our sh*t together! No, but really. Collagen is a protein that acts as the "glue" that holds our bodies together. It also helps increase blood flow in your body, which then increases blood flow to your nails and scalp (a.k.a. it helps them grow!)
Unfortunately, we all start to lose collagen production when we hit our mid 20's. Hello! So in order to help our bodies continue to produce an ample amount of collagen, we need to add collagen-boosting supplements into our diets.
My Favorite Collagen Brand
My favorite collagen brand so far has been Collagen For Her. Here's why:
It has no taste! This makes it really easy to incorporate into my morning smoothies or chia seed puddings.
It's made with just ONE ingredient: Grass Fed Pasture Raised Hydrolyzed Bovine Collagen Peptides. And it's Non GMO, gluten free, sugar free, lactose free and chemical free.
The company was founded by a total boss babe who decided to take the negative stigma around supplements into her own hands and created this clean collagen powder that had perfect texture and no added ingredients.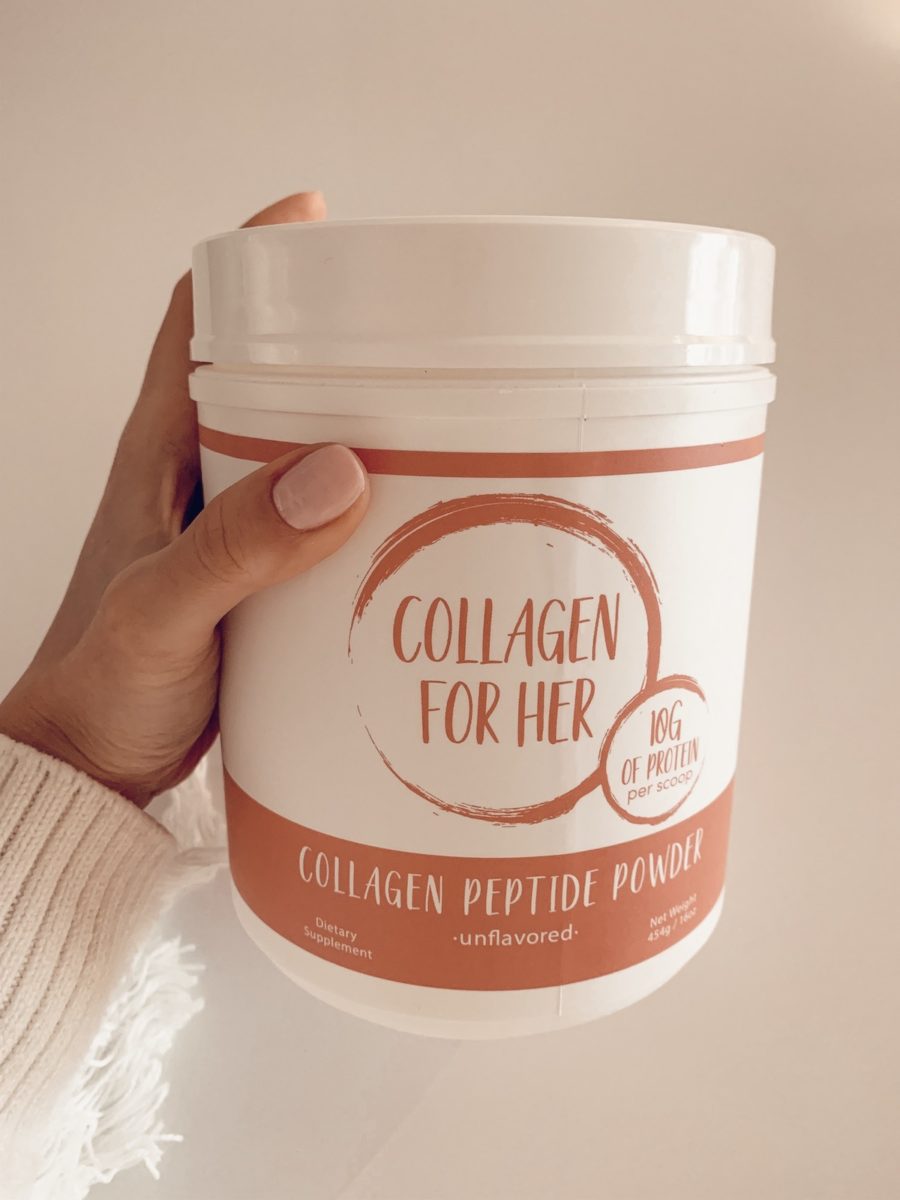 Like I said, I like to incorporate this collagen powder in my breakfasts. And I've found that I do best with it when I take half the serving size amount only two to three times a week. If I take more, it's too much for my digestive system!
Load Up on Cuticle Oil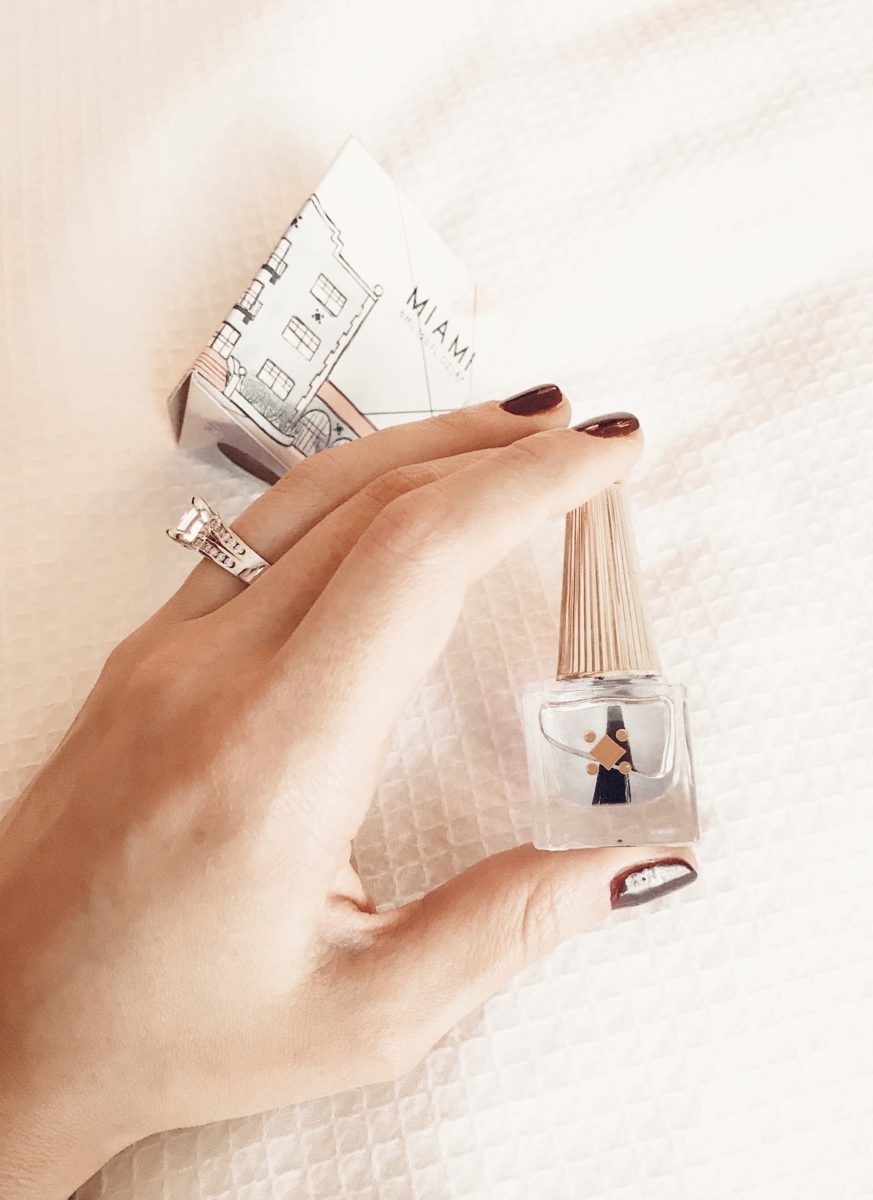 My second tip on how to cure dry winter nails is: cuticle oil! You guys know I'm slightly obsessed with keeping my cuticles perfect, right? If not, read this.
Adding cuticle oil into my regular beauty routine has made SUCH a difference in my nails! If your cuticles are healthy and hydrated, your nails will also look healthy and hydrated. Easy peasy!
Every morning, after I'm done getting ready…
I wash my hands with warm water to soften the cuticles.
Then, I apply my Deco Miami cuticle oil all over each nail.
I massage the product into my nails until it's slightly absorbed.
And I finish it off with some hand lotion.
It's that simple! The main thing you'll notice is that your nails will actually stay shiny and hydrated all day long. I've also found that using cuticle oil helps my manicure last longer because it doesn't dry out as fast! It's a win-win my friends.
Use a Nourishing Base Polish
Any time I feel like my nails need a boost of strength, I put on a couple of coats of my favorite base: Dermelect's Makeover Ridge Filler. This stuff is pure magic for your nails!
It's made with a keratin protein peptide and a pentavitin moisture magnet that:
Fills and masks nail ridges
Strengthens weak nails
Restores nail flexibility
Not to mention, it has a really pretty, light pink hue to it that makes your nails look perfect without having to give yourself an entire manicure.
I got this base in one of my FabFitFun boxes and haven't looked back since! Once I started using this makeover base, I found that my nails were stronger in between manicures (especially after gel/shellac manicures). I now can't imagine doing my nails without this stuff! Not only does it make your manicure look perfect, but it simultaneously nourishes your nails while you're at it.
Love a good dual purpose product!
Did you like my tips on how to cure dry winter nails?
Comment below and tell us your thoughts! I'd love to know more about how you guys keep your nails growing strong through the dreary winter months. Keep me posted!
XO Claudia