Does it actually thicken your hair?
Let's talk clean hair care, friends! A.k.a. the hardest clean beauty category. If we're being honest, most clean hair care products are very disappointing. They leave your hair gritty, dirty, weighed down, dried out. You name it, I've experienced it! But I'm not giving up until I find the best of the best for you.
Which is why I decided to give the Australian brand Bondi Boost a try.
After having a good experience with the SEEN hair care line, (obsessed with their blowout cream!) I figured, why not give this a try and see how they compare?
I bought their Thickening Therapy Shampoo and Conditioner back in December, so it's been about a month that I've been testing these out. And let me tell you…I love them!
Disclaimer: This post contains affiliate links. At no additional cost to you, I will earn a commission if you use these links to make a purchase.
I'm rating Bondi Boost an 8 out of 10, and here's why:
My standards for clean hair care are very high.
The shampoo has to lather well, the conditioner has to leave my hair silky smooth, they have to smell good, they have to have clean ingredients (duh), they have to leave my hair light and fluffy but not frizzy, and my hair has to stay clean for at least 1.5 days. Just to name a few! lol
With all that said, let's see how Bondi Boost performed in each of these categories: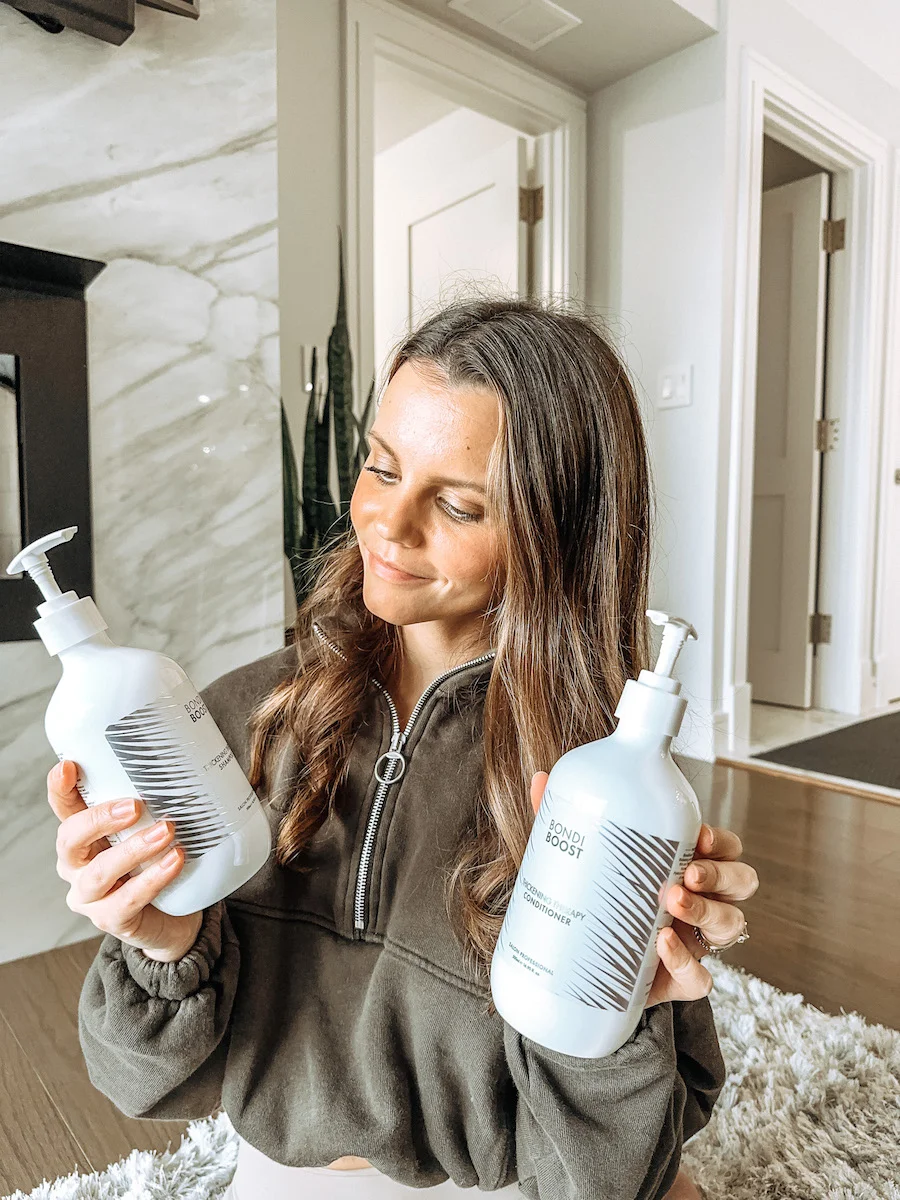 Shampoo lather: 10/10
Conditioner smoothness: 10/10
Combats frizziness: 10/10
Leaves my hair clean: 10/10
Healthy hair texture: 10/10
Clean ingredients: 9/10*
Curl hold: 10/10
Scent: 10/10
Thickening: 0/10*
Basically, this shampoo and conditioner set is divine. They smell delicious (like a sweet professional salon smell), lather perfectly, leave my hair silky smooth, and overall my hair looks so much healthier and full of life.
So why did I give these an 8 out 10?
*Contains fragrance
All Bondi Boost formulas are free from silicone, parabens, sulfates, mineral oils, palm oil, phthalates, propylene glycol, ethoxylates, petrochemical cleansers, artificial colors, DEA, MEA, TEA, formaldehyde, and drying alcohols.
They're also Australian-made, vegan-friendly, and cruelty-free!
So basically, they're super duper clean.
The only reason I docked 1 point is that they contain fragrance and don't disclose what's in their fragrance formula. Unfortunately, fragrance is considered to be a "trade secret", which is why beauty companies aren't forced to list their fragrance ingredients.
I will say, though, the scent is really pleasing, and it didn't irritate my scalp whatsoever. Also, it's extremely hard to find fragrance-free products when it comes to hair care. (SEEN does have a line of fragrance-free hair products if you're interested!) So I've come to terms with the fact that most of my hair products will have a scent.
*Hair thickening
You'll notice I rated this category a 0 out of 10, and no, that wasn't a mistake. I don't think these products thickened my hair at all.
I know better than to expect a shampoo and conditioner to actually thicken my hair. Personally, I think the only way to do this is from the inside out with supplements, vitamins, diet changes, etc.
But since this line is specifically marketed as a "thickening therapy", I think it's important for you to know ahead of time that you shouldn't buy these with the expectation that your hair will magically be thicker. Did it improve the overall texture of my hair? Yes! My hair feels much healthier than it did before. But did it change the thickness? Not so much.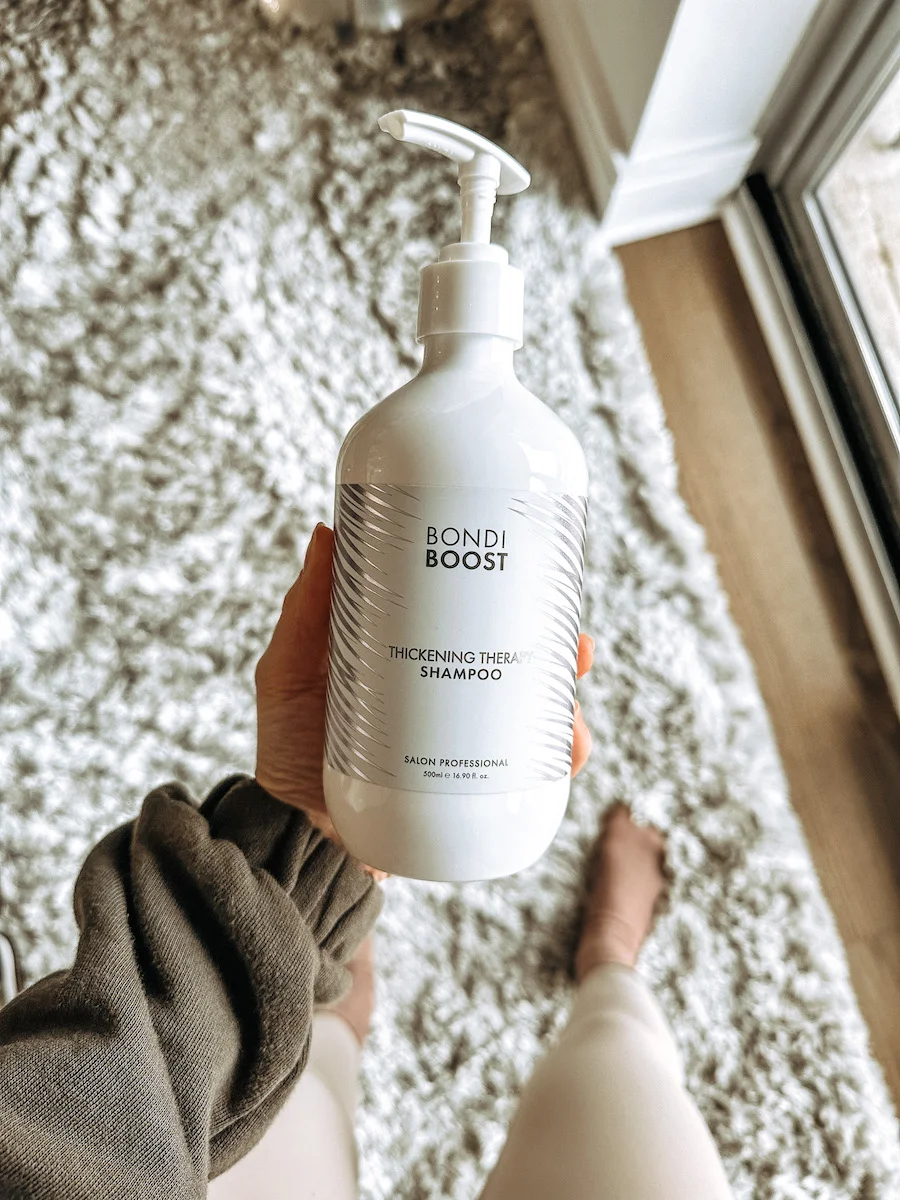 Will I repurchase the Bondi Boost Thickening Therapy Shampoo & Conditioner?
Absolutely! I really do love this set. Regardless of the fact that it doesn't really thicken my hair.
They do have some other shampoo and conditioner bundles I'd like to test out, but for now, I'm loving these and would highly recommend you give them a try.
You can find these at Ulta and Sephora for $29.95 each:
As always, connect with me on IG (@uncovertheglow) to chat one-on-one! I love to give product recommendations and just nerd out with each and every one of you on the latest in clean beauty.