What is sustainable fashion?
Sustainable fashion is the process of minimizing the negative environmental and socio-economic effects of wearable goods throughout the entirety of a product's life cycle.
Alright friends, I'm officially deep in the sustainable fashion rabbit hole. During quarantine, I decided to take a free course from the London College of Fashion called "Fashion and Sustainability", and boy has it opened my eyes! Being that we're total geeks when it comes to clean beauty, I figured I might as well put in the same effort into finding "clean" fashion. And let me tell you, it's been tough!
The things I have found throughout my research – how people are mistreated at factories; how little garment workers get paid (the majority of which are women); and the impacts the fabrics we source have on the environment – are truly gut wrenching! It's also crazy to think that up until a few weeks ago, I didn't think too much about where I was shopping or what I was buying. But hey, better late than never!
I'm here to break down sustainable fashion in an easy-to-understand way so we can all make an effort to shop consciously and continuously look for brands with a well-rounded ethos.
Remember, none of us are perfect! I won't ALWAYS buy sustainable. However, I will make it my goal to shop sustainably 50% or more of the time by 2021. And I hope you will join me in this challenge!
How to shop sustainably:
The goal when shopping sustainably is to reduce your negative impact on the planet.
1. Shop for pieces made with recycled or renewable materials.
TENCEL™ is similar to cotton but made from renewable wood materials.
ECONYL® is regenerated nylon made from plastic waste and discarded fishing nets.
Organic linen requires nearly no water during production and emits a quarter of the carbon as cotton.
Recover® yarns are made from old clothes and fabric scraps.
Piñatex is a vegan leather alternative made from pineapple leaf fibers.
Recycled cotton helps reduce water and energy consumption and keeps cotton clothes out of landfills.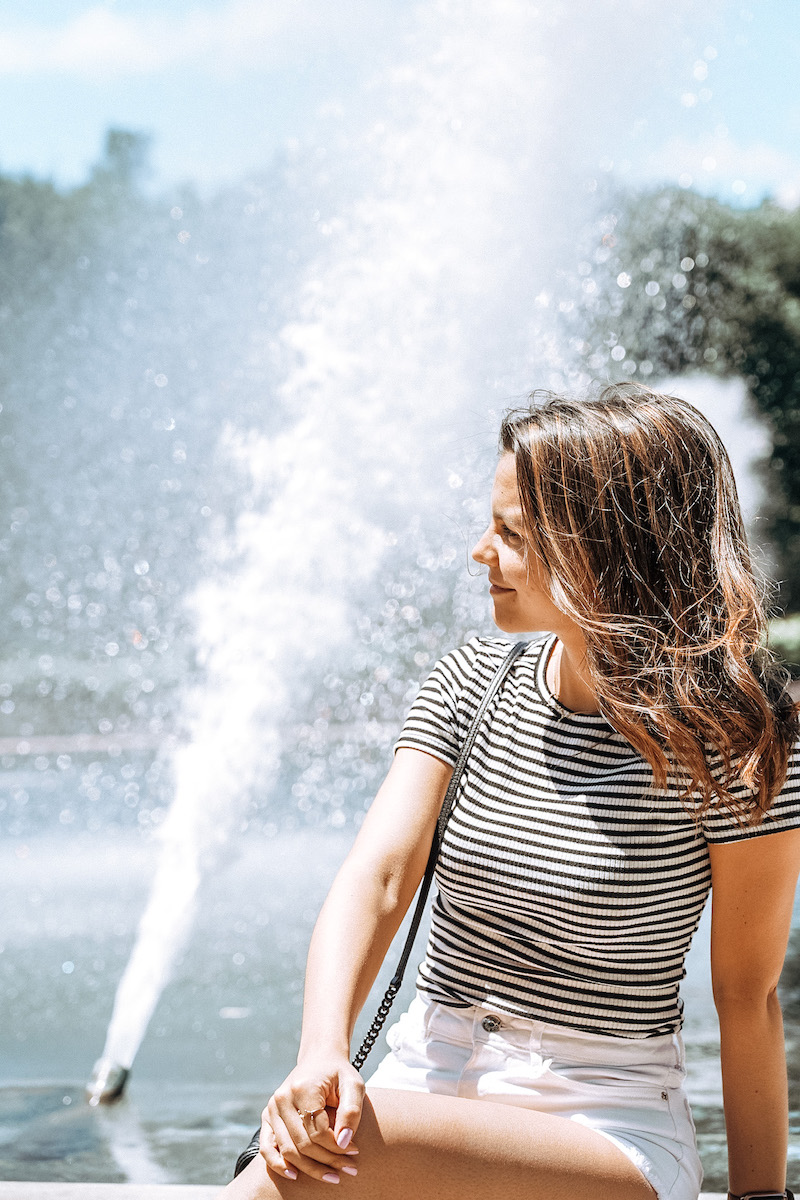 2. Look for brands with eco-friendly manufacturing processes.
Meaning they manufacture in ways that help reduce water consumption, carbon emissions, energy use, chemical use, and waste and disposal. They are aware of their environmental footprint and have programs in place to reduce it and neutralize it as much as possible. This could mean they have recycling programs in place or support "give-back" programs where they help put back some of the resources they use. Think rainforest conservation programs!
3.
Support brands with ethical labor practices.
Pay fair wages
Provide ethical working conditions
Support local or small communities
Do not allow child labor
4.
Shop second-hand items.
A big part of sustainability in fashion is elongating the lifespan of a piece of clothing. Rather than wearing something twice and throwing it away, you can reduce your own footprint by buying second-hand clothes. Places like Poshmark, thredUP, Rent the Runway, and local thrift stores are a great way to get started. You'll be shocked at the deals you'll find on nearly new or never worn pieces!
5.
Avoid "fast fashion" brands.
This video by Teen Vogue perfectly describes what "fast fashion" is and why it is causing so much harm to the world. Sadly, some of my favorites, like H&M and Zara, are on this list. SIGH! Even though they both have programs in place to reduce their impact, they still have a loooong way to go and aren't exactly being fully transparent about their current efforts. I'm still hopeful we'll see some change as the market starts to demand for ethical clothing more and more.
Beware of "greenwashing"! Read the labels and fine print just as you would an ingredient list on a beauty product. Some companies claim they are using recycled materials when in reality, just the garment tag is made with recycled materials. They'll even charge you more for these items even though the fabrics are not sustainably sourced. It's NUTS!
Our favorite sustainable fashion pieces for summer 2020:
We're still working on curating a list of our favorite sustainable fashion brands, but this can at least get you started on sprucing up your summer wardrobe in a positive way. My goal is to get one of these guides out every season to help take some of the guesswork out of it for you guys! Because believe me, it takes a TON of research and time. So the easier we make it for you, the more likely you are to shop sustainably! Win, win.
Everyday:

Swimwear:

I also just ordered a bathing suit from a small, LA-based sustainable brand called Skatie Swimwear! I'll share more about this on our Instagram stories in the coming weeks.
Workout:

Shoes & Accessories:

Omg guys, I'm so excited I got to share all of this with you!
I hope you are just as excited to learn even more about sustainable fashion in the months to come. I know I can't wait to share everything I learn with all of you. Tell us below which of the pieces above is your favorite! Or if you have any sustainable fashion brands you think we should experiment with, let us know.