Are custom formulas the way to go?
As you guys know, we've tried our fair share of customized beauty products – Function of Beauty, Prose, Curology…just to name a few! Although they haven't all been successful experiments, we do see the greater benefit of going custom. After all, no one's hair or skin is exactly the same.
So when Mxt reached out asking if we wanted to test out some of their personalized skincare formulas, we didn't think twice!
Mxt believes that what you put on your body "should perfectly fit you." Amen to that! Each and every one of their products is perfectly mixed to match your specific skincare needs. Whether you're dealing with dry skin, breakouts, irritation, uneven texture, or just want a simple product to keep your skin balanced and hydrated, Mxt might be the answer to your skincare woes.
The best part is that all of their formulas are 100% vegan friendly, synthetic fragrance free, cruelty free and custom-mixed in Los Angeles. We like the sound of that!
How does Mxt work?
There are two ways to go about it: DIY or DIFM (do it for me).
For the DIY crowd, Mxt gives you the opportunity to create your own product. First, you choose the type of product you want (cleanser, exfoliator, cream, serum, etc.), the concerns you'd like to address, and the key ingredients you want mixed in. Then, you can either choose from one of their pre-formulated products, or you can customize your formula by answering a few additional questions about your specific skincare concerns and preferences. We recommend you take a look at some of our ingredient breakdowns to help guide you through this process!
If you're just looking to leave the mixing to the experts (like we did!), then all you have to do is fill out a quick survey to help them figure out what your skin issues and goals are. From there, they give you a customized set of products with an explanation of what each product does, the key ingredients used and the directions for each. You can either buy the whole set or just pick one or two products you're interested in trying!
Claudia's Mxt Formula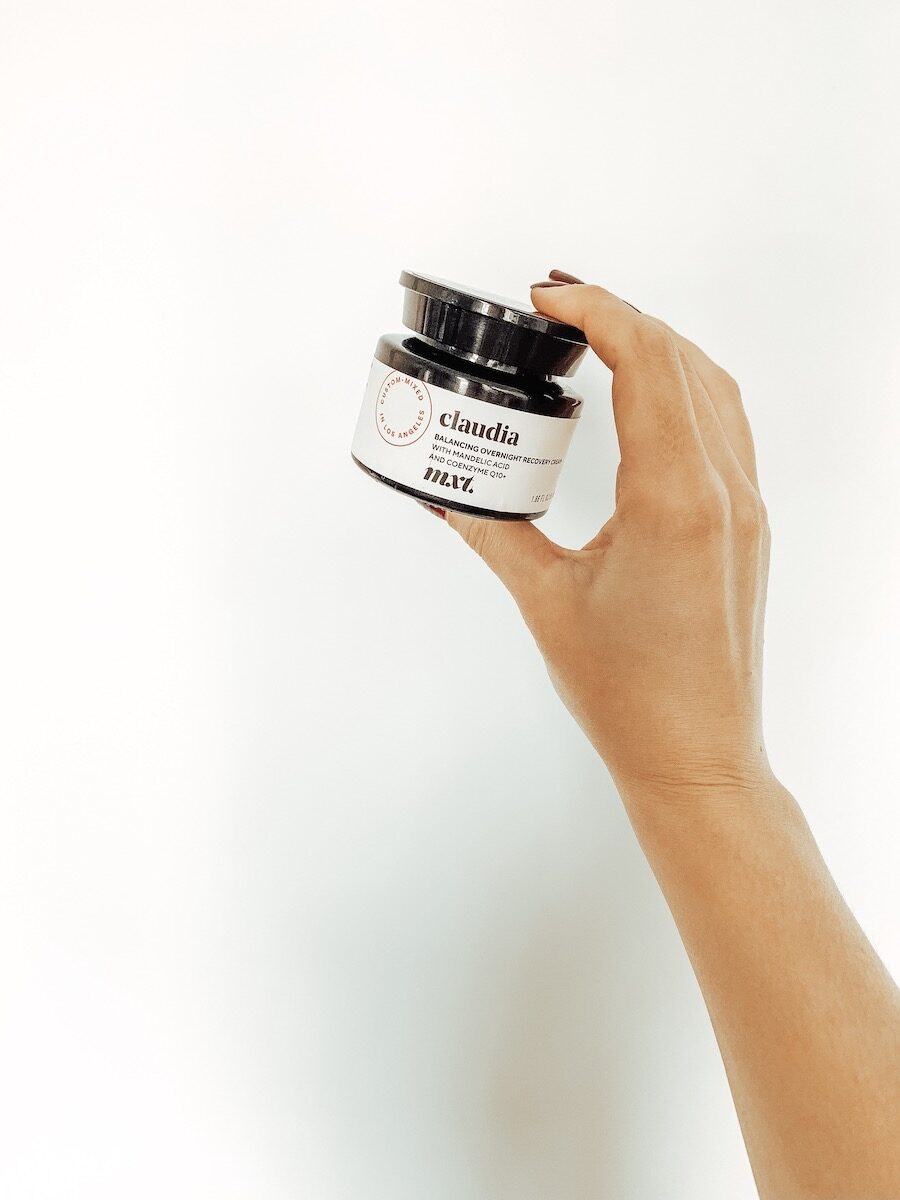 Balancing Overnight Recovery Cream
Price: $41
Key Ingredients: Mandelic Acid, Coenzyme Q10+, Amino Acid NMF and Green Purslane Extract
Purpose: "Helps banish blemish-causing bacteria, dirt, and excess oil by deeply purifying your skin, creating a clear, smooth complexion free of breakouts, clogged pores, and midday shine."
My first impression of this cream was, "Wow, it's super thick!" It's no joke, friends. This is definitely one of those creams where a little bit goes a long way…which is awesome! I also loved the smell – fresh and citrusy. It instantly gave my skin a healthy glow and left my face feeling super hydrated all night long.
Now, let's talk results. I used this cream every single night for over a month. I would first wash my face with the La Roche-Posay Hydrating Gentle Cleanser, then tone with The Ordinary Glycolic Toner and finish up with the Mxt Overnight Recovery Cream. Like the description said, I was looking for something that would help hydrate and balance my skin overnight. And I felt like it really did just that!
While it didn't fully prevent new breakouts from forming, I did feel like it kept them at bay. In other words, my breakouts wouldn't worsen overnight, which was great!
I think this cream might be better suited for the fall and winter months when my skin is screaming for moisture. Being that it's really thick, it might have been overkill in the middle of summer. But other than that, I do think this custom formula was perfectly crafted for me! My skin felt hydrated and smooth throughout the entire experiment.
---
Sam's Mxt Formula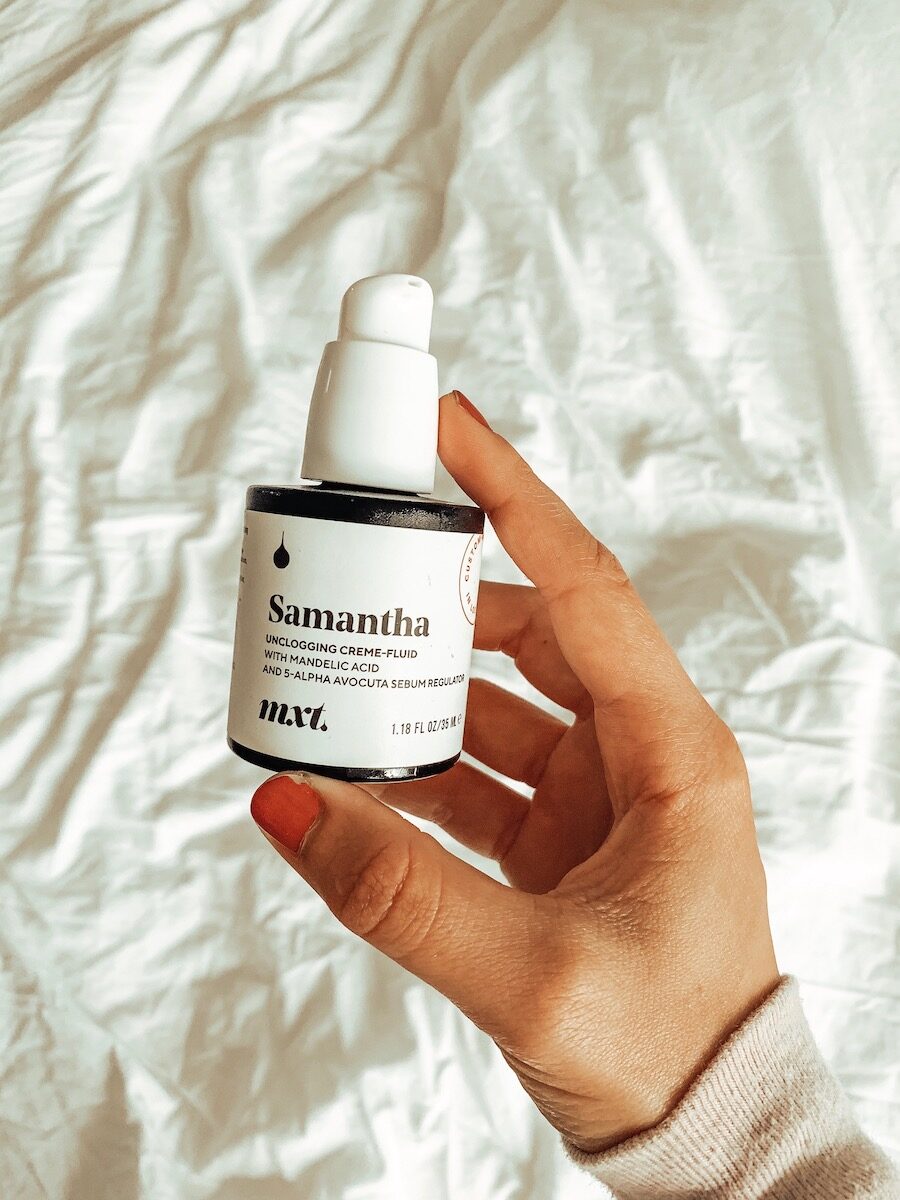 Unclogging Creme-Fluid
Price: $68
Key Ingredients: Mandelic acid, 5-alpha Avocuta Sebum Regulator, Ethyl Ascorbic Acid (Vitamin C), Bakuchiol
Purpose: "Helps banish blemish-causing bacteria, dirt, and excess oil by deeply purifying your skin, creating a clear, smooth complexion free of breakouts, clogged pores, and midday shine. Works to lessen the apperance of uneven skin tone and reveal a brighter, more even complexion free of imperfections."
My first impression of this product was unlike anything I've used before! While Mxt categorizes this as a serum, which it is, it's almost a mix between a serum and a moisturizer to me?! It's totally hard to explain, but the one thing I loved about this serum is that it spreads over my skin really well and absorbs nicely. The one con upon application is that it has a rubbery smell to it, almost like a brand new basketball! I find myself rushing to apply another product to cover up the smell. 🙊
My results? The one major thing I noticed was a reduction in sebum production! Typically by 1 or 2 p.m., my skin is a little too shiny. With the addition of this in my routine, I felt my skin was much more hydrated and balanced so there was no need for it to produce extra oil!
Sadly, I was really hoping it would provide some relief to my clogged pores, but it really didn't. I'll take the reduction in oil production though! Less oil means less clogged pores.
In the end, I felt this serum was a really good attempt at fixing my many skincare woes! While it can't solve them all (and I can't expect it to), it did make a positive difference in my skin.
One thing to note: The instructions don't mention what time of day to use this serum. Since it has Bakuchiol in it (which is a Retinoid), I avoided using it in the AM as to not expose myself to extra sun damage! Just an important reminder to do your research on ingredients because a label may not always tell you everything!
---
Overall, we think Mxt is totally
worth trying.
It's tough finding the perfect products for your skin, especially when the majority of them are made to fit the masses. That's why we always feel like custom formulas are worth experimenting with because you never know when you might hit the skincare jackpot.
While we didn't see DRASTIC results with these products, we do feel like they are made with high quality ingredients that will certainly produce results over time. Follow us on Instagram for more daily updates on our routines and experiments!
Let us know if you give these custom formulas a try!