Hollywood Glow for $24?
Raise your hand if you want star-like skin without dropping your entire life's savings on fancy treatments? Story of our lives! As you guys know, we're always on the quest to find high-quality skincare products that don't break that bank. And let me tell ya, it's tough!
But with the help of our handy-dandy FabFitFun boxes, we get to experiment with lots of great products before having to pay full price for them. Seriously, if you haven't signed up, what the *bleep* are you waiting for??
Kate Somerville products have been on our radar for quite some time…she is the skincare queen of Hollywood after all! And lucky for us, her famous ExfoliKate scrub was in our winter box, so we got to dabble in the glam without spending half our paycheck. (We reserve that for our trips to Whole Foods…#priorities.)
Kate Somerville ExfoliKate Scrub
Before we get into the experiment deets, let's talk about a few things about this exfoliating scrub that caught our attention right away…
It's known as the "Hollywood 2-Minute Facial"…so yeah, give us some of dat!
It's got 4.5 stars and 50K "loves" on Sephora's website. Clearly a cult-fav!
The scrub is good for normal, oily, combination AND dry skin. It's for everyone!
The ingredients looked amazing. We're talking papaya, pineapple, and pumpkin enzymes, some lactic acid, rosewood and cinnamon extracts, and soothing aloe vera, honey, and vitamin E. What more could we ask for?!
Sounds pretty perfect, right? And for $24, it's kind of a steal! Okay, let's get into it…
---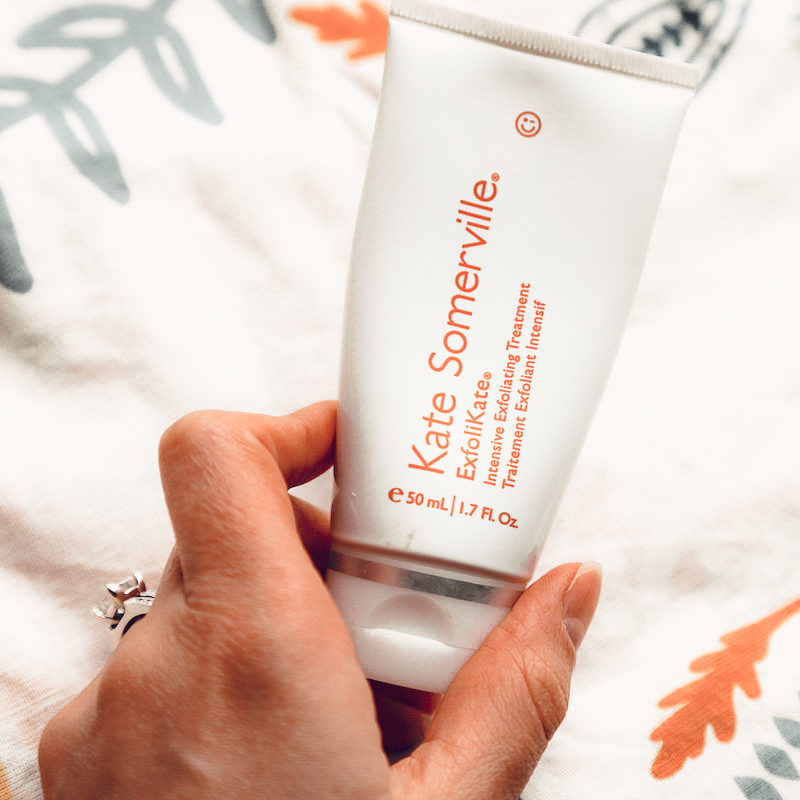 The Rundown
Product: Kate Somerville's ExfoliKate Intensive Exfoliating Treatment
Price: $24 (0.5 fl. oz.)
Where to buy: Our Shop Page!
Perks: No Parabens | No Sulfates | No Phthalates
---
Love at First Scrub?
Nope! Neither one of us fell in love with the ExfoliKate scrub right away. And this is exactly why we love to test the trends! Don't believe the hype (even if it's celebrity-level hype) until you try it for yourself, friends.
So why didn't we love it, you ask?
I personally thought it smelled like the inside of a Michael's store. Yes, very specific, I know. Next time you walk into Michael's, take in the scent…plastic pine trees + glitter? Idk what it is, but it's distinct! And exactly what this scrub smells like.
Sam didn't mind the smell but felt a crazy burn when she used it for the first time. I felt a slight burn, but nowhere near the level that Sam felt! (More on this in a bit…)
But once we got past the Michael's scent and the burning sensation, we both agreed that this scrub left our skin feeling silky smooth and bright as a star. So the rumors were true after all!
The 2-Minute Facial Experience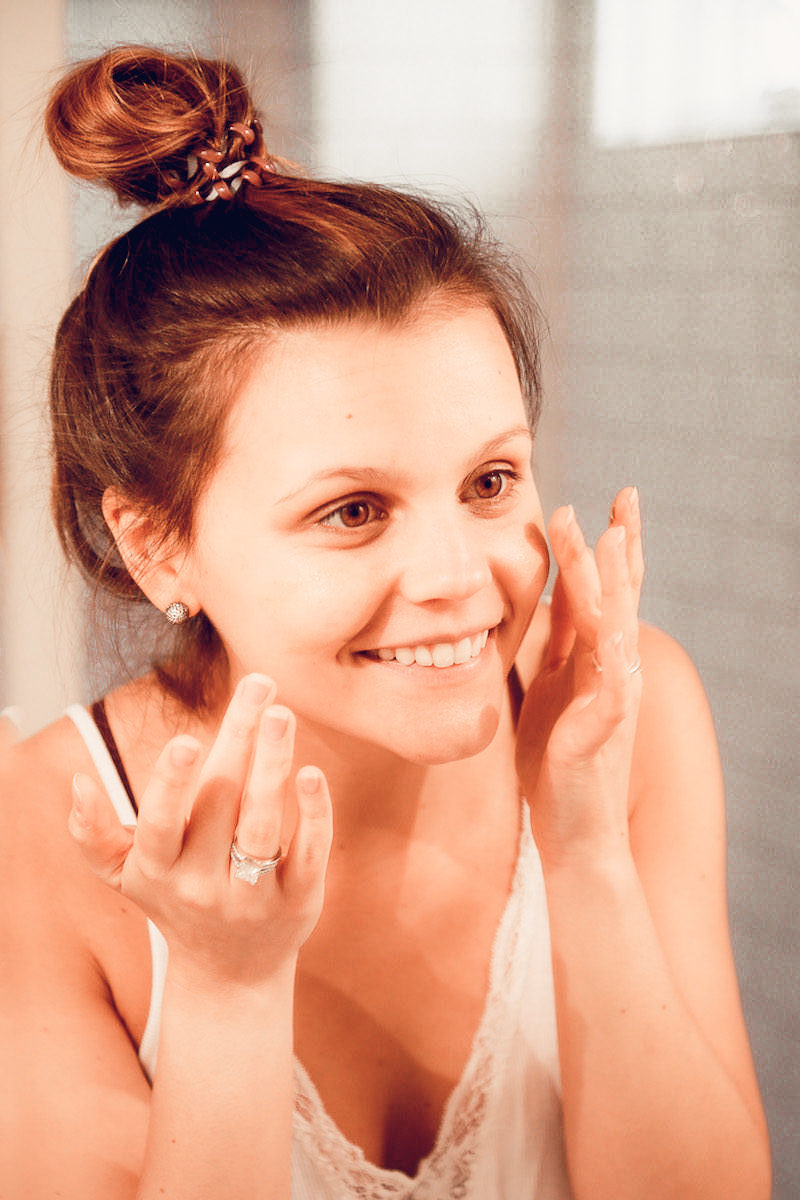 So here's how the ExfoliKate scrub works!
Kate recommends you use this scrub in the shower because the steam will help to activate the enzymes. So, first things first, sh-sh-sh-shower time!
Once you're feeling nice and steamy, rub a dime-size amount all over your face and neck in circular motions.
Leave it on for 1-2 minutes to let the scrub work its magic. (This is where the tingling comes in! If you have sensitive skin, leave it on for less than a minute.)
Rinse off and pat your face dry. You'll notice right away how smooth your skin feels! And you'll also notice it might be a little flushed.
The level of tingle and post-scrub redness will totally depend on how sensitive your skin is. Sam's skin, for example, feels a major burn and turns red like a little beet. Mine, on the other hand, doesn't always tingle and is only slightly flushed (and that's mostly due to the piping hot showers I take lol).
Love at 3-Month Scrub?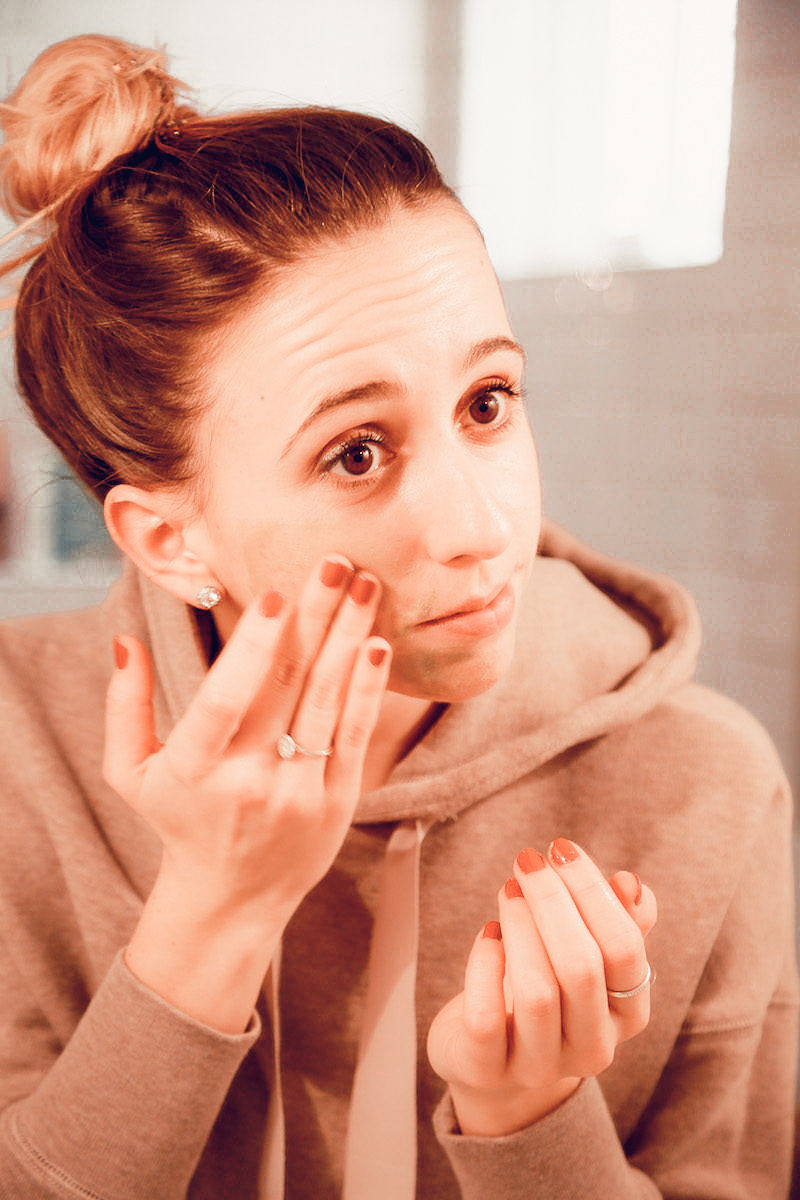 For me, absolutely! I've been using the ExfoliKate scrub twice a week for three months now and am completely in love. My skin definitely appears brighter, cleaner and A LOT smoother. If I'm feeling a little extra clogged, I up my use to three times a week. That's how much I love it! I do recommend you follow up with an amazing moisturizer to ensure your skin doesn't dry out from the exfoliation.
For Sam, I think not! Even though she loves how smooth this scrub leaves her skin, it is a bit too harsh for her right now. You see, Sam is experimenting with what might possibly be the cure-all to her blemishes! An exciting review of Curology is coming soon everyone!
So with that being said, she only uses the scrub once in awhile since she needs to be extra careful about what she's putting on her skin. Angry skin is the worst, isn't it?!
Like we always say, listen to your body and DO YOU. Because, ultimately, you're the only one who really knows what's best!
Does it get our approval?
When you notice a visible change in your skin in a matter of weeks, you know you've hit the jackpot (a.k.a me!). But on the other hand, if a product is too harsh on your skin, you might have to bow out of the celeb-game and just do what's right for you (a.k.a. Sam!).
So if you don't have sensitive skin, I would give this a 10/10.

But if you do, I would give this more of a 5/10.

If we meet in the middle, we're at 7.5/10!

If you've tried this scrub, tell us all about it in the comments below or on our Insta!