Let's take a moment of silence. For all of the split ends that have left that beautiful head of yours…only to land on the ground realizing they never stood a chance to live out a long, healthy life. Rest in peace. They will be missed.
Take a moment to think of all the abuse and damage you put your hair through every single day. Blow dryers, bleach, and heat tools…oh, my! It's no wonder there are so many pins on Pinterest about "How to grow your hair longer and fast!" or "How to get rid of split ends!"
How to Prevent Hair Funerals
Surprise, surprise…the key to preventing hair damage and distress lies in the hands of our absolute favorite hair care lines, Virtue. You might be thinking…"Didn't Virtue partner with you guys to give shampoo and conditioner sets to over 75 people?" Ugh, yes that was amazing! "Didn't we hear about how great Virtue's styling products were not too long ago?" Absolutely!
So yes, Virtue is, yet again, solving our hair woes! This time, in the form of a split end serum, anti-frizz cream, and a style protection cream.
Our Virtue obsession is SO REAL!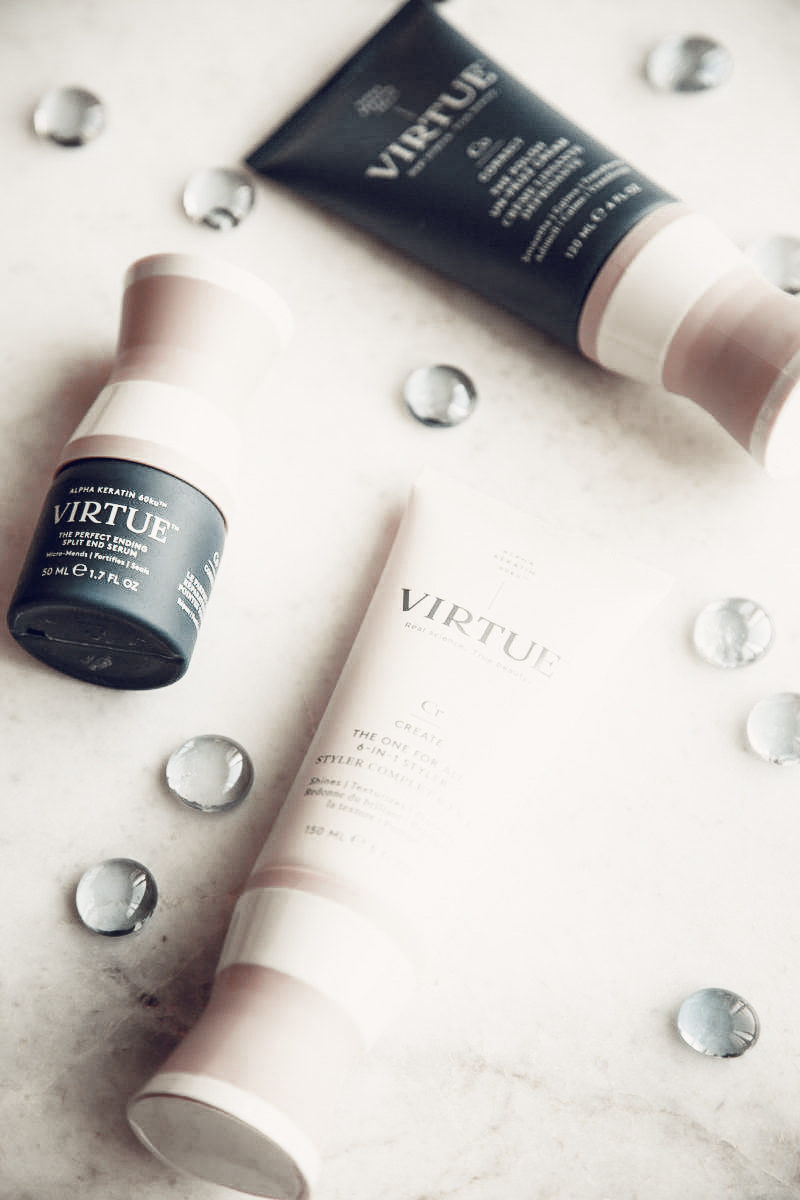 The Rundown
Products: Virtue Perfect Ending Split End Serum | Virtue One For All 6-in-1 Styler | Polish Unfrizz Cream
Price: Split End Serum $40 (1.7 oz) | 6-in-1 Styler $36 (5 oz) | Unfrizz Cream $40 (4 oz)
Where to buy: Virtue website
Perks: Paraben Free | Sulfate Free | Phthalate Free | No Color & Dyes | Color Safe
How We Used Them
Alright, I have a confession. I don't always treat my hair the way it should be. Sure, I wash it regularly (every other day because let's be real…dry shampoo is life!) and use conditioner (who doesn't?!) but that's about it. Every once in a while I add a serum or leave-in conditioner to my routine because I'm feeling guilty, but in the end I always revert back to my normal routine.
My reversion usually comes from one thing and one thing only: build up. Yes, my friends, I've never found a hair maintenance product that doesn't result in weighed-down, greasy hair. BLEH!
From Drab to Fab
Greasy hair is one of my BIGGEST pet peeves! (Besides people who chew with their mouth open…if you do that, we just can't be friends…#sorrynotsorry.) The second my hair feels weighed down and greasy it goes straight into a ponytail or bun without a second thought. Most of the time, serums and creams make my hair get greasy within hours which is TOTALLY unacceptable in my book…just sayin'.
Thankfully, Virtue is here to save all of us from bad hair days again.
Perfect Ending Split End Serum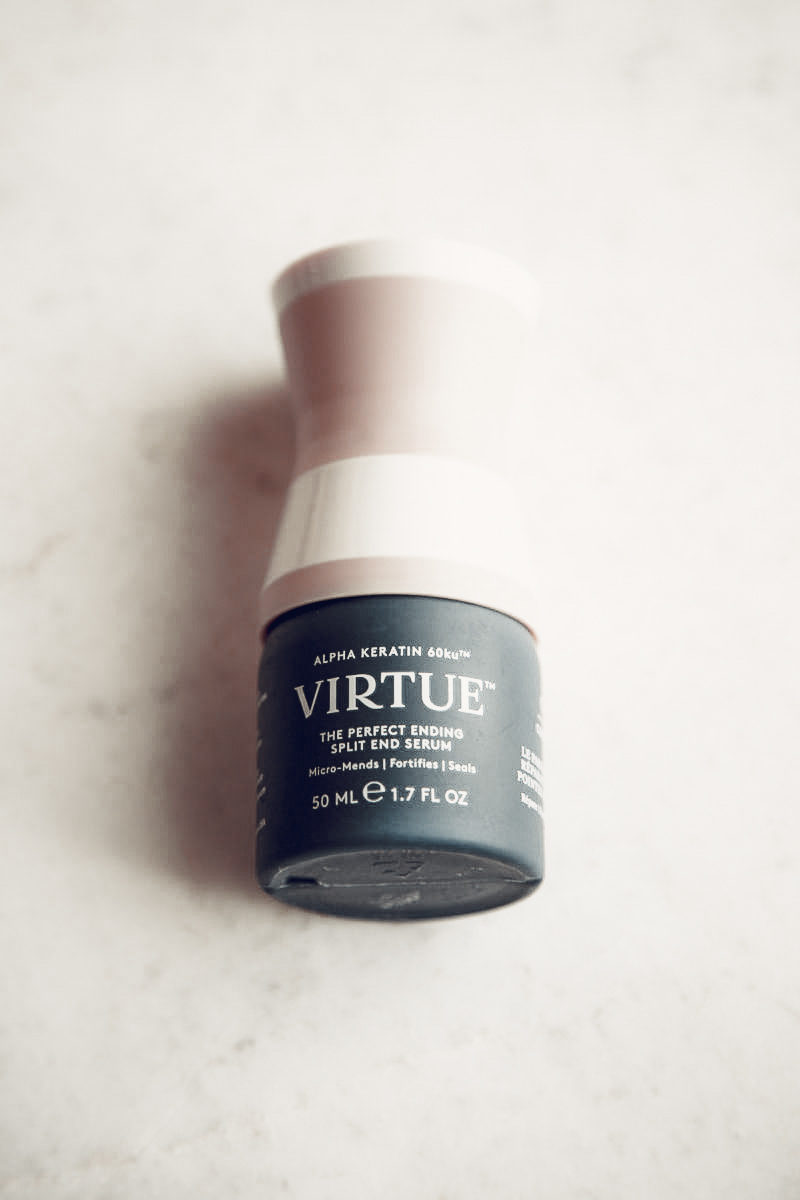 For most of us, split ends are a sad reality of our everyday hair…between blow drying, hot tools, and sun damage our hair is DESPERATE for some moisture and love. Unfortunately, those split ends always make a bad hair day that much worse, keep our hair from growing long and healthy, and always seem to show up all over that little black dress…am I right?!
One of the simplest things anyone can do is add one little extra step in your routine to seal those ends. The best way to do this is with the Virtue Perfect Ending Split End Serum (duh!).
After a scrub-a-dub-dub with Virtue's shampoo and conditioner (Recovery is our go-to!), I hop out of the shower and wrap my hair in my Turbie Twist (if you don't have one of these, you're missing out!) and follow with my usual post-shower skincare routine. After all that, it's time to unwrap my towel-dried hair and put those split ends in their place.
Both Claudia and I use just pump or two of the Perfect Ending Split End Serum and work it through our hair using our fingers. We start at the ends and work up to about mid-length.
It's creamy, not at all oily, and smells AMAZING! If you were one of our Certifiers for our Group Virtue experiment, this stuff smells just like the Recovery Shampoo and Conditioner Set…a.k.a. YUMMY!
Bye-Bye Nasty Ends
After just a couple weeks of adding this baby into my routine, I noticed a complete difference in the health of my hair! My split ends were sealing up and overall my hair was baby soft! Now, months later, I have virtually no split ends! My twin telepathy tells me Claudia had the same results (shocker!).
Wanna know the best part of it all? All this time Claudia and I have both been using a travel-size of the Virtue Perfect Ending Split End Serum and we still haven't come close to running out of product! That means not only is this serum friendly to our ends, but it's friendly to our wallets too! WIN WIN!
One For All 6-in-1 Styler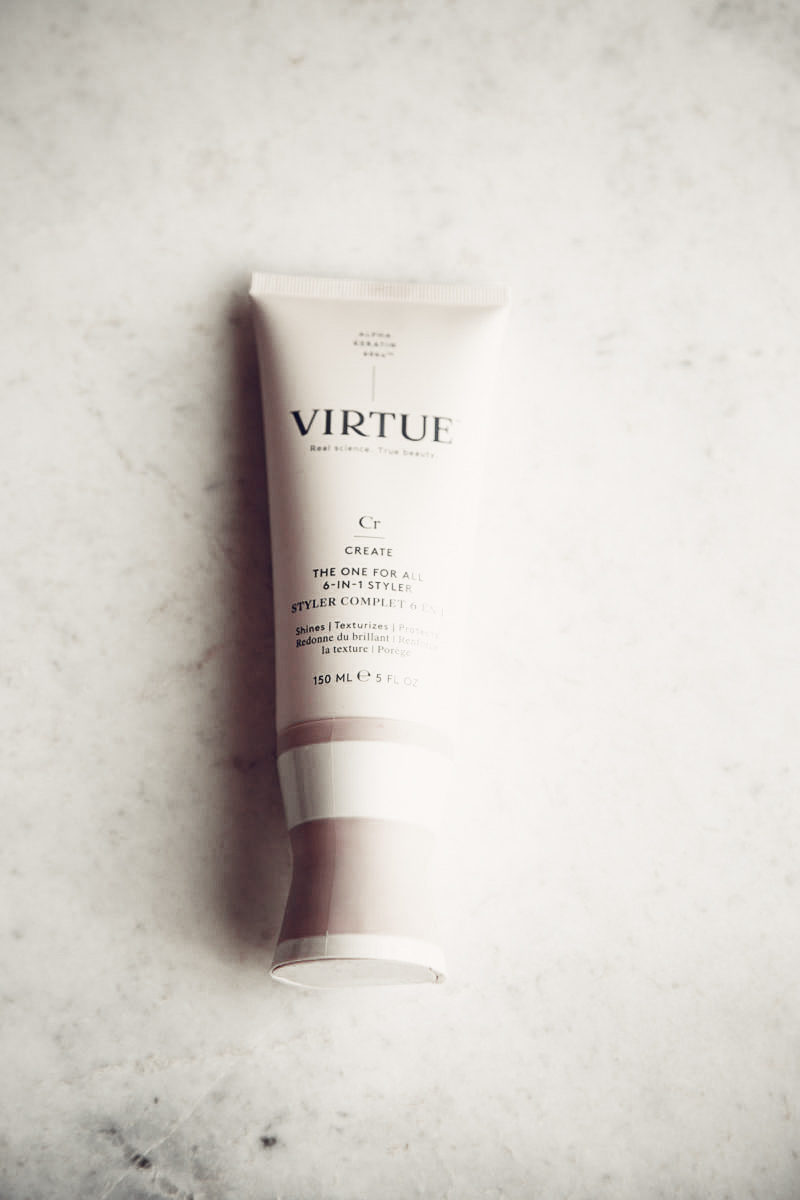 Okay so here's a novel idea…what if I took care of my hair before I put it through the wringer? What if I actually took another 5 seconds out of my routine to use a product that prevents damage from the blow drying and curling? WHAT IF?
TBH, I've messed around with different prevention products in the past such as heat protecting sprays, but they've just never done it for me. It could just be me, but I always feel like a spray is never going to cover all my hairs and protect them. In my head, there's no way a spray can disperse evenly enough to really get the job done!
When Virtue sent us their One for All 6-in-1 Styler I knew my dreams were about to come true. Just like its name states, this product does everything I could ever need it to do. Yes that means it…
Primes
Softens
Adds shine
Hydrates
Polishes
Protects from heat
So yeah…basically magic in a bottle! And let me tell you…the first time Claudia and I used this magical potion we couldn't believe the results we saw! We're talkin' smooth, soft, shiny hair that now rarely sees breakage or damage from heat styling! (Insert those heart eyes here!)
Hi, Welcome to Our Routines
Since we use the Perfect Ending Split End Serum regularly (almost every time we wash our hair), we don't use the One for All 6-in-1 Styler quite as much…but it has come a crucial part of our weekend hair routines! Here's why…
Although Claudia and I both curl our hair a few days of the week, we actually shower the night before. After experimenting, we've found that this product works best when you're planning to blow dry your hair right after. Otherwise, if we let it air dry it seems to dry a little heavy (and we all know how I feel about being weighed-down and having build up!).
All that said, we both usually shower in the mornings or during the day on the weekend and need the perfect product to protect and smooth our hair as we blow dry and style our hair. Obviously, Virtue One for All 6-in-1 Styler is the perfect product for us!
Polish Unfrizz Cream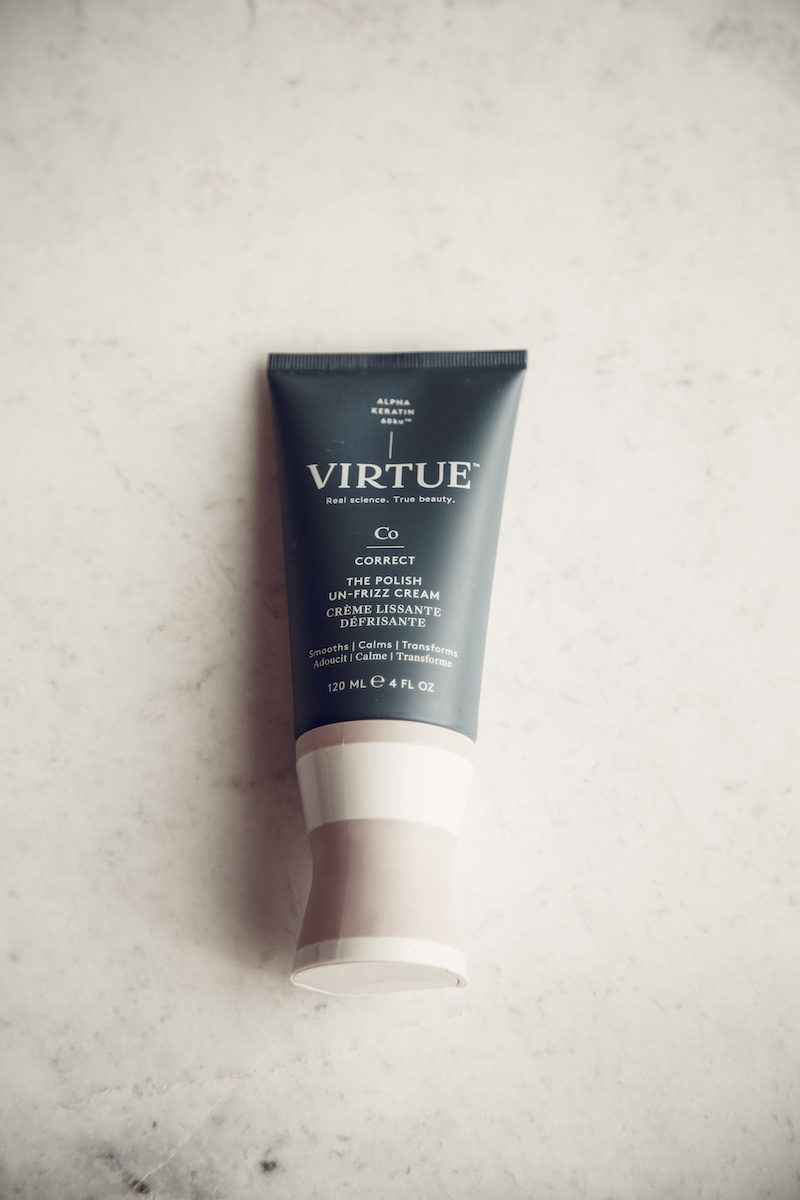 Yeah frizz in the Michigan winter isn't much of a thing. Really our hair does quite the opposite…it shrivels and cries out for all the moisture it can get! It's sad, but it's so true. So when it came time for Claudia and I to experiment with the Virtue Unfrizz Cream we were a little hesitant that it would have any effect on our hair…TBH.
After a few uses, we noticed that our hair was fairly resistant to the static that normally haunts our daily winter lives. Virtue: 1, static: 0. Other than that, we haven't been able to really put this bad boy to the test because we haven't dealt with humidity! Trust us, we WISH we would deal with some sunshine and humid temps.
Since we haven't been able to honestly give this one a full go, we may just have to pop back with an update in the summertime…which we're glad to do because we're obsessed with talking about all things Virtue!!
The Results
The greatest thing about these products, and this brand, is that they really freakin' work! The Perfect Ending Split End Serum and One For All 6-in-1 Styler have become crucial components of our hair care routines and we wouldn't have it any other way! Let's not forget, just like the other Virtue products, these ones are also laced with Alpha Keratin 60kuTM that we all just can't get enough of!
Both the Virtue Perfecting Split-End Serum and the One For All 6-in-1 Styler will receive a final score of 9/10 for us! When it comes to the Polish Unfrizz Cream…stay tuned!

What are your go-to hair maintenance products? Tell us all about your routine in the comments below!

Please note that we only work with companies and products that we feel passionately about and that align with our Certifiably Obsessed mission. This post contains sponsored content. While we are compensated for the work we do, our opinions are always 100% our own.