What if those chemical-filled products piled up in your vanity were actually contributing to the aging process? What if those synthetic active ingredients have not only not solved your skincare woes, but actually made them worse?
Across the pond (and down under), a team of scientists have been putting aside nasty man-made chemicals and are utilizing the power of certified organic botanical ingredients and all natural actives to make skincare better…and way more effective!
Hello, Grown Alchemist
We were introduced to our latest Australian skincare obsession, the Grown Alchemist Hydra-Restore Cream Cleanser, during our quarterly FabFitFun Add-On shopping spree. (If you don't know what this is, you're missing out on AH-MAZING deals and you need to get on it!) Scoring a semi-pricey product at a great price was ideal.
We didn't think things could get any better. Then, we washed our faces…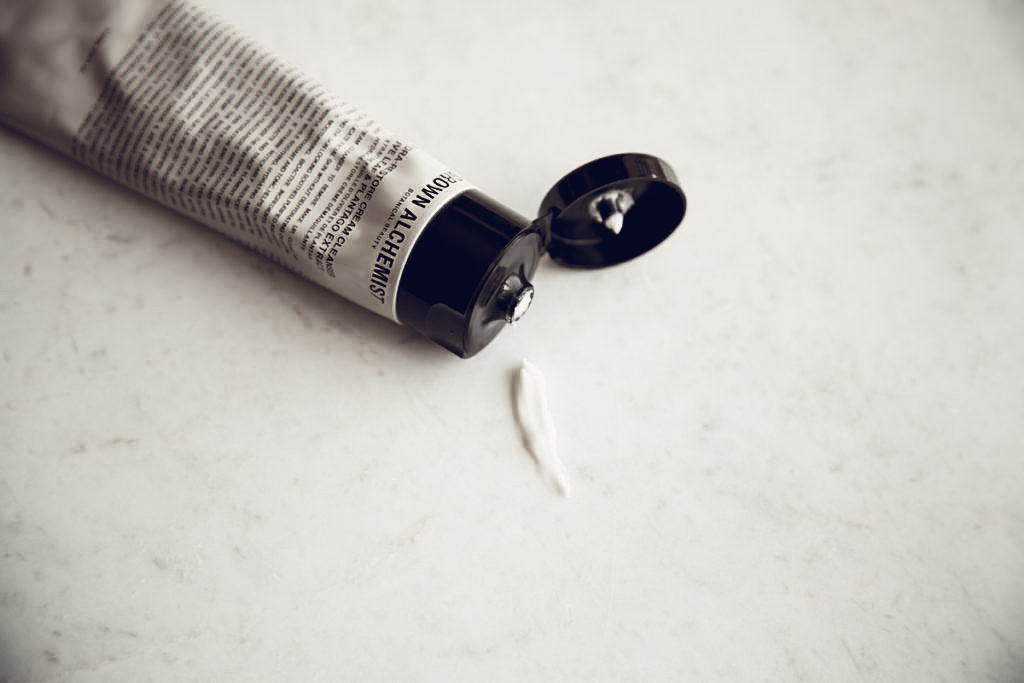 How We Used It
If you don't know this already, Claudia and I both live in Michigan. While this state has oh-so-many perks, it also has one major flaw: sub-zero temperatures. Take it from us…there's nothing more frustrating than trying to keep your skin (and immune system) in good health in these arctic temps. I feel like I have to moisturize all day long just to keep up! It ain't pretty, folks.
After a lifetime full of dry winters, I've learned to rely on my moisturizers…probably more than I should. Use too heavy of a moisturizer and BAM…you have clogged pores and breakouts. Use too light of a moisturizer and you'll find yourself with dry, flaky skin. Finding that happy medium is like striking gold!
The Answer to Our Skincare Prayers
One thing I never really thought of is changing up my face wash to be a little less harsh and a little more moisturizing. Since I've always battled with breakouts and acne, I tend to reach for stronger face washes. That is, until I learned that stronger isn't always better.
Harsh products can make my skin better for a short time, but in the end, it always ends up worse.
Instead of stripping my skin, I needed to find a face wash that would nurture it back to health while giving me that perfect balance of moisture for these harsh winter temps. Then, I welcomed the Grown Alchemist Hydra-Restore Cream Cleanser to my routine and life changed forever.
Claudia, on the other hand, had been using a creamy Acure cleanser before testing Grown Alchemist. Ever since her dry-skin spell from a few months ago, she's been all over her moisturizing routine! So this was a nice little transition. Michigan winters are seriously the WORST.
A Little Luxury Never Hurt
Let's talk first impressions: this cleanser smells oh-so-wonderful. It's like an earthy spa that not only smells great, but smells good for you. Oh, you didn't know you could "smell" if something is good for you? I may have made it up, but it's so true!
But in all seriousness, there's something about the botanicals they use in this product that automatically fills the air with pure relaxation. Ommmmmm.
This creamy face wash does more than just clean your face…it nurtures it. The cleanser goes on so smooth and luxuriously that you can almost feel the life being brought back to your face!
It's What's Inside That Counts
Let's talk ingredients…because our faces wouldn't be brought back to life with just so-so ingredients. What makes this creamy wash so great? The Grown Alchemist Hydra-Restore Cream Cleanser is full of things we LOVE…
Olive leaf extract: a powerful antioxidant that slows the the signs of fine lines by soothing, hydrating and firming your skin!
Vitamin B:reduces the size of those pesky pores!
Astringent Yarrow extracts and Trace Element Zinc: help you achieve that healthy glow by toning, firming and energizing the skin!
Polysaccarides and Fucoidans from Red Seaweed: give you that boost of hydration and even out your skin tone.
Plantago Extractand Beta-Glucan from Oats: does all the cleansing work in the wash, but always soothes!
Can you see why we have major heart eyes over these ingredients?! We're obsessed…to say the least.
The Results
Here's the real kicker! Claudia and I haven't even been using this as a our sole face wash. Why? For one, we're trying to conserve this precious product because, TBH, it's a little pricey to replenish. Two, we have other products that are "good enough" to use in conjunction with this ah-mazing wash. I've been using my trusty Glossier Milky Jelly Cleanser and Claudia interchanges between Acure and a new scrub we'll be reviewing very soon. YAY!
Even when we're not using this product everyday, morning and night, it's still improving our skin with every wash! It doesn't get better than that friends. Which is why the Grown Alchemist Hydra-Restore Cream Cleanser gets an 8/10 in our eyes! For being SO effective, but we're totally held back on the pricepoint.

FYI: Grown Alchemist has TONS of other products that we'd love to try. Apparently this brand is one of the most up-and-coming in trendy skincare lines! We're not mad about it.