Clean replicas of popular perfumes
When I first heard about Dossier perfumes, I was a bit skeptical. Clean scents for $29 that smell just like replicas of luxury brand originals? It seems too good to be true.
But after many failed attempts with brands like Skylar, The 7 Virtues, Ellis Brooklyn, and Heretic (to name a few), I was desperate to find a clean perfume that really hits the spot and lasts longer than a couple of hours.
While I did find one of my all-time favorite perfumes in Paris, I was determined to find a clean brand here in States.
Before we get into a rundown of Dossier, let's talk about what the term "clean perfume" actually means.
What are "clean" perfumes?
Here's the thing.
Perfume ingredients are not regulated by any means and typically contain an alarming amount of secret chemicals. We're talking things like carcinogens, neurotoxins, respiratory irritants, petro-chemicals, phthalates (a.k.a. hormone disrupters), narcotics, and more.
Why is this allowed?
Turns out, perfumes are considered a "trade secret" under the Fair Package and Labeling Act of 1966, meaning companies can keep these ingredients private as to not risk competition.
That's why it's really, really important to stay away from products with the words "parfum" or "fragrance" listed in their ingredient labels. While it may not always mean their formulas are toxic, you'll feel better knowing you're buying products that are transparent about their ingredients.
Cue Dossier: the clean perfume alternative

One of the many things I love about Dossier is they're completely transparent about their ingredients. Plus all of their formulas are 100% non-toxic, paraben-free, phthalate-free, vegan, cruelty-free, and colorant-free!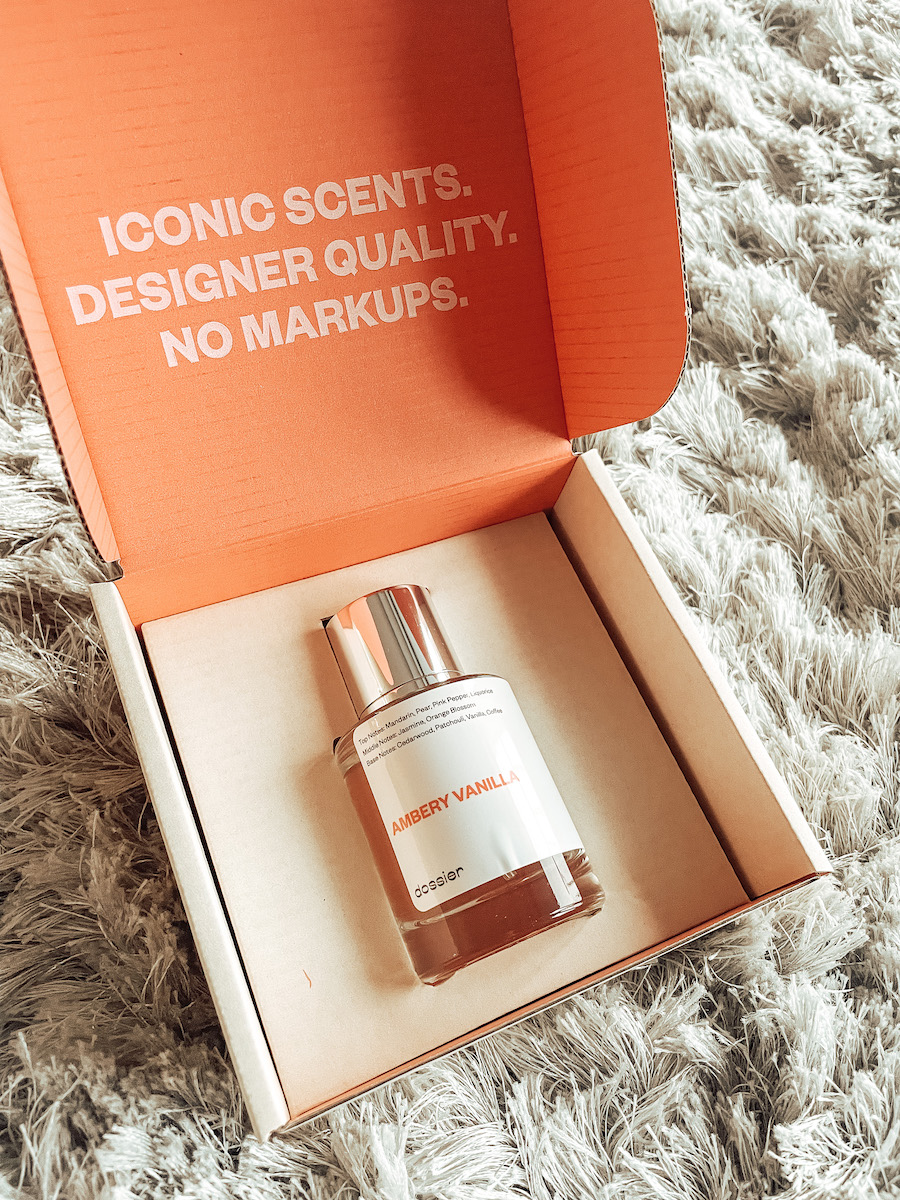 Dossier also follows strict U.S. and U.E. cosmetic safety recommendations and uses 100% recycled packaging materials.
That's right! They use 100% recycled corrugated boxes and 100% recycled glass bottles. Plus, they greatly reduced the amount of plastic they use by getting rid of their 2ml sample bottles.
Don't worry, though.
You can try any of their full-size perfumes, risk-free. Dossier donates all returns to the charity Give Back Box, which then shares the perfumes with 60+ charities all over the USA.
Basically, this is an all-around feel-good purchase.
Now, onto the scents!
Do Dossier perfumes really smell like their "brand name" couterparts?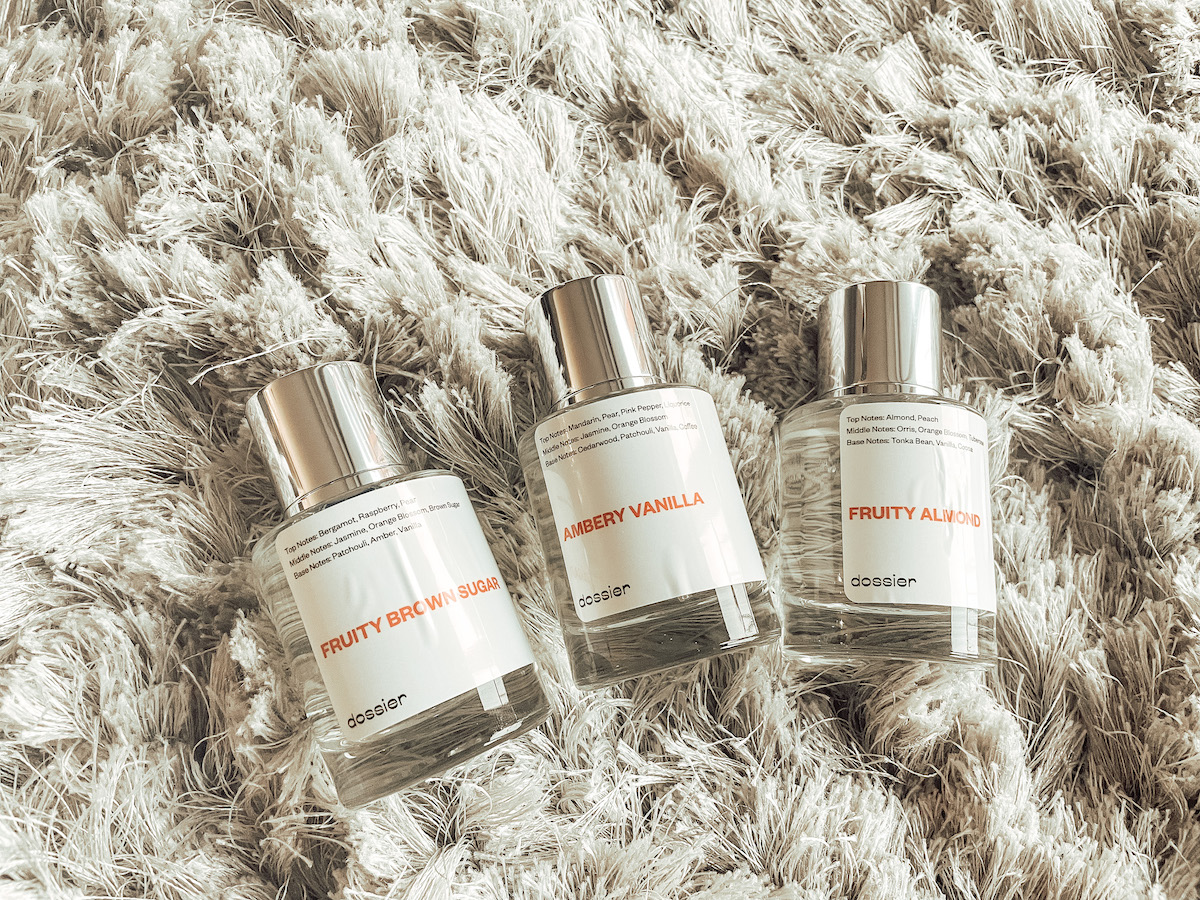 The answer is YES.
Here are the Dossier perfumes I tried:
Fruity Brown Sugar – inspired by YSL's Mon Paris
Ambery Vanilla – inspired by YSL's Black Opium
Fruity Almond – inspired by Carolina Herrera's Good Girl
Let me tell you, these are exact replicas.
The only one I wasn't familiar with is YSL's Mon Paris. But trust me when I say, Ambery Vanilla and Fruity Almond smell exactly like their Black Opium and Good Girl counterparts. It's UNREAL.
They have perfumes inspired by all the greats: Chanel, Vicktor&Rolf, Gucci, Marc Jacobs, Jo Malone, Le Labo, Dior, Versace, Armani, Valentino…you name it.
And at a literal fraction of the price! All bottles are between $29-$49.
Are Dossier perfumes long-lasting?
Once again, the answer here is YES.
These are the longest-lasting clean perfumes I've ever tried. Ever, ever, ever.
And I've tried many clean perfumes!!
My current fave is the Ambery Vanilla. I spray 1-2 sprays max in the morning and still get whiffs of the scent throughout the day, well into the night.
Important note: If you're sensitive to fragrances, I would stay away from these perfumes. They're very powerful!
Any cons?
It's honestly hard for me to think of a single negative.
Like I said, these are definitely best for fragrance lovers. If you're sensitive to scents or don't like strong perfumes, I would stay away from these.
Although, the Le Labo and Jo Malone-inspired scents could be milder in terms of intensity. The Woody Sandalwood perfume (inspired by Le Labo's iconic Santal 33) is next on my list!
But I can't say for sure. So to be safe, I would only recommend these to perfume lovers, like me.
Upgrade your perfume without breaking the bank!
Seriously, if you love perfumes and are just not feeling any of the clean alternatives out there, I hiiiiighly recommend you try Dossier.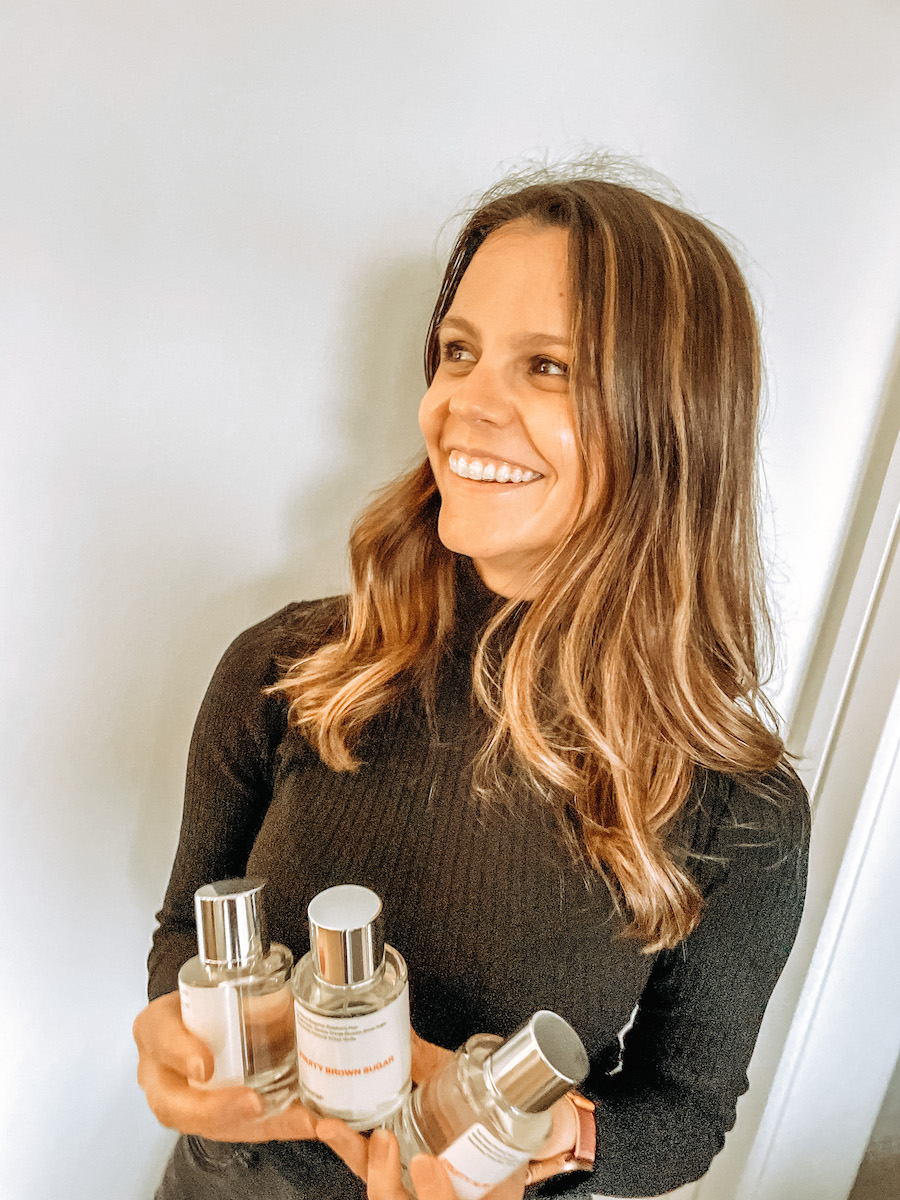 Use this link to get $10 off your Dossier purchase!
And as always, connect with me on Instagram (@uncovertheglow) to ask any questions! My DMs are always open.