Glossier does it again. What's new?
We have a tried and true Glossier obsession. So far, we've reviewed Balm Dotcom, Boy Brow, Milky Jelly Cleanser, and Priming Moisturizer and every product has received the CO stamp of approval! Obsessed much? Spoiler alert: Glossier Perfecting Skin Tint & Stretch Concealer will too.
Sam and I hate (emphasis on hate) heavy, constricting makeup. There's nothing worse than a full-face of makeup that looks like…well, makeup! We want our makeup to look like skin…but not hyper pigmented, blemished skin. Finding the balance between the two is tough!
Glossier Perfecting Skin Tint and Stretch Concealer
There are weeks when we feel comfortable leaving the house with just a dab of makeup here and there and other weeks…not so much! So we figured, why not give our trusty Glossier a try? It seemed like the perfect balance between makeup and skincare.
We put the Perfecting Skin Tint and Stretch Concealer to the test to see if these had the potential of becoming our new makeup go-to's.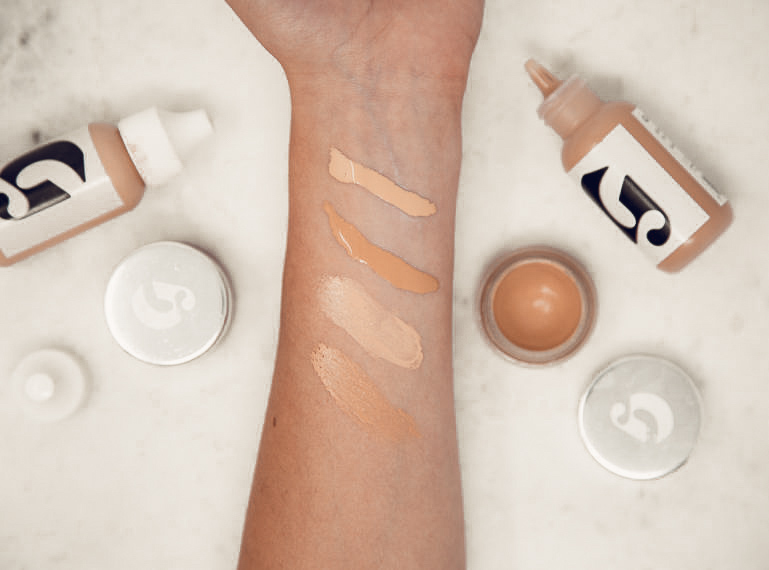 The Rundown
Products: Glossier Perfecting Skin Tint & Glossier Stretch Concealer
Price: Perfecting Skin Tint $26 | Stretch Concealer $18
Where to buy: Glossier Perfecting Skin Tint & Stretch Concealer. For 10% off your first Glossier purchase, click here.
Perks: Hypoallergenic | Dermatologist-Tested | Ophthalmologist Tested | Non-Comedogenic | Paraben Free | Fragrance Free | Cruelty Free
Claudia's Glossier Thoughts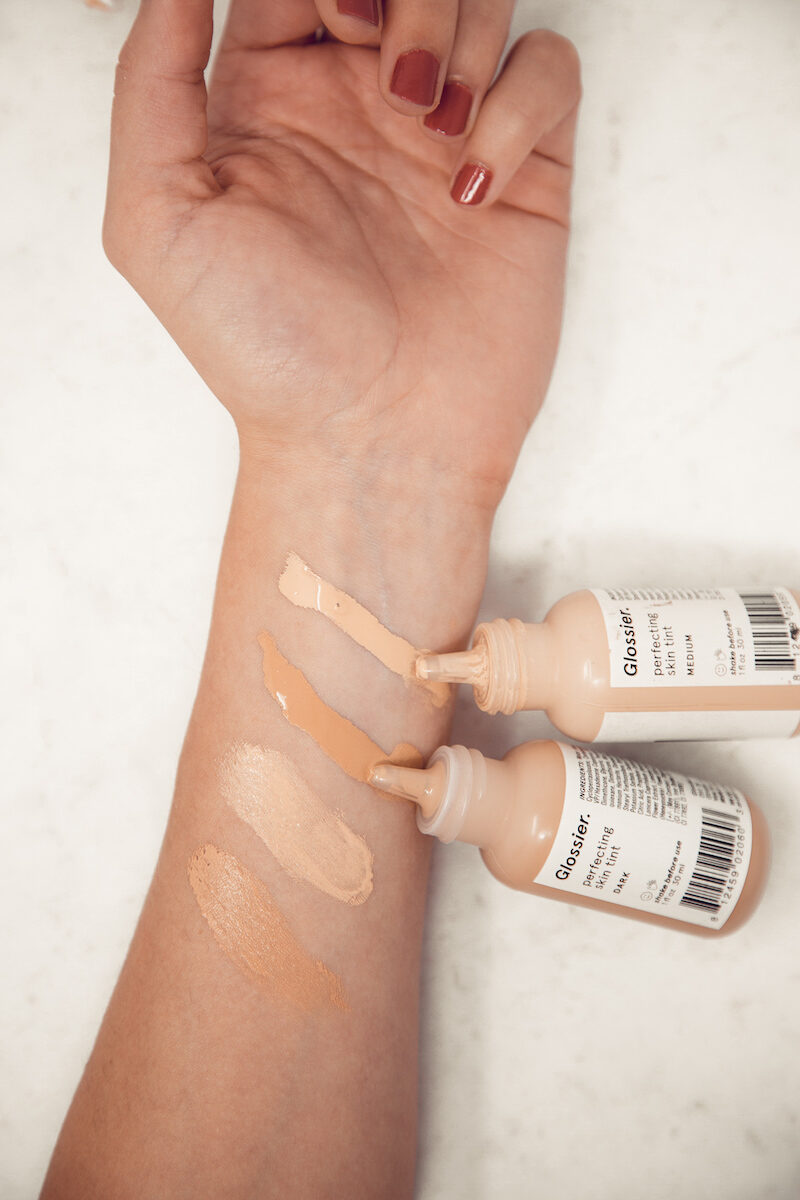 Before switching to all things Glossier, I was using a generic drugstore tinted moisturizer as my everyday foundation. Truth be told, I've actually never used real foundation (except for back in my former dance life) as part of my everyday makeup before. Heavy, cakey skin is just not my thing. Cha' feel?
Switching to Glossier's Perfecting Skin Tint was a breeze. Literally. Although it was a bit more liquidy than my previous tinted moisturizer, it still blended very nicely into my skin. Best of all, it allowed my skin to breathe! I did not break out ONCE.
I use the Medium Skin Tint and feel that it is the perfect color for my skin throughout the entire year. Yes, winter included! In the summer, I darken it a bit with bronzer, but I never feel like the color is mismatched to my skin tone. Major pet peeve!
A Perfectly Natural Look
I've been using Skin Tint every day for about four months and have yet to go through an entire bottle! A little bit goes a LONG way, so don't be turned off by the $26 price tag. It's totally worth it!
This stuff is so great that I even enjoy wearing it on days when I don't really feel like putting on a face of makeup. I simply squeeze a few drops onto my fingers and spread it evenly onto my face, add a little color to my cheeks and some mascara and I'm out the door. This is natural makeup at its best!
I'm currently using Maybelline's Dark Circle Eraser as a concealer, but after reading Sam's review, I might have to make the switch to Glossier. What else is new!
Pretty soon, my entire vanity will be Glossier, and I'm not complaining.
Sam's Glossier Thoughts
Ditto to everything Claudia said about Glossier's Perfecting Skin Tint and then a few additions:
I used to use Bare Minerals loosepowder foundation and was hesitant to switch to a liquid-based product. The Glossier skin tint is so light it feels like there's nothing on your face! Thanks, Glossier, for making my transition from powder to liquid easy, breezy! (Did I seriously just make a Covergirl reference in a Glossier post…?)
Medium is my winter shade and dark is my summer shade. When I use my CoolaSunless Tan Anti-Aging Face Serum, my skin is just a little too dark for the medium shade so I took a leap, tried the dark and voila! Worked like a charm.
This is not thick…therefore it is not a one-stop complexion fixer. You have to be going for a natural look when you use Glossier Perfecting Skin Tint. If you have hyper pigmentation, breakouts, etc. you'll want to look to the Glossier Stretch Concealer for support.
If you are break-out prone, like me, this is the skin tint for you. It is light and super breathable. It will never, ever clog your pores or worsen your breakouts. This is totally skincare in the form of makeup.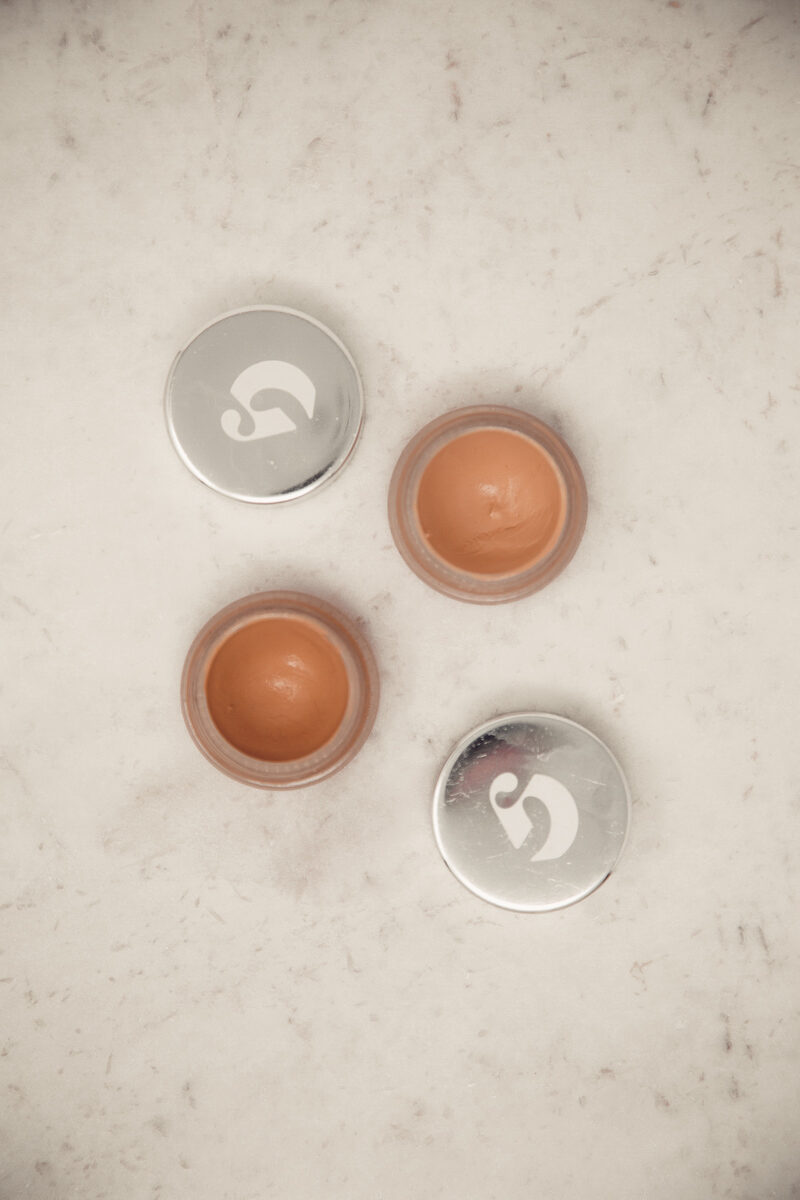 Did you catch it? I just contradicted myself. The Glossier Skin Tint is great for a natural look that doesn't cover all breakouts, but it's light and breathable so it's perfect for clogged skin. What's a girl to do, then?
Hello, Glossier Stretch Concealer. When I thought about purchasing this I couldn't imagine a concealer actually being stretchy, but the concept sounded great! You guys, this stuff really is stretchy! It bends and molds with your skin so it looks natural. What a concept! There is NOTHING worse than cakey concealer.
It's super easy to apply.. Just a few dabs here and there using your fingers and you're good to go. No expensive brushes or applicators necessary! Another reason to love the effortlessly perfect Glossier.
The Results
You know you have a solid product when….
You look in the mirror and love what you see.
Your face feels like a baby's butt.
Your skin literally radiates. No more hiding behind cakey makeup people!
When makeup and skincare come together, it's like a match made in heaven. With the magical powers of the Glossier Perfecting Skin Tint and Stretch Concealer, we are able to use makeup as a way to naturally enhance our look without constricting our skin to layers and layers of cakey foundations. Our skin is happy…and so are we!
Once again, Glossier receives a 10/10. Not surprised? Yeah, neither are we! #SorryNotSorry