Are Athena Club razors as good as men's razors?
Why, oh why, do men's razors have to be so much better than women's? Like seriously…all they have to shave (for the most part) is their face! We have to shave our legs, armpits, lady parts, etc. It's absolutely ridiculous we even have to compare the two, but here we are.
It's no secret men's razors are top notch. They're sleek, sharp and leave your skin feeling buttery smooth. Why can't women's razors do the same?
A couple of months ago, I realized I was fed up with my Flamingo razor and wanted to find a higher quality replacement. While Flamingo did have its pros (loved that you could get it at Target!), I just didn't think it left my skin smooth and silky like I expected. But I refused to go back to men's razors, so I did some research and found Athena Club!
Athena Club actually sells more than razors. They offer everything from body lotion and body wash to period products and wellness supplements. Think of it as a self-care essentials store! Not to mention, everything is made with clean, high-quality ingredients. I'm curious to try some of their other products, but for now, we'll focus on the razor!
P.S. I'm now part of the Athena Club ambassador program, which is so exciting because I've been using their razor for over a year and still love it!
Disclaimer: This post contains affiliate links. At no additional cost to you, I will earn a commission if you use these links to make a purchase.
Athena Club Razor Breakdown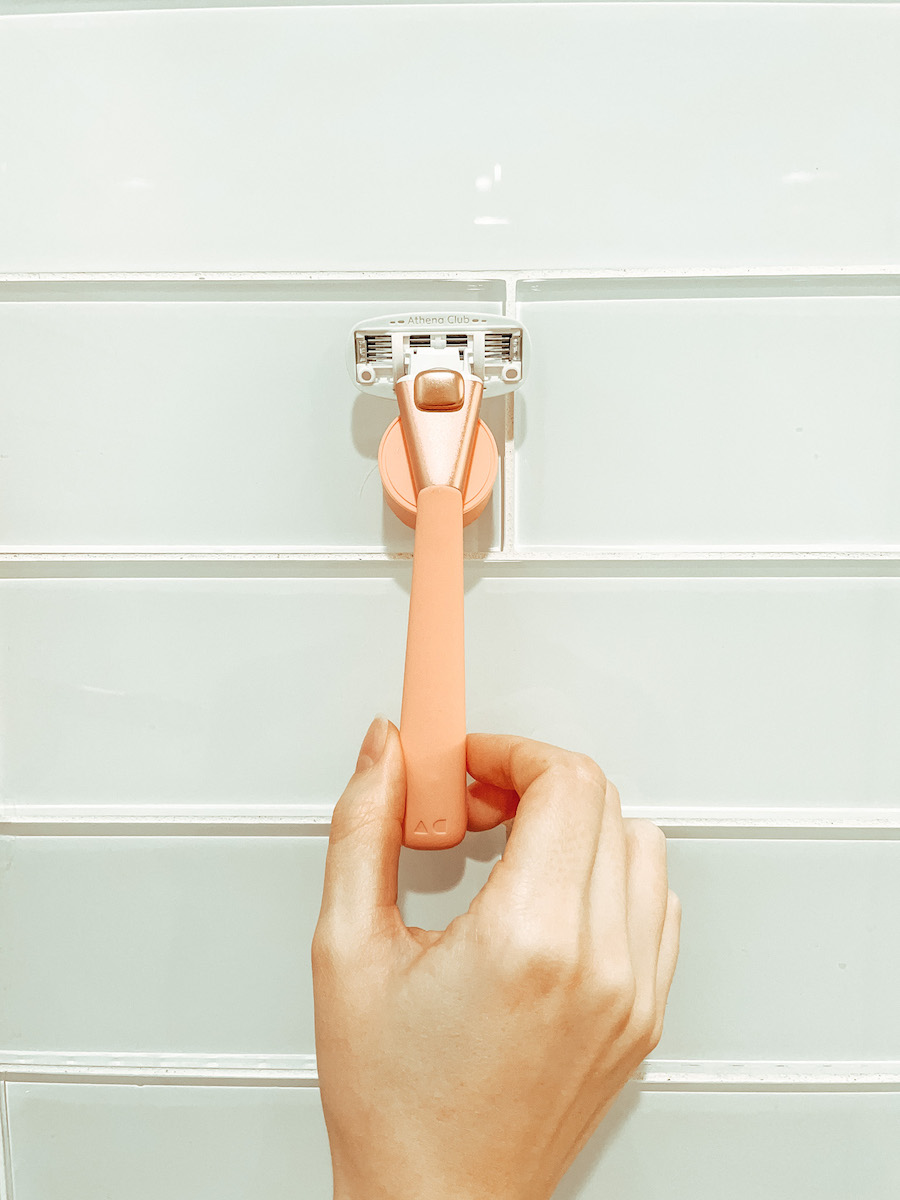 The Razor Kit
What's included: 1 razor handle, 2 five-blade cartridges and 1 magnetic hook
Price: $9 plus free shipping!
Blade Refills: Get 12 blades every 9 months for $27
Handle Color: Coral (6 color options available)
Okay guys, I have to tell you…this is one of the BEST women's razors I've ever tried! No joke. It is easy to use, very sharp and doesn't irritate my skin one bit. This razor glides on your skin so effortlessly, you can literally shave your legs in less than 5 minutes without nicking yourself or leaving behind unwanted razor burn. That is a HUGE plus right there because the last thing I want is to spend an additional 15 minutes in the shower shaving my legs. Time is precious!
What I love about the Athena Club razor:
The blades are sharp but don't hurt your skin.
You don't need shaving cream because each blade is cushioned with skin guards containing shea butter and a magical skin-soothing serum.
It comes with a magnetic hook that doesn't fall off your shower walls.
The razor and hook don't rust or get moldy.
You can choose how often you get new blades.
Shipping is always free.
How does Athena Club compare to Billie and Flamingo?
Athena Club literally blows Billie and Flamingo OUT OF THE WATER. I'm not exaggerating, friends. They clearly uses higher quality materials to make their razors because the shave is incomparable. Check out my quick breakdowns below!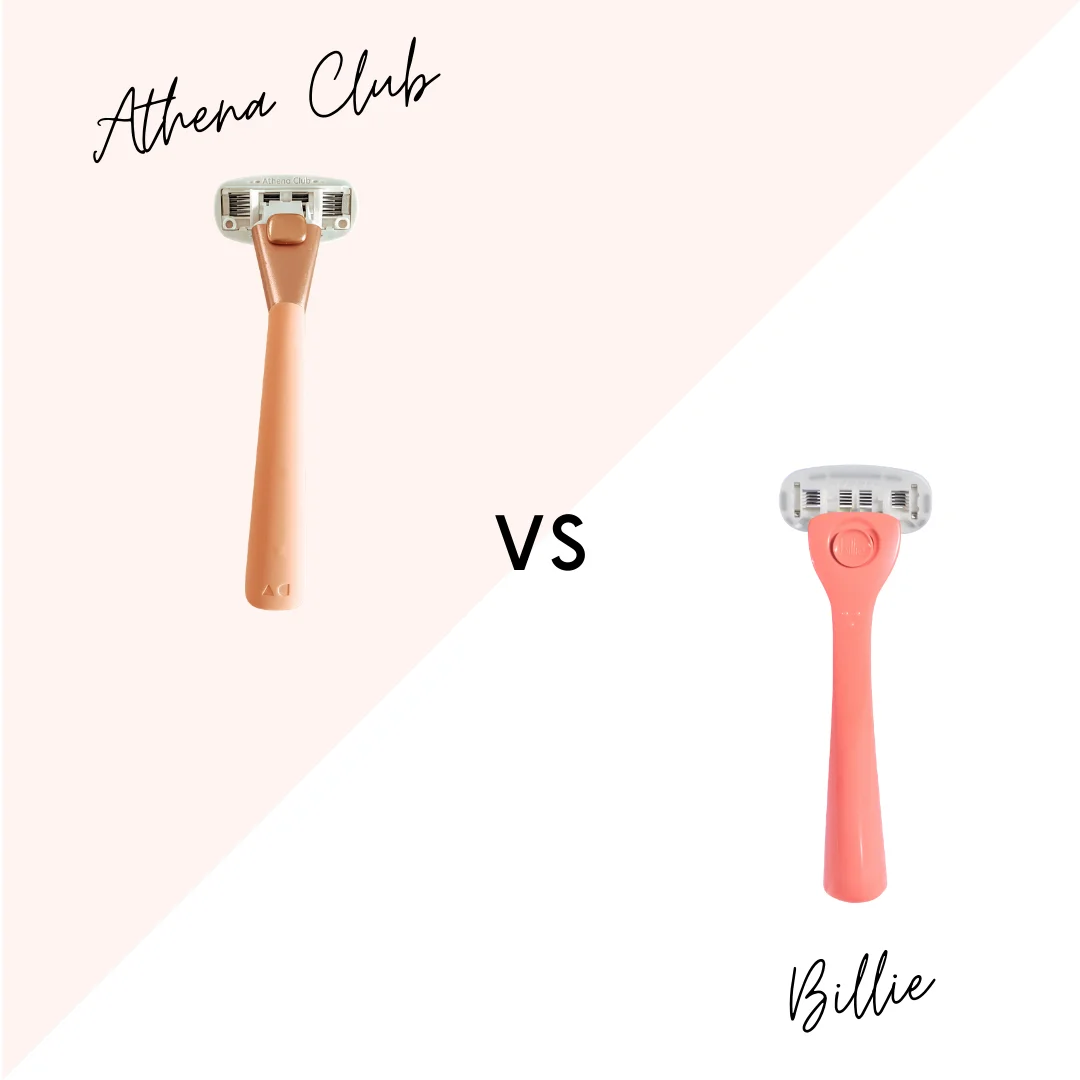 Athena Club vs. Billie
Blades: While they both have 5-blade cartridges, I feel like Athena Club blades are sharper and give you a closer, smoother shave.
Moisture Strip: Billie uses charcoal in their 360-degree moisture strip to clean your skin while you shave, while Athena Club uses shea butter and a special moisturizing serum. I think the Athena Club strips glide easier on the skin than Billie's and leaves my skin softer.
Price: Both starter kits are $9 with free shipping and refill blades are $2.25 each. Billie sends 4 blades every 3 months, while Athena Club gives you the option to get 12 blades every 9 months.
Holder: The biggest issue I have with Billie is the holder constantly falls off my wall. Athena Club is holding strong!
Travel: Billie does provide you with a travel case which is a HUGE plus! Athena Club does not, so you have to be careful not to get goop all over your bag when you travel.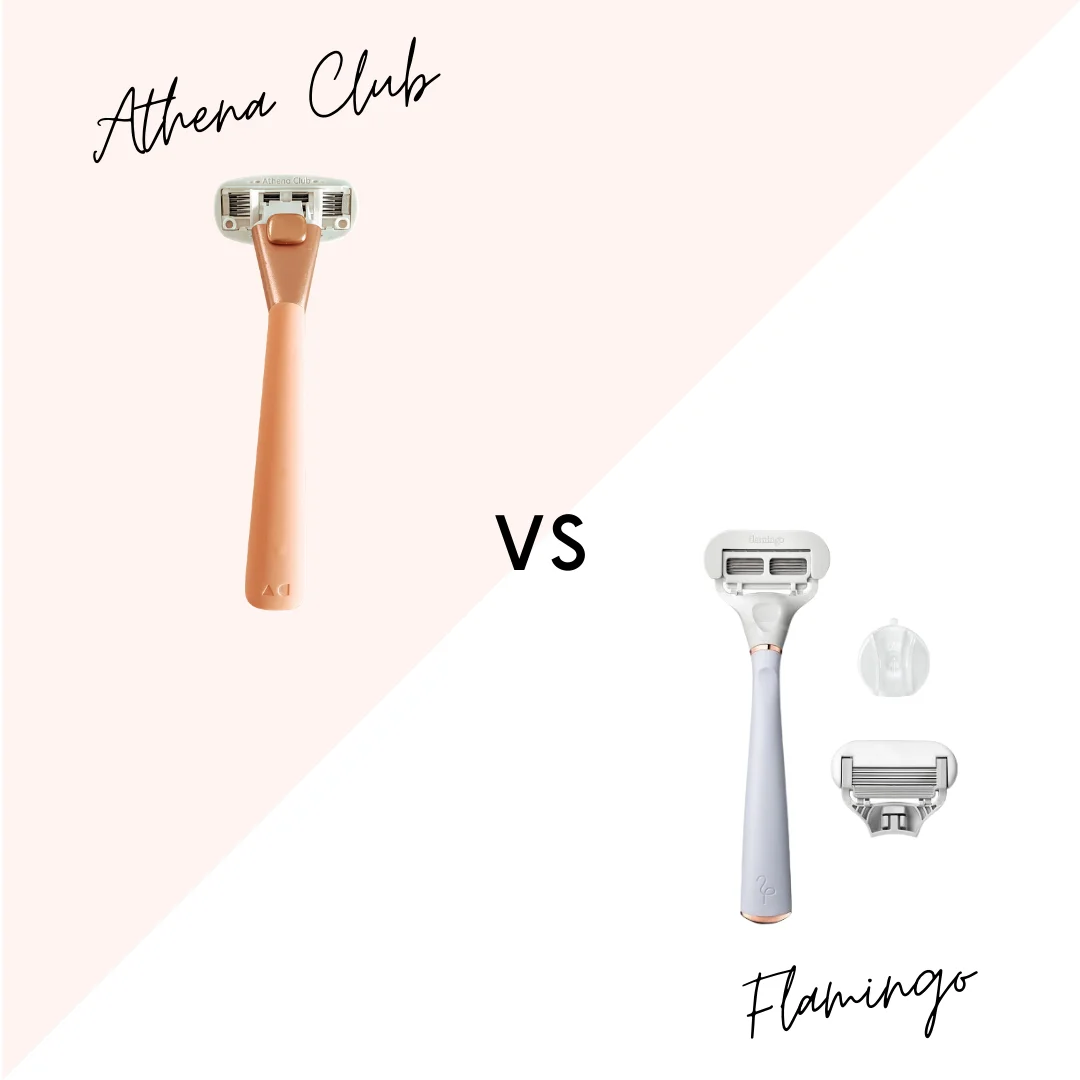 Athena Club vs. Flamingo
Blades: Again, these both have 5-blade cartridges but the Flamingo blades are not sharp enough whatsoever. I always missed spots and felt like my skin was bumpy after every shave.
Moisture Strip: Flamingo's hydrating strip is minimal and doesn't provide a lot of moisture. You almost have to use shaving cream with this one.
Price: Starter kits are $9 but Flamingo only offers free shipping on orders over $15. However, you can shop their razors at Target!
Holder: The Flamingo holder isn't magnetic but does have a suction back, which helps it stick to the wall easier. I don't like that it gets moldy though!
Travel: Neither one of these brands offers a travel case, but because the Flamingo hydrating strip isn't goopy, it does travel better than Athena Club.
Did you like my Athena Club razor review?
I would love to know if any of you have tried theses brands and agree with my comparisons above! Overall, I'm going to stick to the Athena Club razor for the unforeseeable future. I love the quality, the shave and the fact that I don't have to deal with moldy handles or holders! And it 100% competes with those trusty men's razors we all secretly love. Way to go, Athena Club!