Yes, you read that right!

If you know me, you know I loooove me a delicious glass of bubbly. So you can imagine my excitement when Sam and I discovered this champagne-infused line of hair products. Cuvée Beauty was founded by boss babe, Rachel Katzman, who also happens to be the CEO of P.volve. Like hello! Talk about two worlds colliding in the best way possible.

Rachel discovered the magic effects that champagne had on her hair after a spontaneous birthday dousing! She woke up the next day with super soft and shiny hair and knew she had to find a way to bottle it up…without the sticky mess.

So she came up with an amazing line of hair care products that all contain her special Cuvée Complex™ (a.k.a. a blend of rare skincare-grade ingredients that make your hair extra shiny and soft.)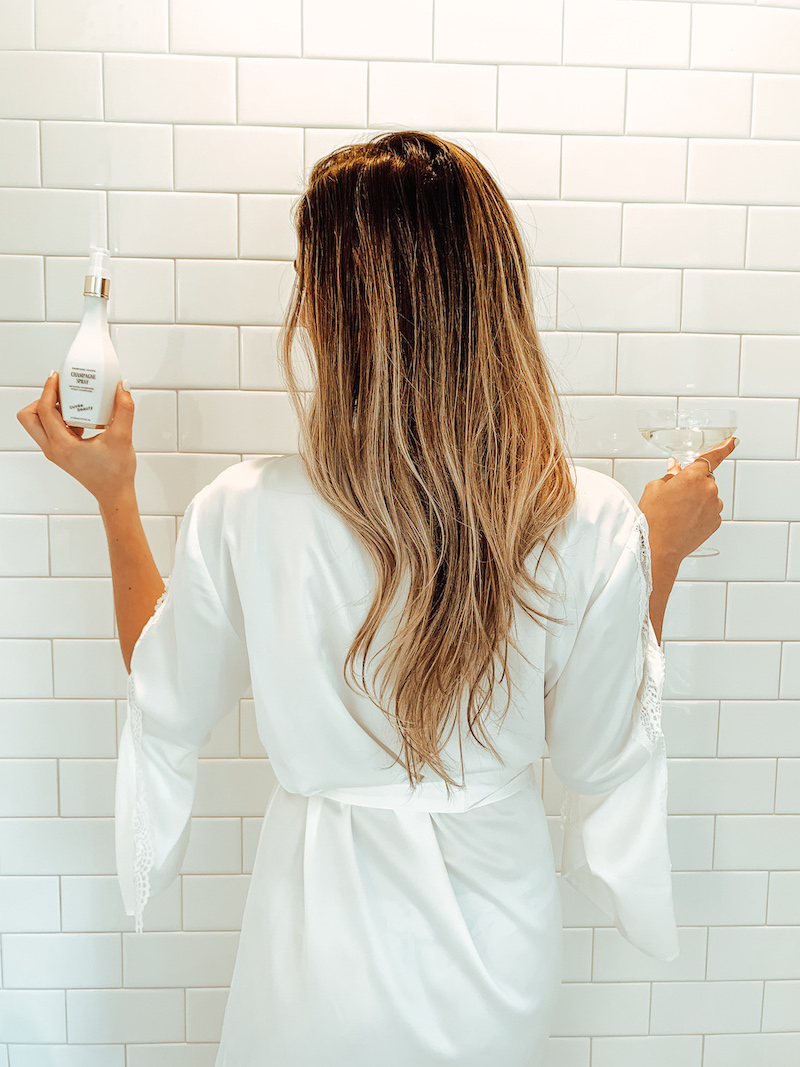 CHAMPAGNE EXTRACTS – They source their grapeseed extract from the Champagne region of France, and these powerful little suckers help keep your hair healthy and strong.
WHITE TRUFFLE EXTRACTS – To help restore moisture in your hair and scalp.
PLATINUM EXTRACTS – These extracts help with strength and shine.
RESVERATROL – An ingredient found in red wine that helps slow the process of hair loss. Yes please!
HAIR CERAMIDES – To help prevent and repair breakage.
PEA PROTEINS – To fight damage and protect your hair color.
Lucky for us, the Cuvée team sent us a slew of products to test out…and lucky for you, we're here to tell you which are worth it and which are not!

---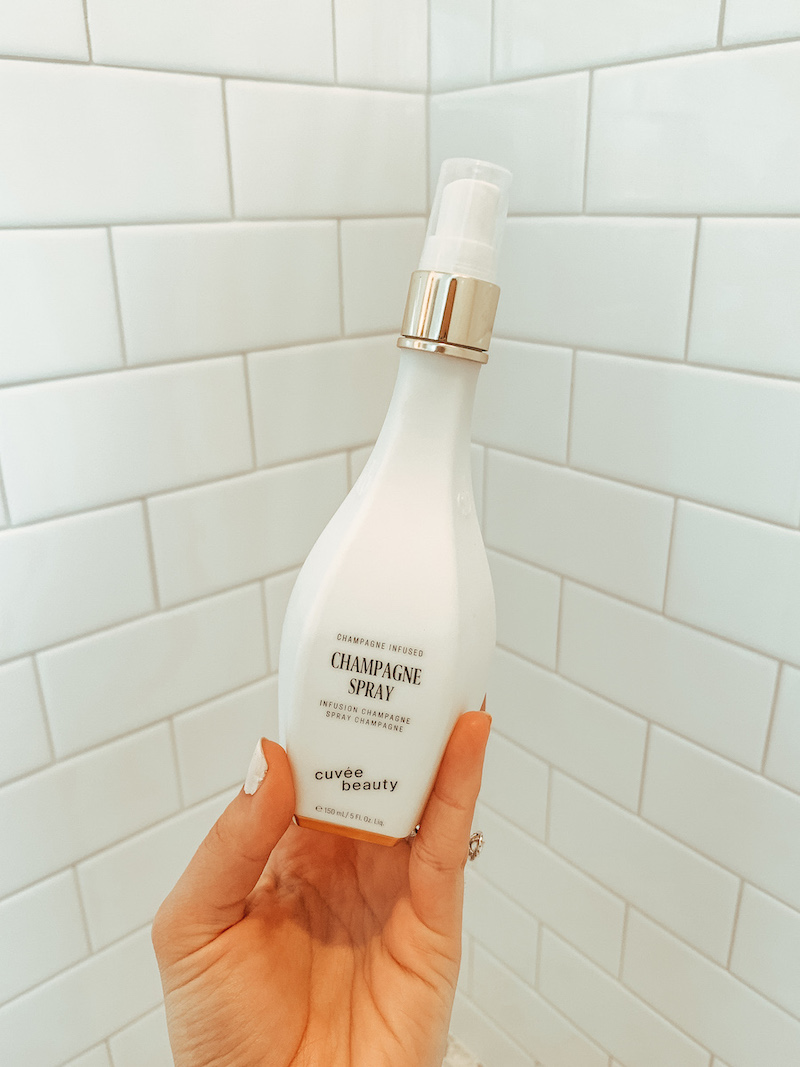 The Rundown
Products: Cuvée Beauty Champagne Spray, Blow out Bomb, Styling Balm and Hair and Body Glow
Price: Champagne Spray $45 | Blow out Bomb $45 | Styling Balm $45 | Hair & Body Glow $24
Where to Buy: Cuvée website (use code: UNCOVER20 for 20% off!)
Perks: Paraben-Free | Sulfate-Free | Phthalates-Free | Cruelty-Free
---
Cuvée Beauty Champagne Spray
Spoiler alert! This product was BY FAR our favorite. The Cuvée Beauty Champagne Spray is an absolute must-have in our hair care routine. Like we can't live without it type of must-have!

You're probably wondering why the heck anyone would need champagne spray for their hair? We totally thought it was a gimmick at first too!
But seriously, this product is gold. It's meant to give you a voluminous, beachy wave kinda look.

Why we love it: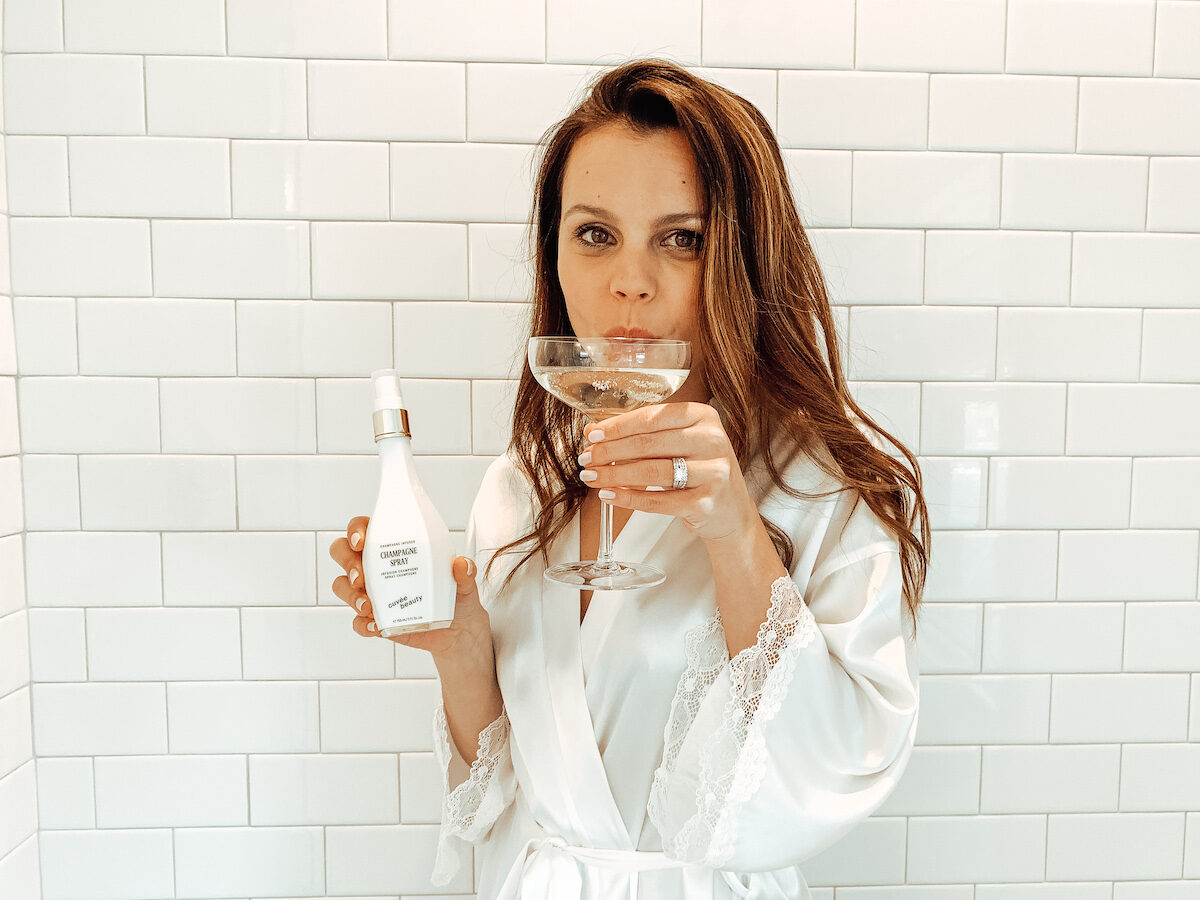 Gives us volume like nothing else we've used before
Makes our hair shiny and soft…no crunchiness in sight
Gives our hair texture and helps hold our curls
How we use it:
Sam and I both love to spray our hair with this right after we've washed it and towel dried it. We spritz it all over our hair (avoiding the roots) and give it a little scrunch action. Yes, like the way you used to scrunch your hair in 7th grade…except your hair comes out looking 10000x better.

We then brush our hair out and let it air dry overnight. The results are incredible! Every time we use it, we both wake up with TONS of volume in our hair and very natural looking waves.
The best part is that this spray helps hold our hair in place after we've styled it and gives it a little extra oomph.
The Blow out Bomb, Styling Balm and Hair & Body Glow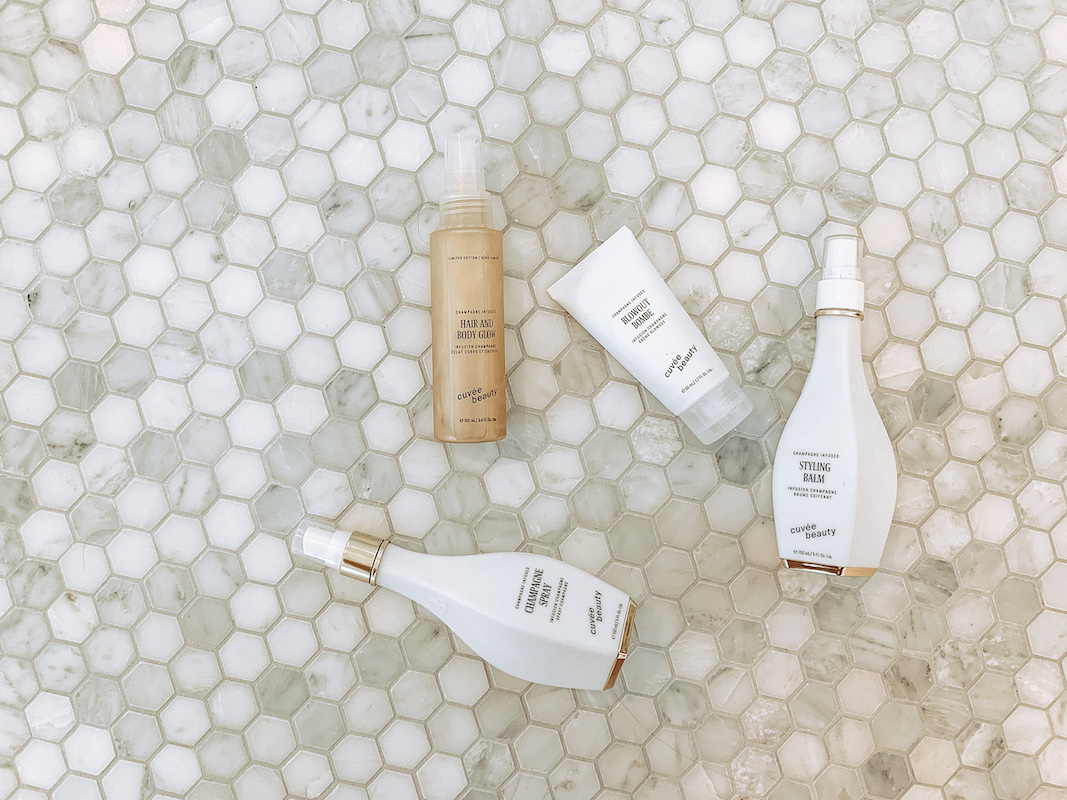 Okay, we're combining all of these into one because tbh, nothing really compares to the champagne spray! Plus, Sam and I are more air-dry than blow-dry type of gals, so we didn't feel the need to use these styling products as often.

What we will say is that when we did have to blow dry our hair, the Blow out Bomb was BOMB! This was our second favorite product from the Cuvée Beauty line.

Blow out Bomb helps to…
Protect our hair from thermal heat damage when we blow-dry and style our hair
Tame all our flyaways so our hair looks super smooth and perfect
Smoothe out our ends and give us long-lasting curls
Not to mention, all these products smell absolutely delicious! The fragrance they use is a blend of champagne and fig…just imagine that perfect combination.
Styling Balm and Hair & Body Glow
These two, we could definitely live without.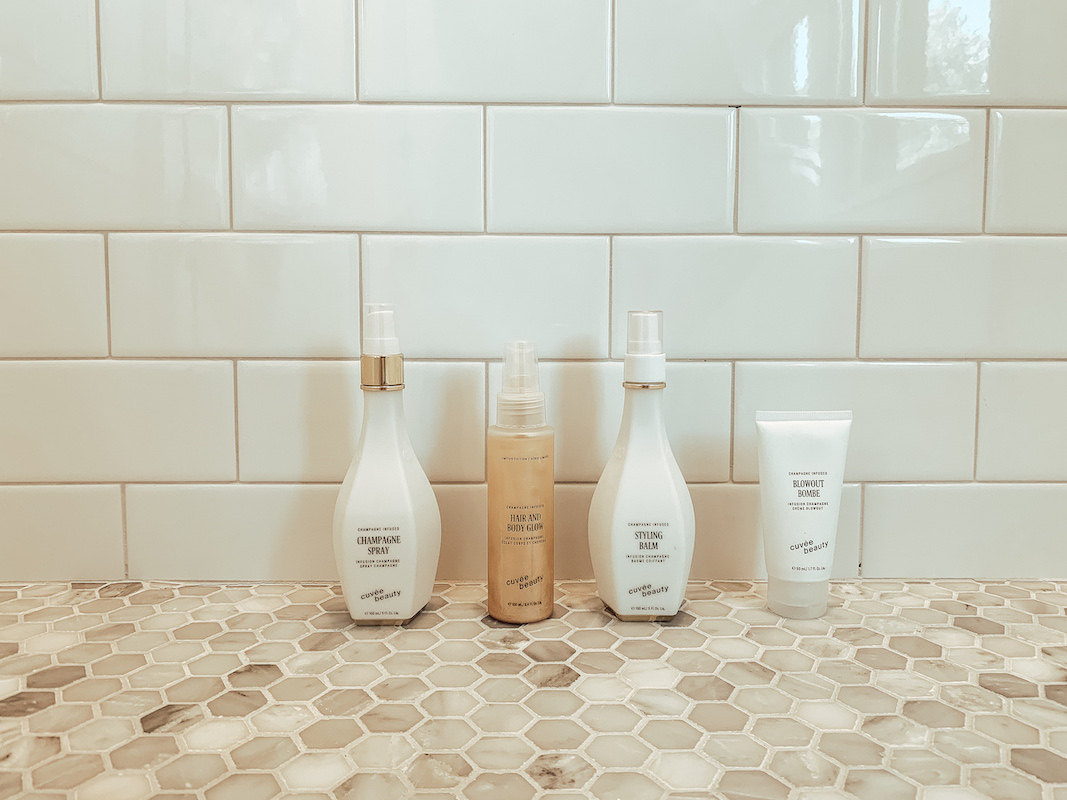 The Styling Balm is a heavier, more cream-like version of the Champagne Spray. So for us, it was a little too heavy! However, if you have thicker hair that requires a little more love in the moisturizing department, then this is for you. You can apply it to wet hair and then let it air-dry or style it whichever way you like! It'll help condition your hair and tame those pesky flyaways.
The Hair & Body Glow is something we'd probably use if we were going to Coachella. It's a gold, shimmery mist that you can apply anywhere to give yourself a little extra shine. I gave it a try on my hair once but it made it a little too crunchy. Womp, womp!

Honestly, this would be great for a summer photoshoot or a glam-worthy event. But it's not something that we would use on the reg.

And the final score is…
We absolutely give both the Champagne Spray and the Blow out Bomb 10/10! And like we said earlier, the rest we can live without. Make sure you use our code "UNCOVER20" on Cuvée's website for 20% off your purchase!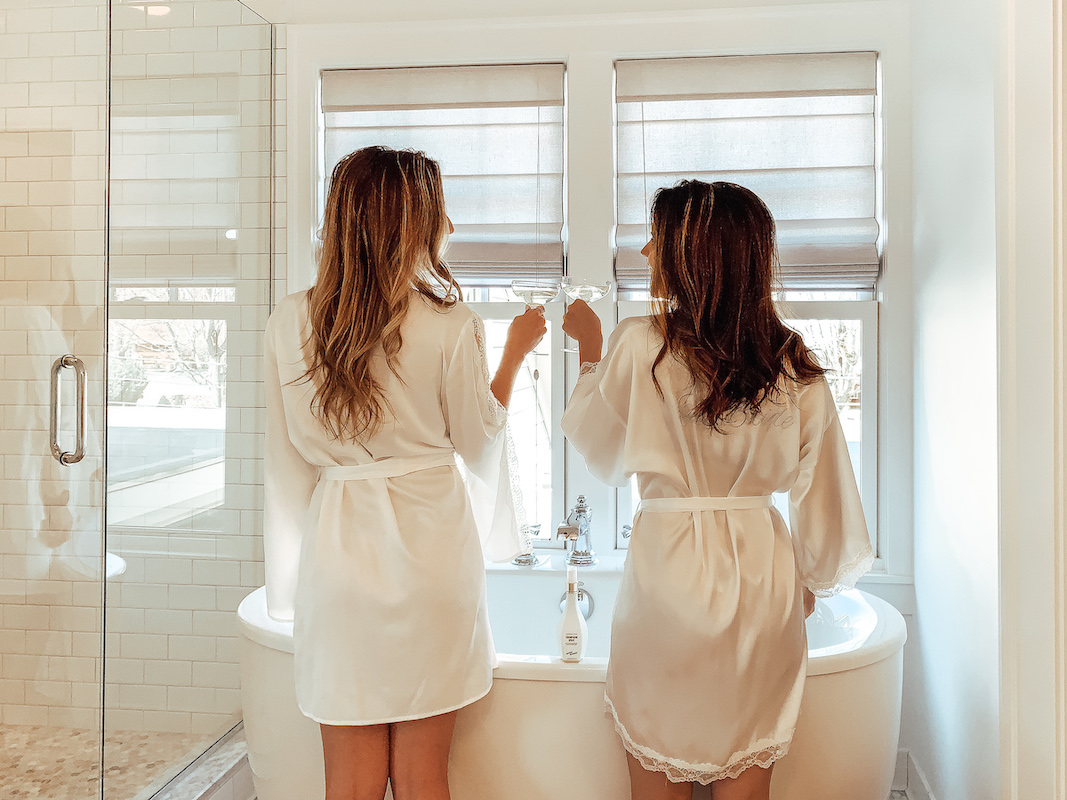 If you're an air-dry gal like us, we HIGHLY recommend you add the Cuvée Beauty Champagne Spray to your routine. And if you're a blow-dry gal, be sure to get the Blow out Bomb!