Weleda Skin Food has been a cult favorite since 1926! Yes, you read that right! The Weleda Skin Food Ultra-Rich Cream originally launched back in the 20's. And the fact that it's still raved about today is pretty amazing, don't you think? But it's really no surprise because this company has been committed to creating natural products with exceptionally high standards since day one. So of course I had to give it a shot!
Typically, my skin kinda freaks out when the seasons change. And with winter well underway, I knew I had to find something that would keep my skin VERY moisturized. Even though I still love my First Aid Beauty Ultra Repair Cream, I wanted to switch things up and see if there was something with cleaner ingredients out there that would work just as well.
After a couple of people suggested I try Weleda Skin Food, I decided to add it to the CO experiment list! After all, this company has such a great history behind it, and it's based in Europe which means they are very strict about what goes into their products.
You know we're all about finding clean beauty alternatives!
---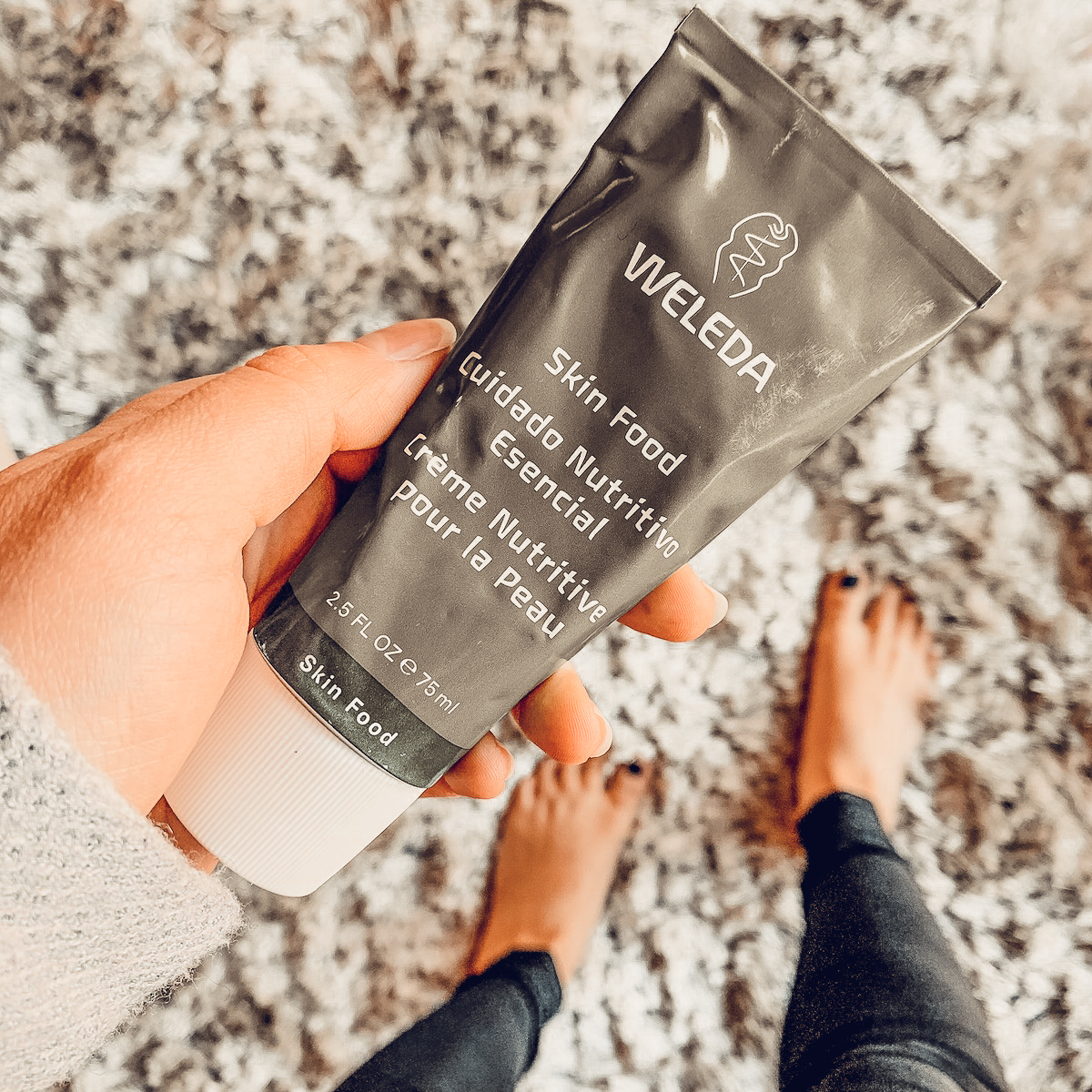 ---
It's a cream! It's a balm! It's SKIN FOOD!
I went into this thinking that Weleda Skin Food was…well, a cream! Lol But to be completely honest, I think it's more like a mix between a cream and balm. When they say "ultra-rich", they're not kidding! It truly is like a luscious meal for your skin.
The Scent + Texture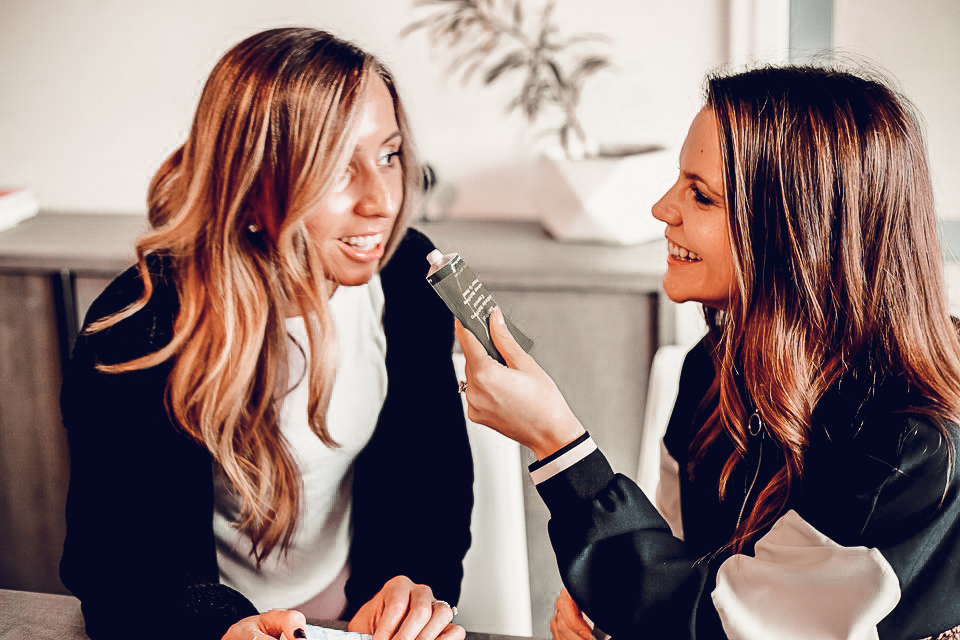 The first thing I noticed when I opened the cap was the citrus-y scent. OMG it's the best! It smells really fresh but at the same time has a warmness to it that relaxes me at night.
I loooove the fact that all the fragrances in this cream come from natural oils. They use an herbal blend of chamomile, rosemary, calendula, and pansy that smells divine and feels so nourishing on the skin.
Fun fact: If you go to the ingredients list for this product, you can click each individual ingredient to see what it is, what its benefits are and where it's derived from. Extra points to Weleda for transparency!
When it comes to texture, this stuff is somewhere between a cream and balm. It is SUPER THICK. But at the same time, it does absorb nicely if you give it some time. It's also not too oily and doesn't leave behind any residue.
Is Weleda Skin Food Good for All Skin Types?
It depends! For reference, I have combination skin. My t-zone is oily but the rest of my face is a bit on the dry side (especially in the winter!)
When I bought this cream, I bought it thinking it would be a replacement for my First Aid Beauty Ultra Repair Cream. So I used it as such and applied it morning and night.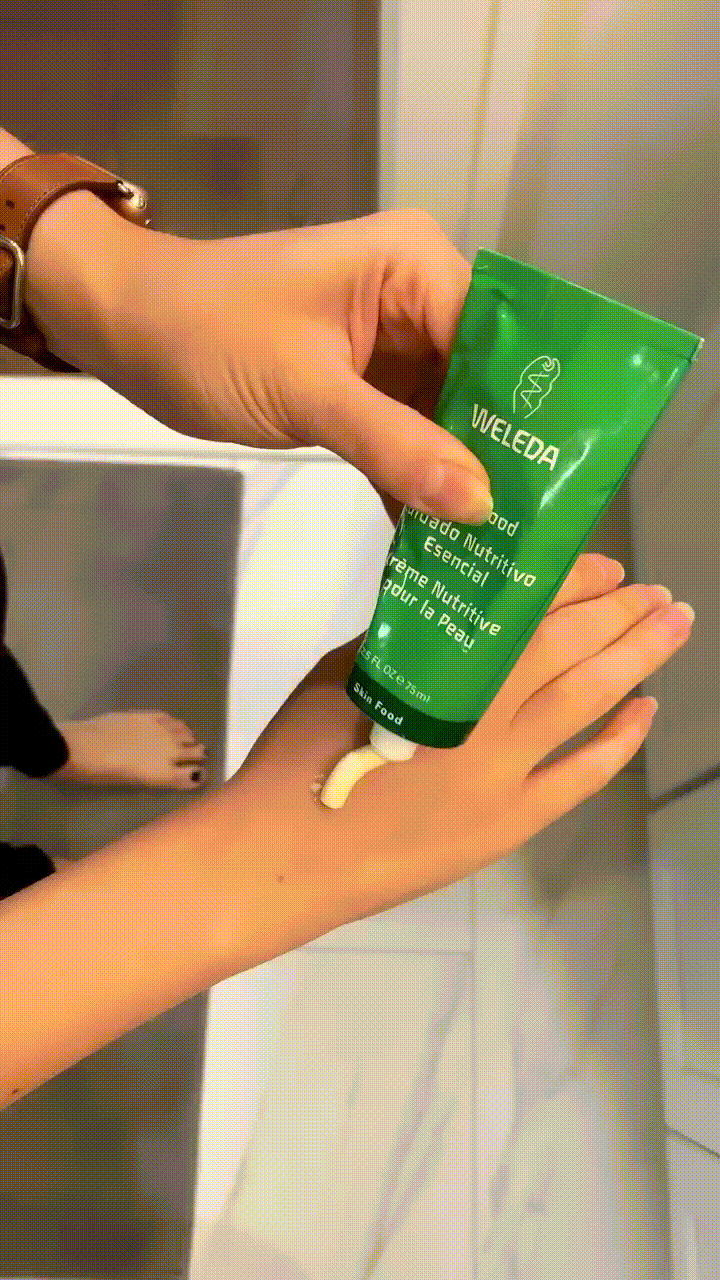 I would…
Wash my face
Apply a serum
Lather on a small dollop of Skin Food on my face
Even though the cream felt very heavy and rich, it did absorb nicely (especially overnight) and made my skin super dewy and soft.
However, after about two weeks of following this routine, I noticed that my pores were getting a bit clogged from the heaviness of the cream/balm. And my makeup looked a little too shiny by the end of the day with all that moisture.
So I decided to cut my use down to a few nights a week as more of a "nourishing treatment mask"…like a super hydrating smoothie concoction but for my face! It is skin food after all.
---
For people with combination and oily skin, this is a great alternative to the more expensive Summer Fridays Jet Lag Mask. It's light enough to wear on the plane or at home on the weekends but also moisturizing enough to be an overnight mask. (Even though it's not technically a mask!)
For those of you with dry, acne-prone skin, I think this could be a great every day option! If you check out the reviews on the Weleda site, you'll see that a lot of people with dry skin have used this to clear their acne. Don't take my word for it! But it's worth giving a try.
Will I buy it again?
Yes! Even though I ended up using it completely differently than I thought I would, I do still think it does an amazing job at nourishing dry skin. Plus…
It's made with clean ingredients.
It smells delish!
It is totally budget-friendly.
You can find it at your local Whole Foods or Target!
Weleda actually just came out with a new Light version of this cream that I think I'm going to test out as a day cream! Super excited about this. I'll keep ya posted!

Overall, the Weleda Skin Food Cream gets a 10 out of 10 from moi! Let me know if you try this in the future!